News
Welcome to the latest news, stories, notices and events from the F1-GPDC.
Featured and notable stories are shown on the left and our most recent stories on the right.
Simply click on a news headline to read the article in more detail.
Featured Story
It is hard to believe that Damon Hill is sixty years of age today, September 17. It seems like yesterday he was being photographed at the age of about four, running round in the garden with his father and mother along with other racing driver friends.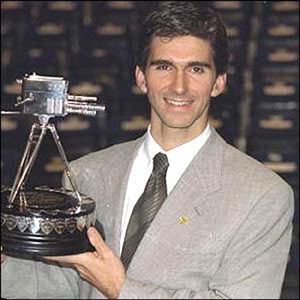 Though his father, Graham Hill, really did fight his way into grand prix racing swopping his mechanics overalls for a pale blue Dunlop racing suit let us not forget that Damon suffered from being the son of a two time Formula 1 world champion and the only person to hold the triple crown of winning in Formula 1, Le Mans and Indianapolis. To many of us who saw him work his way through motor cycle racing and into cars it was sad to see how many enthusiasts never gave Damon the credit he rightly deserved. He too was to become a World Champion himself in 1996 and nobody worked harder than Damon to prove to the World he was a deserved World Champion with Williams.
As a member of the Grand Prix Drivers Club, he has the modesty of a true Champion, as well as the ability to have a happy family life in retirement, and the Grand Prix Drivers Club members send the best birthday wishes to him and his family.

Read the full article
Howden Ganley grew up in New Zealand, where his ambition was to race yachts, or play for the 'All ...

It is always sad when a member of our club dies but on January 19 the club lost perhaps their most important and best loved members with the passing of ...

Jack Brabham has died at the age of 88. He was a towering figure of his era, becoming a triple World Champion in Formula 1, the first motor racing knight ...