It is two months now since the General Assembly of the Club but for me there were a number of small stories that were touched upon in our News story at the time but which needed a little bit of elaboration from an historical perspective.
On the final full day we were driven to the hills behind Gabicci where there was a small square with a big café. Then, one by one, a variety of locally owned racing cars turned up and their owners were given a chance to give them a blast up part of the hill road leading from the town : all very Italian. Out of perhaps seven or eight cars some of them were outstanding from an historical point of view.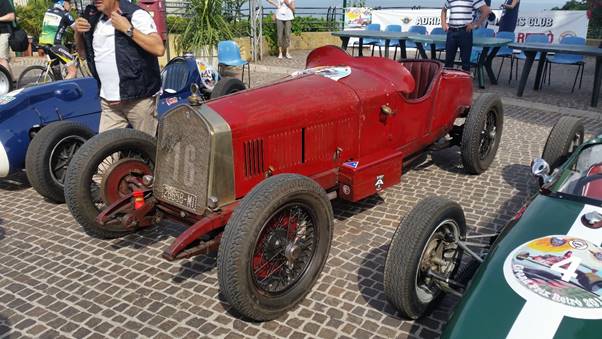 Take for example the enthusiast who turned up with a very original looking Alfa Romeo 6C 1750. From time to time you see the odd 1750 at events but this one looked special and so I had a chat with the owner who was in his sixties. Then he pulled out some papers outlining the history of the car and as he had the bonnet hinged upwards it was easy to check out the chassis number and such link and to my surprise it was the car in which the Italian driver Goffredo Zehender.
Born in Reggio Calabria in 1901 Zehender was quite a character and managed to get himself some good drives during his career including the 1937 Monaco Grand Prix in a factory Mercedes-Benz 125  but his racing started back in 1925 when he and a friend entered for a Touring Car race at Spa in Belgium and they finished 3rd in their class driving an OM. Two years later he raced a Chrysler 72 in Europe  but he came into his own in 1928 when he bought a Bugatti 57A and began to get some results. However he ditched the Bugatti and replaced it with the Alfa Romeo 6C 1750 that we are talking about. Even this car had a history for as is well known Luigi Chinetti who was working with Alfa Romeo was not happy with the Mussolini government and eventually was sent to Paris to open up a dealership to not only sell but service customer cars. This very Alfa Romeo was the car he took with him to Paris and sold to Zehender who was to run it in the Monaco Grand Prix in 1931. Clearly the sale of the car was pre-planned as Zehender raced it at Juan Le Pins just a few days after Chinetti brought it to Paris. He then won at Commignes with it and like many cars of the period it was sold on both before and after World War two until it came into the hands of the present owner who showed up a lot of the faster cars in this impromptu little sprint by setting fastest time.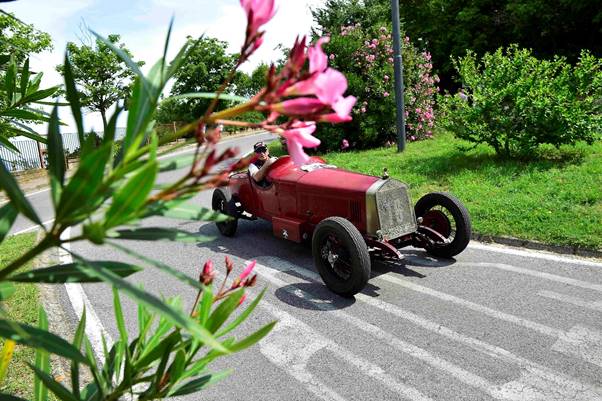 Zehender, meanwhile competed at Le Mans in 1931 with Attilio Marinoni and then retired from racing in 1939. Immediately after the War Zehender was involved as manager of a team where the principals including Bruno Sterzi bought one or two Ferrari 166's. However this all came to an end when the owners of the cars found that when they themselves were not competing they were being rented out to other drivers. Then, at the age of 55, Zehender decided he wanted to have one more run at Le Mans and managed to get a drive with Jean Lucas in a factory Talbot Lago but the car was crashed. Two years later he died.
So this Alfa had real history attached to it and is still Italian owned and running well.