There was a time when it was normal for the gentleman racing driver, to buy his own car with no commercial support, race it, enjoy the experience and then retire; but the concept of sponsorship changed all that. The private entrant of old, and as described here, still exists, but he is much harder to find.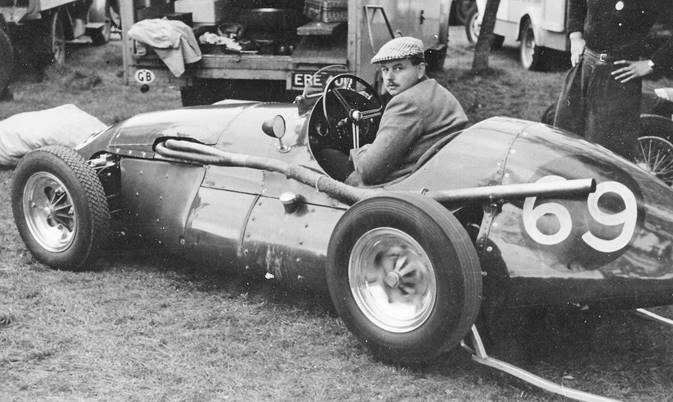 Ken Downing is not exactly the first name to spring to mind when we recall the Formula 1 private entrants of the 1950s but he was just one of many of the period who came from a prosperous family. He became a motor racing enthusiast when at school, briefly came into the sport, and then abruptly retired for other adventures in the field of business rather than racing.
One could say that one of the best known members of the Grand Prix Drivers Club, the late Paul Frere, had his first break in Formula 1 with the HWM team at Chimay. Paul won his first race with the team by beating the leader of the race on the last corner. That leader was Ken Downing and the car Ken was driving was his own private Connaught.
"…It's sad really that my late wife was doing all my pit work and everyone blamed her but to be frank the reason I lost that race was that I was the one who made the mistake. She had been giving me my times and position on every lap but when I came round to start the last lap I was so dopey that when she showed me 14 seconds in the lead I had forgotten it was the gap at the end of the previous lap. This was a road circuit so on that last lap the spectators had started to walk down the road and it really scared me so I never thought to look in my mirror. Suddenly I got the blast from the open exhausts of the HWM and I thought ' Christ this must be a back marker' but it was Paul.
"If only he had done that on the lap before I could easily have caught and passed him again because in the middle of the race I had a lead of 46 seconds.It rained and I went down an escape road with the front wheel locked, then I spun in a very narrow road when I took the corner and opened up too early. The track was so narrow I had to do a three-point turn to get going again. All this led to me losing over half a minute and then came that last lap mistake.  Paul and I later had lunch together and he said to me. ' You know Ken I think you went to sleep in that race and I said, yes, you're right".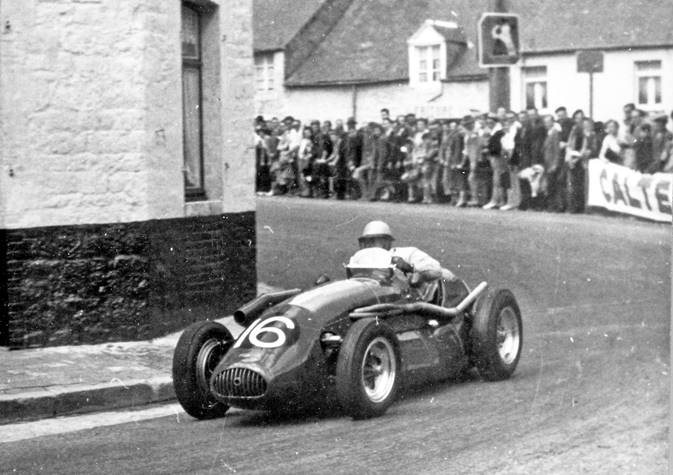 Ken Downing was born and brought up near Stoke on Trent in England where his father had a group of factories manufacturing roofing tiles, bricks and clay products for the building trade. As a schoolboy he used to be taken to the factory and it was only natural that his future occupation would be in the brick making industry. His father, George Henry Downing, was very astute and in the mid-1930's took the company, G.H.Downing Ltd., public.
As Ken pointed out, everything in those days was fired by coal as coal was cheap and plentiful in the area so the business was highly profitable. He recalls that one of his Belgian customers was Jean Blaton (Beurlys) who was also a well-known racing driver, usually with Ferraris. Blaton still raced his Lola in historic events in the 1990's and back in the 1950s wanted to be Downing's agent in Belgium. The company already had an agent and it would have been difficult to break the contract in Blaton's favour. However, as Ken explains "….Jean accepted the situation and in fact not only did we provide the roofing tiles for his own house but also for his son in law, Jacky Ickx. Every time I see Jacky I ask him if the roof tiles are still holding up!"
Many years later Ken was to become Chairman of the company before making one of those career moves that completely changed his life.
Clearly he had a privileged early life. His mother was taught to drive by Perkins, Sir Henry Segrave's chauffeur and riding mechanic. Perkins must have done a good job as one morning when his mother got up very early to drive Ken to his prep school, the battery of her Rolls Royce proved to be flat. "…. much to my surprise she rolled out my father's 8 litre Bentley and took me to school in that. I later drove that Bentley. It was a very difficult car and I was surprised that my mother simply jumped into it and drove off as though she had driven it for years." 
Ken was given an MGJ2 Midget as his first car and was a keen racing enthusiast. " I joined the Brooklands Junior Racing Drivers Club. They held the odd rally and I was very keen to have the Junior Racing Drivers Club badge". The Brooklands Junior Racing Drivers club brought together a lot of like-minded young men who went on to race cars and one of the part time instructors before the war was Louis Klementaski, the famous motor racing photographer.
In the early days of the Second World War Ken was sent to France with the British expeditionary force before the famous Dunkirk evacuation and almost did not get back to Britain. "We were heading for the coast when a Panzer division literally surrounded us. One day we were having breakfast beside the road when the Germans came down the parallel road and we had to drop everything and run for it. I was in fatigues and even left my trousers behind, which was a blow as I had had my tailor sew a lot of £5 notes in the belt lining for weekends in Paris; I lost the lot. We had no way of getting north to Dunkirk so we eventually reached Cherbourg and I managed to get on the last ship back to England".
Ken's interest in motor racing came from his prep school days at Yarlett Hall. Shortly after he arrived there, at the age of 8, most of the school came down with the measles and an older boy in the next bed spent his time drawing racing cars. It was he who gave Ken the bug. Throughout his racing career, Ken always bought his own cars. One day, walking down Sloane Street in London he saw this beautiful car in a showroom. It was one of Donald Healey's Healey Elliot-bodied saloons and he bought it on the spot. As the first Goodwood meeting was due to take place shortly afterwards, he entered it for the touring car race.
The day before practice he and his wife Liz popped into Goodwood to look at the place and to his surprise he bumped into the Duke of Richmond and Gordon, owner of Goodwood, a successful racing driver before the war and grandfather of our present Honorary member Lord March.
"Freddy Richmond was something of a hero to me, winner of the Brooklands Double Twelve race and I was surprised when he said he would show me round. He jumped into his Bristol 400 saloon and I chased him in the Healey".  Then Ken was faced with his first race. "I had never been on a grid before and was watching the flag and not the rev counter. I went up to 5,000 rpm, let the clutch in and nothing happened. The clutch slipped or, I must admit, I might have been in neutral.  It was only a 3 lap race and the field were into Madgwick before I got going but I managed to finish second."
The Healey was used for rallies as well as races and it became the first car in his racing stable. His second car was the Riley- engined Brooke Special built by racing driver Leslie Brooke. This car had raced at Brooklands with MG and Riley engines and Ken bought it with the Riley engine in 1949. He felt the car was not very competitive but liked it. He ran it in the British Empire Trophy in the Isle of Man but the clutch broke and he abandoned it and walked back to the paddock across the fields.
It was at this time he bought his first Connaught, a sports car with a Lea Francis 4-cylinder engine. He had it built as a 1.5 rather than the normal 1.75 litres as he did not want to be put in the same class as the Le Mans Replica Frazer Nashes. In order to make it even more competitive, he had a light shell body built in Newcastle under Lyme for £200 and raced this rather ugly but fast machine all over England. By now he was friendly with Rodney Clark and Mike Oliver at Connaughts.
In 1950 he decided to replace the Riley engine in the Brooke Special with a 2 litre Delage fitted with 12 Amal carburettors but the engine was a disaster as it was almost impossible to make the Amals run cleanly in sync!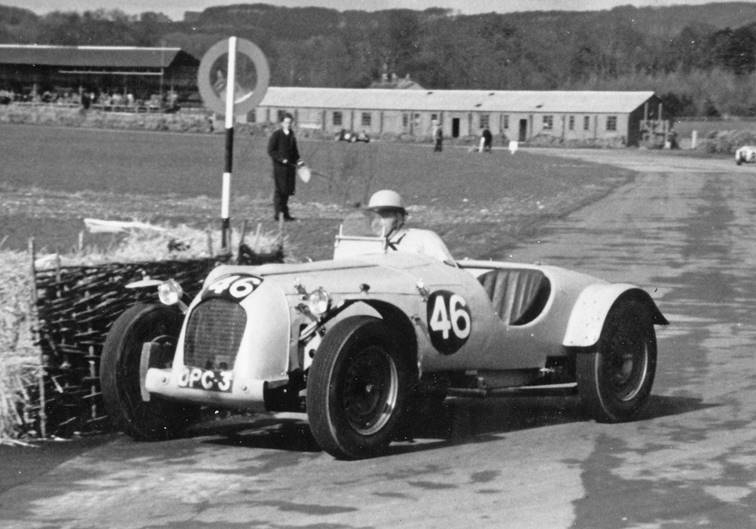 Always one to support motor racing, he became a founder Director of the Cheshire Car Circuit Club which was the driving force behind the creation of the Oulton Park circuit but he never actually raced a car there.
For the 1952 season Mike Oliver persuaded Ken to buy a Connaught Formula 2 car. The Connaught always looked big and bulky but in fact its tube chassis was relatively lightweight and it was the chubby side fuel tanks, which gave it its girth. "This was one of Connaught's secret weapons because having the fuel centrally in side tanks there was no change in the handling as the fuel was used up. The handling was one of the strong points with the Connaught. If you had your fuel tank at the rear the handling changed as the fuel level went down" added Ken.
The engine was again Connaught's modified Lea Francis four-cylinder. The prototype A1 ran in the 1951 racing season and attracted a lot of interest – so much so that eight chassis were laid down for the 1952 racing season. By boring out the engine Mike Oliver was able to increase the volume to close to 2 litres. Chassis A2 was never built and so the second Connaught FII car was chassis A3 and it was sold to Ken Downing. At the opening Goodwood meeting of 1952, both Ken McAlpine's prototype and Ken Downing's new car retired with blown engines due to low oil pressure. After this happened a couple of times it was realised the big end inserts had been put in the wrong way round!
Meanwhile, in Paris, the FIA decided to make the existing Formula 2 for 2 litre un-supercharged engines into the Formula 1 capacity for grand prix races. Downing now realised he had a grand prix car.
He entered the Connaught for the British Grand Prix at Silverstone. There were four Connaughts in the race and on this occasion the private entrants were entered under the Connaught Engineering banner. ( drivers Ken McAlpine (A1) Downing (A3), Eric Thompson (A6) and Dennis Poore (A4) ). There was a full Factory Ferrari team, Ascari, Farina and Taruffi, and three factory Gordinis, Manzon, Trintignant and Bira as well as most of the other leading drivers of the day. At the end of practice, it was no surprise to see three of the Ferraris and Robert Manzon's Gordini on the front row but leading the rest of the field was Ken Downing with his Connaught in fifth place. Next to him were Reg Parnell Alan Brown and Mike Hawthorn in their Cooper Bristols with Dennis Poore and Eric Thompson up next, with their Connaughts. Stirling Moss in the slow G type ERA was back on the fifth row three seconds slower than Downing. At the start, Parnell and Brown tried to burst through the middle and Downing was baulked by slow-starting Farina. Downing's problem came at his pit-stop for fuel when he was delayed. Later in the race, he later admited, he was absolutely exhausted, made a mistake and spun and so finished down the field in 9th place. One of the problems with the car came with the four Amal carburettors, which proved difficult to tune.
In the September Goodwood meeting success came when Downing won the Madgwick Cup for Grand Prix cars against all the Formula II stars of the day. There were five Connaughts in that race but Ken pulled away by around 2 seconds a lap, with his friend and fellow Connaught driver Dennis Poore in second place in the factory A type. Downing also had the pleasure of setting a new Formula 1 hill record at the Prescott Hill Climb with the Connaught, a record that stood for the next five years.
At the end of the 1952 season, Ken Downing decided to cut down on his inventory and took out a half page advertisement in Autosport. He advertised his Formula 2 Connaught, the 1.5 litre Connaught sports car, the Healey saloon, the Brooke Special – this time with the Delage engine – and the Riley Formula 2 engine that had been in the Brooke Special. As soon as the ad appeared, Rob Walker came along and bought the Connaught Formula II car for Tony Rolt to drive. It was uprated by the factory to 1953 fuel injected specification so eliminating the problem with the Amals.
Once he had rid himself of his cars Ken looked around for something else to buy and decided upon an Aston Martin DB2 as he had realised the Healey was no longer competitive. He contacted John Wyer at Aston Martin, placed his order and sat back to wait; …..and wait. Finally he talked to Wyer who suggested that he might like an Aston Martin DB3 open sports racing car which was about to be launched.  " I agreed with him and ordered the DB3 but on the strict understanding that it had to be identical to the factory cars. John agreed absolutely and I believed him! Eventually the car was delivered directly to Silverstone along with the factory cars. I had not even sat in it before practice. Aston Martin was responsible for the car at that meeting but from then on I was on my own. I was told my brake lights were on during practice so I raised this with David Brown who told me they would fix it but they never did. They also said the car was the same as theirs but I had proof that it was not. What happened was they (Aston Martin) turned up with the smaller and lighter DB3S leaving Tony Gaze, Bob Dickson, Graham Whitehead and me with the old and unloved DB3″
Reg Parnell got to know that Ken had the DB3 but was not using it so came up with the idea that he, Parnell, drive the car at Snetterton and that he and Ken shared the expenses to which Ken agreed. " He took my car to Aston Martin's headquarters at Feltham took my engine out and put their own engine into it. This was the proof that I needed that I had been sold the car with a normal customer engine. I had a lot of trouble with the DB3, particularly with the brakes. We felt the hydraulic fluid, which was mounted in a little container above the exhaust pipes, was boiling. Apparently every time I came into the corners I was standing on the brakes so hard the back end would lift up and I would then oversteer through the right hand corners on left lock. Actually none of us did any good with a DB3 and Duncan Hamilton bought it from me to sell to Sir Jeremy Bowles. As my mother was dying I decided to pack it in call it a day and concentrate on other things."
There was an amusing incident many years later when Ken's nephew, David Skailes – who raced an Aston Martin DB4 Zagato – actually entered Ken for the sports car race at Goodwood in 1964. As it turned out, Ken had no competition licence and David Skailes had to drive the car himself finishing fourth behind the winner Jackie Stewart in the Ecurie Ecosse Tojeiro-Ford. Unfortunately, the London Evening Standard did not realise the change of driver, so they reported Ken had finished fourth to Jackie Stewart . Incidentally, Ken's other nephew Ian "Mo" Skailes also became a racing driver racing Chevron sports cars in the 2 litre sports car races of the 1970's. Today the Skailes brothers are England's leading producers of Stilton cheese!
So in the middle of 1953 Ken Downing retired from motor racing. He had been Chairman of the family business, which had become a public company twenty years before. His mother died and he and his wife and family decided to strike out for pastures new in South Africa.
When there, he joined a consortium of like-minded entrepreneurs and invested in new companies. One of the most successful ones was his involvement with a Professor in Cape Town and his company, Serovac, which came up with the first commercial DNA. The company was eventually sold to a multinational group. At the same time he was a member of the RAC of South Africa competitions committee so he was able to keep up his motor racing links.
Then there was Ken's adventure in sea diamonds. For this, his company developed a dredger which dredged the mouth of the Orange River seeking diamonds that had been washed down from the diamond mines at Kimberley up river. Eventually this company was sold to the de Beers diamond consortium. Ken next had the idea of mining guano on one of the small islands around Madagascar but after many adventures, that idea was shelved.
Meanwhile Ken's daughter, Ann, married a young man who wrote a column in Autosport and was involved in motor racing. He was Paddy McNally who became one of Bernie Ecclestone's right hand men and a millionaire in his own right. In 1980 Ann died of cancer. Later, on a ski trip to Verbier, Paddy engaged a young chalet girl called Sarah Ferguson, later the Duchess of York, to help with the boys. The rest is history.
Following the death of his wife, Ken Downing retired to Monaco where he lived in his own apartment in one of the leading hotels. He remained a lively conversationalist with a wealth of stories to tell and admitted that he enjoyed the best years of his life with the Connaughts and his friend Mike Oliver.
When asked to sum up his racing career he was typically modest "You must remember I was Chairman of a big public company when I was racing. If you check my record the number of races is not huge but what I did was useful!"