In the second part of this series we turn to a motor racing family that stretches back over one hundred years, the Pilettes.
Teddy Pilette, vice-President of the Grand Prix Drivers Club is the third generation of the Pilette family from Belgium to go motor racing. His grandfather, Theodore Pilette – after whom he was named – was born in 1883 at St Gilles and was to found Etablissements Pilette with distributorships for Bugatti, Mercedes and Packard cars.
At the age of 20 he started racing most successfully with Mercedes cars though he was at one time a factory driver for Mors.
Theodore was promoted to the Mercedes factory team and raced all over Europe. In 1913 he entered the GP de France, finished third and leading Mercedes factory car.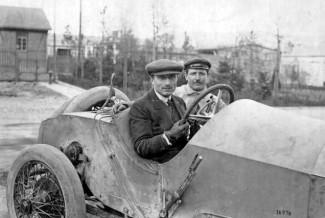 He then entered for the legendary Indianapolis 500 with a Mercedes-Knight, the smallest-engined car in the race and surprised the Americans by finishing 5th overall. However, it all came to an end in 1921 when, returning from the Mercedes factory with his regular mechanic, he crashed and both were killed.
By this time Theodore had married and in October 1918 his son Andre was born. Having lost his father at the age of three, Andre still grew up surrounded by cars and he started racing immediately after World War II with an aged Alfa Romeo 2500.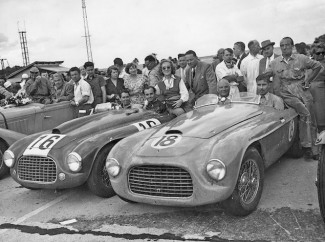 His friend, Hermann Roosdorp, asked him to share his Ferrari 166 Spyder Corsa in the 12 hour sports car race at Montlhery in Paris in 1948 finishing in third place.
Ecurie Belgique was then founded by Andre Pilette, Roger Laurent, Charles De Tornaco and Johnny Claes with a grand prix Talbot-Lago which all of them shared. Andre's first Formula 1 Grand Prix was the 1951 Belgian Grand Prix with the Lago where he finished a creditable 6th overall.
Two years later, again in the Belgian Grand Prix he raced a Connaught for the Ecurie Belge, but was unclassified.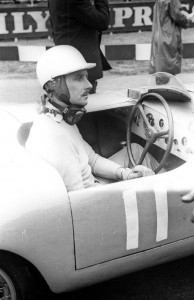 Andre Pilette raced many cars, became one of the most successful racing drivers in Belgium and was recruited into the official Gordini team. It was with them he had his highest grand prix placing with 5th in the 1954 Belgian Grand Prix.
Pilette had a serious accident at Agadir in 1954 when driving a Ferrari 750 Monza. He skidded on the hot slippery tar and rolled the car. Luckily he was thrown out – seat belts had not been created – suffering only a broken collarbone and was lucky not to be hit by any of the other cars.
In 1956 he received his greatest accolade when he was entered for the Belgian Grand Prix in a factory Lancia Ferrari D50 that was repainted yellow, the Belgian racing colours and finished in sixth place.
Andre Pilette continued to race until 1964 but was never driving a truly competitive car. His Emeryson, formula 1 car was a disaster and then his final two grand prix races at Spa and the Nurburgring that year were with Equipe Scirocco Belge but he had no success. Instead, he concentrated on the successful Racing drivers' school he had founded with his son Teddy Pilette who had already started racing.
It was natural that Teddy Pilette would follow his father into motor racing He ran in the highly competitive Formula Junior class in 1962 and got his big break when he was appointed to the factory Abarth team along with Hans Herrmann racing a variety of models.
At that time Count Van der Straten started his Team VDS and Teddy was invited to join the team to race an Alfa Romeo TZ, T33 and a Lola T70.
Teddy's ambition was to race in Formula 1 like his father and this came closer when Team VDS decided to compete for the European F5000 Championship.
In 1973 Teddy won the European Championship with his Chevron B28 teamed alongside Peter Gethin who was also to move into Formula 1. Two years later Teddy again won the Championship for VDS once more but this time with a Lola T400.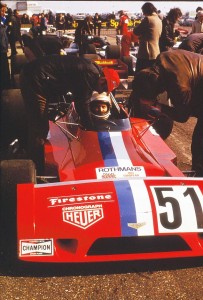 The previous year, 1974, his dream came true when he was entered for the Belgian Grand Prix on the small Nivelles circuit driving a factory Brabham BT42. for Bernie Ecclestone
A true all-rounder Teddy had already raced for Garage Francorchamps with their Ferrari Daytona and had his first Le Mans 24 hour race in 1968 driving the Team VDS long tail Alfa Romeo 33/2.
In 1972 he finished 8th overall sharing a Ferrari 365GTB4 with Derek Bell.
Teddy enjoyed long distance sports car racing and remembers his Le Mans with French rally driver Jean-Claude Andruet, again in a Daytona. Teddy could not believe that Andruet would not sleep for the entire 24 hours. When he asked Andruet about this Jean-Claude told him that the only way to keep awake was to eat strawberries!
For the 1977 racing season Teddy was signed to drive for the Stanley-BRM team with the relatively unloved and uncompetitive BRM P207 V12. Larry Perkins and Conny Andersson had already tried to compete with the car and Teddy was drafted in for BRM's last grand prix appearances at Hockenheim, Zandvoort and Monza. Try as he might, he could not qualify the car. It was sad that his grand prix career should end like that but he continued to race for a number of years even developing an interesting car for a 1992 Ferrari event at Spa.
In this Teddy was involved with Jean Blaton, the main shareholder in Garage Francorchamps, and the project was to develop a one-off Ferrari 348 for racing.
As Teddy explains.: "The car cost a fortune and I spent six or seven months working on it. This car was actually built at Garage Francorchamps but was not paid for by Jacques Swaters but by Jean Blaton himself.
"Both Jean Blaton and I drove the car at the Spa event and it was almost as quick as an F40 Ferrari. Then the car disappeared to Modena and became, the prototype of the 348 Challenge car for the first Ferrari Challenge series." Pilette even had a model name for the car, the 348TBF (Teddy/Blaton/Francorchamps.)
Today Teddy spends his time between Thailand and France and was elected a vice-President of the Grand Prix Drivers club in 2013.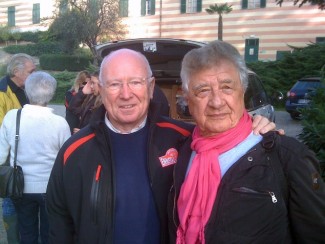 (The third Father and Son story on Club members will feature the Hills, Graham and Damon.)