Sixty years after Juan Manuel Fangio scored an historic first-time-out win for the Maserati 250F, this year's Goodwood Revival 2014  celebrated the car that personified grand prix racing in the 1950s. A stunning display of the 2.5-litre 250Fs was showed in a period recreation of the pits at Italy's famed Monza circuit, while 10 of these charismatic, front-engined cars also took part in the Richmond Trophy.
[Row][Column]
Included in their number is the most notable 250F of them all, the car used by Fangio to win the 1957 German Grand Prix at the Nurburgring. After a pitstop had dropped the Argentinian behind the Ferraris of Mike Hawthorn and Peter Collins, he proceeded to stun the crowds and haul the pair in with a display of on-the-limit motoring, thought by many to have been one of the finest drives in the history of the sport.
Other 250Fs present included ex-works cars once driven by Sir Stirling Moss, Fangio and Jean Behra as well as one of the earliest, which was owned by the exotic Thai prince, 'B.Bira'. A unique alternative to the 250Fs is the 'Eldorado Special', the only other single seater designed by Maserati during the second half of the 1950s. Powered by a 4.2-litre 450S sportscar engine, this was built for Moss to compete against the American Indy cars in the 1958 Race of Two Worlds on Monza's fearsome banking. A steering failure was to give Sir Stirling probably the scariest moment of his whole career. The car was then sent to the USA where Ralph Liguri was unable to qualify it for the Indianapolis 500.
[/Column][Column]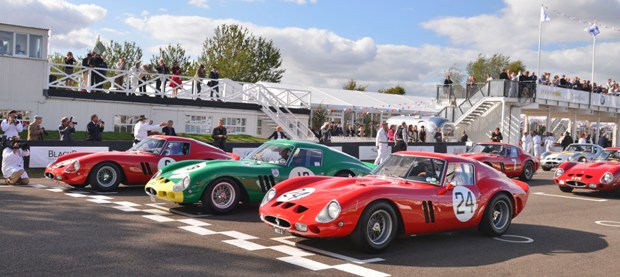 Another unique machine, the 250F-based TecMec Maserati, the ultimate version of the car, finished second in Sunday's Richmond Trophy driven by owner Tony Wood; beaten by the Lotus 16 of Roger Wills. In period, this made but just one start, retiring in the 1959 US GP at Sebring. It was fitting that so many 250Fs should have been present, the original Glover Trophy having been won twice by such cars with Roy Salvadori in 1955 and Mossi in '56.[/Column][/Row]
For more information, contact jamie.oleary@goodwood.com at the Goodwood Press Office.