John Surtees, 1964 World Formula 1 Champion, died on Friday, March 10, in St Georges Hospital in London. He had gone into hospital for treatment on a respiratory condition a few weeks ago and his wife Jane and daughters were with him when he died.
Our members remember John :
Sir Jackie Stewart:
"John Surtees had a remarkable career, wider potentially than any other world champion because of him not only winning the world championship on bikes on seven occasions but also wining the TT three times in succession. He then went successfully onto four wheels, not only winning the world championship in F1 but successfully from moving from Formula Junior to Formula 2 to sports cars, CanAm with Lola and then creating his own F1 team. A remarkable career and a great loss to the world of motorsports."
Emanuele Pirro (Vice President Grand Prix Drivers Club)
"The Only one man in history who has been world champion in the top class of both two and four wheels. I had the privilege to meet John Surtees at Goodwood several times. He has been, in fact, one of the first supporters of that event sharing the vision with Lord March. I have been captured by his charisma, his lucidity and his humbleness. A lesson for many. I would like to know whether he considers himself more a rider or a driver, but I never asked him.
 Short after he lost his son Henry he gave, during the Festival of Speed in Goodwood, one of the most touching speeches I have ever heard and my admiration for him increased even more.
 In today's modern times it is impossible to replicate what he achieved not only by winning in those two different disciplines, but as well to become a constructor in Formula One.
 All of us at the GPDC mourn for the loss of John Surtees who has gone to join not only his son Henry, but many other members of our beloved Club.
 RIP Big John,"
 Teddy Pilette ( Vice-President Grand Prix Drivers Club)
" I was shocked when I heard that John Surtees had died as I have many happy memories of him.
Unfortunately he had retired from grand prix racing before I started but I had a lot of fun when John ran Mike Hailwood in the European Formula 5000 series in a Surtees and we had many battles together.
" When I was young my father, Andre, was very friendly with the Belgian motor cycle racer Roger Laurent and my interest in motor cycle racing came from going to events with Roger Laurent so I always admired what John Surtees did both on two wheels and four.
 " One of my lasting memories came at the Club's meeting at Maranello. John and his wife Jane arrived in his Ferrari and I was surprised when he told me he had driven all the way from England to Maranello; but what surprised me more was that he immediately went into the hotel,  came out with a bucket of water and began to wash the dead flies off the front of his Ferrari. He was a highly respected member of our club"
 Dan Gurney:   Member Grand Prix Drivers Club.
"Goodbye to a rare friend who made it to the pinnacle of racing on both two and four wheels"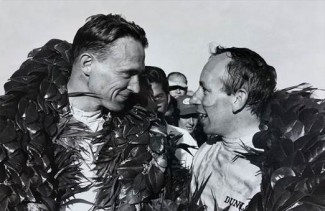 Agnes Carlier  (Assistant Secretary Grand Prix Drivers Club)
 "It with great sadness to know John is no longer with us.
Personally, I feel like I have been hit by a bus. It is terribly hard to accept a loss, which you didn't even imagine could one day come. A really heavy and sad moment, but we all will remember John as one of us and as a wonderful man and racer. To the whole family my deepest felt condolences also in name of the members of the F1 Grand Prix Drivers Club".
 Graham Gauld ( Membre Presse)
It still seems difficult to believe that John has left us because he was a true Champion and a character with a sly sense of humour. His exploits, firstly as a sidecar passenger alongside his father and then his remarkable motor cycle racing career which saw him win multiple Championships are the stuff of legend.
I remember Jim Clark telling me of the day he was invited to Goodwood to test drive for Aston Martin with a view to him joining Roy Salvadori to race the new Aston Martin DBR4 Grand Prix car. John Surtees was also there as Reg Parnell had asked him to try out an Aston Martin DBR2 sports car. John had also brought along a fellow motorcycle ace, John Hartle. At one stage John suggested to Reg Parnell that he should let his friend John Hartle drive the DBR2 sports car and he crashed the car.  Was it not for this, and another accident at a second test, John Hartle might have joined John Surtees in racing!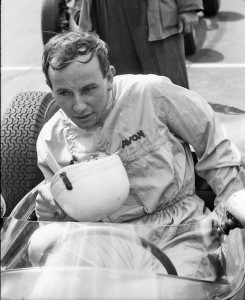 Shortly afterwards Jim Clark signed for Lotus to drive the new Lotus 18 in Formula Junior and John Surtees signed up with John Cooper to drive a Cooper and so they first raced against each other at the Goodwood meeting on March 19 1960 .
Recalling that race Jimmy told me "….John and I had a tremendous start and we arrived at Madgwick together with Trevor Taylor in third place. John passed me over on the back of the circuit but I knew that my Lotus 18 handled better than his Cooper and I decided to see how he felt about slipstreaming.
"The crowd loved this race so did I but on the second lap I took John at Woodcote and though he passed me momentarily on the fifth lap I managed to regain the lead and win". From that moment Jim Clark's respect for John Surtees was complete.
Most that has been, and will be, written about John Surtees will cover the statistics but many of our Grand Prix Drivers Club members will have personal memories and views about him. As a young motoring journalist when John started racing I found him far more approachable than most of the drivers at that time and you knew that if you asked John a question he would come back with a straight answer.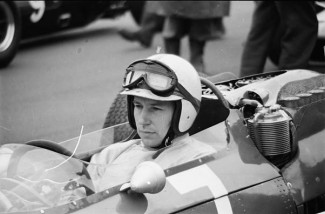 Much has been written about his time at Ferrari and in particular his relationship with team manager Eugenio Dragoni. Enzo Ferrari embraced John Surtees almost like a son for it must be remembered that Enzo Ferrari raced and ran a team of motor cycles at one time so he was empathetic towards motor cycle racers. However John's battles with Dragoni boiled down to the fact that Dragoni could be very touchy and was pushing his own protégé, Lorenzo Bandini,  but John delivered a World Championship to Enzo Ferrari in 1964 and eighteen  months later left the team mid-season after winning the Belgian Grand Prix in 1966.  He joined John Cooper to drive the Cooper-Maserati and in his first three grands prix with the team he retired which must have been a great disappointment to him. However, he worked hard with Cooper helping o improve the car and won the Mexican Grand Prix that year.
His two seasons with Honda brought him just one grand prix win but he enjoyed working with the team and helping them develop the car but by the end of the 1960s he began to think about building his own Formula 1 car and the Surtees TS9 Cosworth made its World Championship grand prix debut in the South African Grand Prix at Kyalami in 1970. He soon found out that building Formula 1 cars, running the team and driving really did not mix so it was no surprise when he retired from racing in 1972.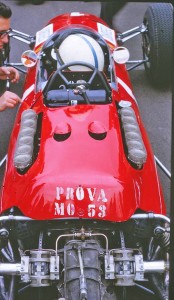 John was also remarkably quick in sports cars and won the first Can-Am Championship driving a Lola T70 and before that had driven a variety of Ferraris including the Maranello Concessionaires GTO . In the 1962 Tourist Trophy Race at Goodwood John and Jim Clark met again, literally, because John crashed the GTO after hitting Jim Clark's spinning Aston Martin DB4GT. The circuit had been resurfaced and Clark was caught out when being lapped by John and both cars were out of the race.
At Le Mans John was third in 1964 with the Ferrari 330P he shared with Lorenzo Bandini and if one was to be honest John Surtees was probably the greatest all round motor sporting competitors of all time what with his motor cycle World Championships, his Grand Prix successes, Sports car racing, Grand prix car manufacturing and team managing.
Away from racing he married twice, his first marriage to Pat Burke, ending in divorce. However he met his second wife, Jane who he married in 1987 and had three children, Henry, Leonora and Edwina. Jane provided a great calming influence on John and one of my favourite memories of John was when I visited him at his house when I was writing the biography of Reg Parnell. We were talking quietly in his study when the door burst open and in toddled young Henry. John laughed and gently eased Henry out of the room.  Sadly, a few years later, Henry was  killed in a freak accident at Brands Hatch in a Formula 2 race when he was hit by the wheel that had come off another car. John later set up the Henry Surtees Foundation in memory of his son.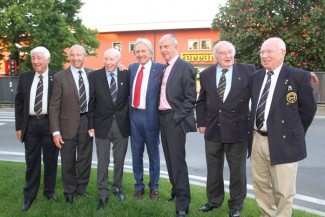 Nine month ago John Arrived with Jane at the Maranello Palace hotel for the Grand Prix Drivers Club General Assembly having driven to Maranello from his home in his Ferrari road car. He was in great form and was present when Piero Ferrari was made a Membre d'Honneur of the Club. He was clearly in his element back in Italy, the country he loved. Every restaurant we visited the family of the owner turned out to welcome him and it was a pleasure to be in his company and see how much he was loved in his home from home.
All of us who had the pleasure of his friendship will remember John Surtees as a truly great man and a gentleman of our sport.