The stark reality of the dangers of motor racing at the highest level were underlined on both sides of the Atlantic last weekend (August 23). In Europe we had two explosive tyre failures affecting Nico Rosberg and Sebastian Vettel that could have had serious results if they had happened on other parts of the Spa circuit.
[Row][Column]
However on the other side of the Atlantic, at Pocono, British driver Justin Wilson had no car component failure but was struck by flying debris from Sage Karam's car that had struck the wall.
Despite the great strides made on cockpit safety in modern racing cars, the detached nosecone of Karem's car hit Justin Wilson with dire results.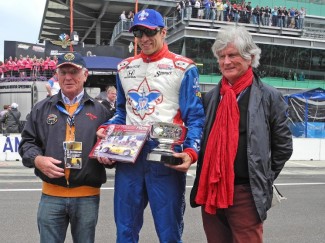 [/Column][Column]
Justin Wilson was a product of one of Europe's trainer formulae, Vauxhall/Opel Lotus.
Wilson was also successful in Formula 3000 before making his Formula 1 debut with Giancarlo Minardi's Team for the 2003 season. Half way through he moved to Jaguar Racing to run alongside Mark Webber and was 8th in the US Grand Prix that year.
With no seat for 2004 Wilson moved to the USA and the Champcar series and had his first win the following year in Toronto. In 2012 he won the Daytona 24 Hour Race in a Riley Mk26 and this season joined Andretti Motorsport in the Indycar series.
In 2013 Grand Prix Drivers Club Vice-President, Teddy Pilette with his brother Michael travelled to the Indianapolis 500 race to mark the 100th anniversary of their grandfather, Theodore Pilette's 5th place in the 1913 Indianapolis 500. They had commissioned a trophy which they intended to present to the driver that finished in fifth place in the 2013 race. That driver was Justin Wilson.
Justin Wilson was a quiet and modest driver who was well liked and respected in Indycar racing. For him to be killed by flying debris from another accident underlined once more that, though we may marvel at the sheer strength and safety of modern racing cars at all levels, there is always the accident which once more proves the rule that motor racing is dangerous.
The Club sends its condolences to Justin's widow and family.[/Column][/Row]