The New Year brought good news to the Grand Prix Drivers club when current World Champion Nico Rosberg joined so making him the youngest, ever, member of the Club at the age of 31.
Membership of the club is open to Formula 1 drivers after they have retired from Formula 1 – but not necessarily motor racing.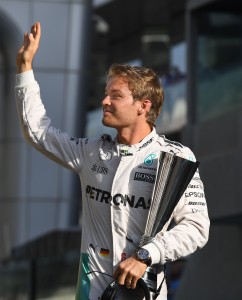 With Nico's retirement after winning the championship he joined the Club alongside his father, who was 1982 World Champion, and has been a member for many years.
Nico joins Mark Webber, who joined last year, and represents a new generation of former grand prix drivers.
Nico was born in June 1985 in Germany where his Finnish father had settled down and so races with dual Finnish-German nationality.
It was pretty clear that Nico would become involved with motor racing for after his retirement Keke Rosberg formed his own Team Rosberg in 1994.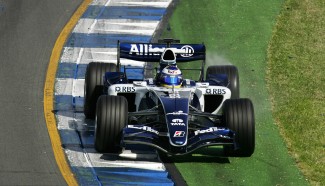 Keke had been racing with Opel in the German DTM championship and so his first venture as an entrant was in the DTM with Opels. Then, in 2002 Keke entered Nico in the German Formula BMW championship which Nico won outright before moving into Formula 3 spending two years with his father's team. The next move was obviously to GP2 in 2005 he joined Alexander Premat in the French ART team.
In the early stages of the Championship it was Heikki Kovalainen who caught everyone's eye but Nico soon hit his stride and had his first win at Magny Cours followed by a win at Silverstone. He was to win five races that season and won the GP2 Championship with relative ease. In that same year, 2005, he had become test driver for Williams.
The following year he joined Mark Webber at Williams and made his Formula 1 grand prix debut at the Bahrain Grand Prix where his youthful enthusiasm saw him spin on the first lap but continue to finish 7th in the race.
For four seasons Nico stayed with Williams getting some good and results but Williams were having little success.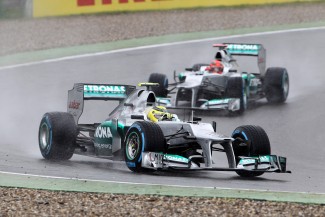 When, Mercedes took over the Brawn Formula 1 team, that had given Jenson Button his World Championship, it soon became clear that Nico was in a team that could best display his talents. His team mate, however, was the formidable Michael Schumacher, and yet at the end of the 2010 season it was Nico who had scored 142 points to Schumacher's 72. Now people began to take notice of Nico for in 2012 he again outpointed Schumacher.
With Schumacher's retirement at the end of 2012 Nico was faced with a new challenge in Lewis Hamilton who had already won his first World Championship and had moved from McLaren.
What followed in the next four seasons was a monumental battle between Nico and Lewis with Hamilton appearing to have the edge on determination. However it soon became clear that with Mercedes power behind them Lewis and Nico would continue to slug it out.
Last season, 2016, we saw the fully mature Nico Rosberg jump into the lead in the early races, lose it and then battle back to not only win the Championship but prove that he was not fazed by Hamilton's more aggressive form of racing and a worthy winner of the World Championship.
That he immediately retired from racing is also a testament to his determination to get on with his life away from motor racing. The Grand Prix Drivers Club not only wish him every success in whatever he choses to do but look forward to meeting him at some of the Club functions.