Henri Pescarolo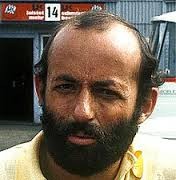 Henri Jacques William Pescarolo (born 25 September 1942[1]) is a former racing driver from France. He participated in 64 Formula One World Championship Grands Prix (57 starts),debuting on 22 September 1968. He achieved one podium, and scored a total of 12 championship points.
Pescarolo began his career in 1965 with a Lotus Seven. He was successful enough to be offered a third car in the Matra Formula 3 team for 1966, but the car was not ready until mid-season. However, in 1967 he won the European Championship with Matra and was promoted to Formula 2 for 1968. That season he was team-mate to Jean-Pierre Beltoise and achieved several second places and a win at Albi, which led to him being given a drive in Matra's Formula One team for the last three races of 1968.
His career suffered a setback, in 1969, when he crashed on the Mulsanne Straight at Le Mans whilst testing the Matra sports car. Pescarolo was badly burned & did not compete again until mid-season. He returned at the German GP where he drove a Formula 2 Matra into fifth place winning the small capacity class, in his only Grand Prix race that season.
For 1970 Pescarolo was signed full-time by Matra for their Formula One team and once again as team-mate to Beltoise, put in a solid season with a third place at the Monaco Grand Prix being the high point. He also won the Paris 1000 km and Buenos Aires 1000 km sports car races partnered with Beltoise.
Pescarolo was not retained by Matra & in 1971, 1972, & 1973 with Motul sponsorship drove for the fledgling Formula One team run by the young Sir Frank Williams, but with little success.
In 1974, Pescarolo drove for BRM, again with Motul backing, but the team's best days were gone and a ninth place in Argentina was his best result in a season with many retirements.
Pescarolo did not compete in Formula One in 1975 but returned in 1976 with a privately entered Surtees, but neither car nor driver could be considered competitive by that time.