Ken Downing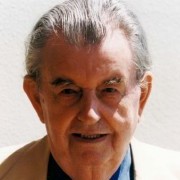 Kenneth Henry Downing (5 December 1917 in Chesterton, Staffordshire – 3 May 2004 in Monte Carlo) was a racing driver from England. Downing was born into a wealthy family, whose interests included manufacturing, transport and garages. He began racing at 21, competing in his first event the Eastbourne Rally in a Healey, and competed in sports car races throughout the 1940s. Initially racing a Brooke Special, he switched to a Connaught in 1951, winning 17 races throughout the year.
Downing switched to single seaters in 1952 racing a Connaught A-Type, and won the Madgwick Cup at Goodwood and second place at the Grand Prix des Frontieres at Chimay Belgium, where he lost the lead at the end of the race several metres before the finish line.[3] He finished ninth in his first World Championship event at Silverstone, but had run fourth in the race before spinning while avoiding a backmarker. He competed in the Dutch Grand Prix later that year, but retired from an oil-pressure problem. He switched to an Aston Martin DB3S for 1953, but decided to retire from racing soon after.
He emigrated to South Africa in 1955, and later lived in Monaco where he died in 2004. His daughter Ann married Patrick McNally, whose company Allsport Management controls the corporate hospitality and circuit advertising for Formula One.