Grand Prix Drivers Club member Alex Wurz has been in the news recently firstly with his announcement of his retirement from motor racing and now as winner, along with his father Franz Wurz, of the Prince Michael International Award for Road Safety.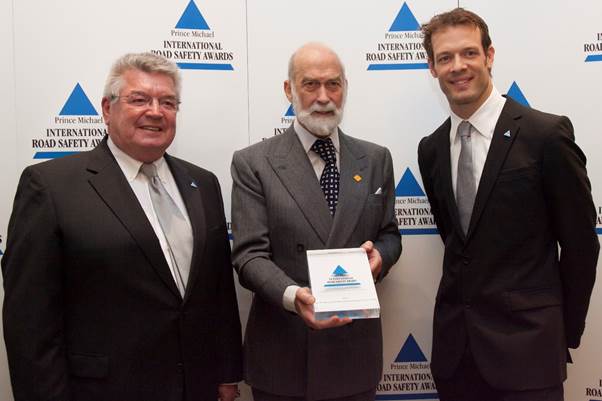 At a ceremony at the Savoy Hotel in London on 8 December, His Royal Highness Prince Michael of Kent presented the award to Franz and Alex Wurz, on behalf of their company Test & Training International (TTI), for their outstanding contribution to Road Safety.
Test and Training International was recognised for the invention of comprehensive road safety driver training facilities, including the design and operation of effective training programmes.
Alex Wurz says: "I am particularly proud to have been with my father during the award ceremony with HRH Prince Michael of Kent. My dad has invented numerous road safety training methods over the last 30 years which have saved countless lives. That his dedication, vision and work was honoured with such prestigious award, serves as great motivation for our company, myself and hopefully for more people around the world to keep working towards safer roads"
Franz Wurz: "I am very honoured that our company has been awarded a Prince Michael International Road Safety Award. We've developed and honed the Test & Training system over the last 30 years – our training programmes take place in specifically designed Training Centres where participants are taught to master dangerous situations in a safe environment. Our system has become mandatory by law in several nations, and we are dedicated to improving road safety through education of the road user"
About Test & Training International:
Four million drivers and further 3 million children have passed through the Test & Training system, completing an appropriate road safety driver training programme. Renowned as a world leader in Road Safety and Driver Training, the company is growing its Test and Race Track design activities, building on 30 years of design and operational experience of such facilities and incorporating Franz and Alex's racing expertise.
The Prince Michael International Road Safety Awards recognise achievements and innovations which improve road safety. Each year the most outstanding examples of international road safety initiatives are given public recognition through the scheme.
HRH Prince Michael of Kent GCVO is Patron of the Commission for Global Road Safety.