Bette Hill, widow of our former Grand Prix Drivers Club member and double World Champion Graham Hill, died on December 8 2017.
Bette was the real power behind Graham, who helped and encouraged him, bore him three children and survived the tragic aftermath of Graham's death.
She first met Graham when the mere thought of motor racing had never entered Graham's head. At that time he was a competitive rower and a member of the London Rowing Club. Bette and he met at an engagement party of one of Bette's girl friends that was held at a rowing club regatta in Hammersmith in 1950.
At the time Graham was on leave from the Royal Navy where he was completing his National Service. On his demobilisation, he joined Smiths Instruments as an apprentice. By pure chance, he saw a copy of Autosport with an advertisement for a new racing school at Brands Hatch and paid his first £1 to lap Brands in a racing car and was hooked. Clearly, Bette approved but he was not to race until two years later with a 500cc Formula 3 car.
Both Bette and Graham were outgoing and slightly flamboyant characters and when Graham met Colin Chapman at Brands Hatch they clicked. Graham had been doing various freelance jobs as a mechanic and when Chapman offered him £1 a day to repair one of his cars he willingly took on the job.
Bette and Graham got engaged and were married in 1955 when Graham was finally offered a full-time job with Lotus at £9 a week. Even though he now had a proper job it was Bette's savings that paid for the wedding.
These were difficult times for the Hills as Graham was determined to become a racing driver. Chapman helped by offering him a wrecked Lotus 11 that he could build up and race and from then on times began to improve.
When Team Lotus moved into Formula 1 in 1958 Graham was the bulwark of the team and Bette, who had supported him as helper and timekeeper now honed her skill in this area with Team Lotus.
When Graham joined BRM their finances improved and meanwhile Bette became one of the leading movers and shakers in the Doghouse Club created by wives and girlfriends of drivers and racing friends. She was always a persuasive and determined woman and whereas Graham would be the ever smiling and joking front man it was Bette who protected and helped push Graham to bigger and better things. A good example of this was when she felt Jackie Stewart was getting all the publicity about improving safety at circuits she pointed out that Graham and Louis Stanley had also been working behind the scenes on the medical side of motor racing safety.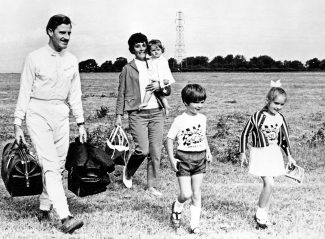 Graham and Bette were eventually to reach the stage where they were financially secure and were able to bring up their family, Brigitte, Damon and Samantha, in a comfortable environment.
However, on November 25, 1975, all of this came to an end when Graham along with some of his mechanics crashed his Piper on the approach to Elstree Airfield and all were killed.
This tragedy was bad enough but the aftermath was very tough for Bette. From a comfortable lifestyle, she gathered the children with the teenage Damon and created a new life at a lower key but with a determination to do the best for them as she had done for Graham.
She worked hard and faced all of her problems head-on.  When Damon came into motor racing she gave him all of her support and help and was proud when he became World Champion, which was amply acknowledged by Damon in his recently published biography. Less was heard of Brigitte and Samantha because both of them were able to quietly pursue their own careers within motorsport in the publicity field where they are well known and have never sought the limelight.
Bette was in her early '90s when she died, having been declining in health for some time but those of us who knew her will remember her as a bold and outspoken woman who enjoyed the fun and milieu of motor racing.
The Grand Prix Drivers Club offer condolences to fellow member and former World Champion Damon Hill and his sisters Brigitte and Samantha on their great loss.