Few people have heard of Brazilian grand prix driver Fritz d'Orey and those who do probably associate him with the car that might have been the successor to the 250F Maserati ; the Tec-Mec.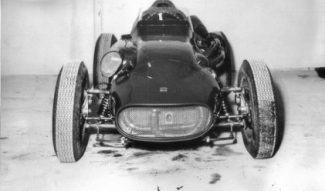 Maserati's financial problems caused the company to pull out of grand prix racing at the end of the 1958 racing season but Maserati engineer Valerio Colotti, who had been responsible for chassis design and transmissions  had already been working on a new car which would remain front-engined but be as light as possible to debut during the 1959 season so he left the company and set up his own Studio Tecnica Meccanica originally working from his home in the Modena. He was approached by Italian private entrant, Giorgio Scarlatti to continue with the project.
Basically he wanted to retain the reliable six-cylinder Maserati 250F grand prix engine but fit it into a shorter version with a lightweight tube chassis. The iconic heavily-finned drum brakes were converted to lighter Girling disc brakes and he also did away with the traditional Maserati de-Dion rear suspension and replaced it with transverse leaf springs and wishbones. He located workshops and transferred all the work to his new headquarters.
Meanwhile, the Swiss motoring journalist, Hans Tanner, who was always on the lookout to help "fix" things, for a consideration, came along with Gordon Pennington, an American was staying in the Reale Hotel who was on the look out for some kind of racing car. As Scarlatti had bought into the project he was persuaded to sell his shares to Pennington and so the project became a reality as Tec-Mec Automobili.  To run the team Pennington brought in Lucky Casner who ran the Camoradi team that was eventually to run Maserati sports cars successfully.  Once the car was ready it was wheeled to the Autodromo nearby and tested by Scarlatti and Jo Bonnier  but time was running out and it was quickly shipped over to the United States for the first ever US Grand Prix at Watkins Glen in October 1959. As driver the team selected Brazilian Fritz d'Orey who qualified the car but clearly it was simply not ready to be thrown into World Championship racing.
Meanwhile Colotti and Alf Francis set up Gear Speed Developments in Modena which was to specialise in designing and building gearboxes.
So, who was Fritz D'Orey?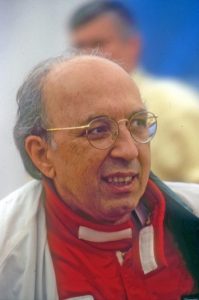 His father and mother were Portuguese who moved to Brazil and Fritz was born in Sao Paulo in 1938. By then his father had become a prosperous Packard dealer in Sao Paulo and at the age of 20 young Fritz had a Porsche Spyder to race with.
His first Formula 1 car was an ageing Ferrari 375 that had been raced by Chico Landi but fitted with a Chevrolet Corvette engine. He came to Europe in 1959 to drive an ageing Maserati 250F for Scuderia Centro Sud in the French Grand Prix but finished way at the back.
He then took the car to Aintree for the British Grand prix and wrote it off. Then came the invitation to race the Tec-Mec. The car was clearly not ready to race but d'Orey was still 10 seconds a lap quicker than the slowest driver in practice, USAC driver Roger Ward driving a typical American Kurtis Kraft sprint car fitted with an Offenhauser engine that was totally uncompetitive.
In the race d'Orey overtook George Constantine's aged Cooper but after six laps the car retired with a serious oil leak and that was that.
Thirty five years later I actually met up with Fritz D'Orey at the Enna circuit in Sicily where he was racing a more modern Ferrari in the Ferrari Challenge series. When I mentioned the Tec-Mec he slightly dropped his head gave a wan smile and admitted the car was terrible and it didn't handle.
He then explained that after the Sebring race he returned to Sebring a few months later and  finished 6th in the 1960 12 hour sports car race driving a Short Wheelbase Ferrari 250GT. He then came back to Europe but at Le Mans, again in a Short Weelbase, this time entered by Count Volpi and to be shared with  Carlo Mario Abate, he suffered an enormous accident hitting a tree and splitting the Ferrari in two. He had serious head injuries and was lucky to live so whilst in hospital he decided to retire from racing at the age of 23.
Many years later he returned driving more modern Ferrari's in the Ferrari Challenge.
However the race at Sebring back in 1959 was not the end of the Tec-Mec story. The car languished in a garage in the USA for many years until Tom Wheatcroft, the owner of the Donington circuit in England and the owner of one of the finest collections of grand prix cars, got wind of it and was able to buy the car and bring it back to Britain where it was taken apart and rebuilt into running order. As was his custom, Tom took it out on his track but crashed it badly. It was then given to Tony Merrick who meticulously rebuilt the car and it was put on display in the Museum. Again the story might have finished but Tom was persuaded to sell the car to Barrie Baxter who raced it successfully. The car was then sold to its present owner Barry Wood and it is normally driven by his son Tony Wood.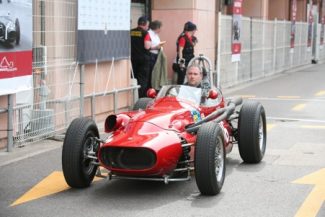 Today the Tec-Mec – which is prepared by Ian Nutall Racing – is a properly developed racing car which, in historic racing, can do what it was originally meant to do, challenge the rear-engined Coopers and Lotuses of the early 1960s. At the Monaco Historic Races last year, (2016) Tony Wood ran out the winner.
Meanwhile, whilst researching a book on motor racing in Modena I was in touch with Marco Colotti, son of Valerio Colloti, the subject of the Tec-Mec came up in the conversation and Marco remarked that he knew all about the car but that he was just a small boy when it was being built and had never actually seen the Tec-Mec in the flesh, so to speak. When I told him the car would be at Monaco last May for the historic meeting he decided he would visit the event as he had dreamed of not only seeing the car but seeing it actually race. Needless to say he met up with Barry and Tony Wood and for the first time was able to take a closer look at the car his father had designed nearly fifty years ago!