The Grand Prix Drivers Club has always embraced a number of honorary members who, though not grand prix drivers, have been deeply involved in grand prix racing. For example
the late Enzo Ferrari was an early honorary member and last year his son Piero Ferrari was made an honorary member. All of those members have fascinating stories to tell and currently one of the oldest members of the club, at the age of 92, is Claude Le Guezec who is best known in grand prix circles as the racing manager for Matra.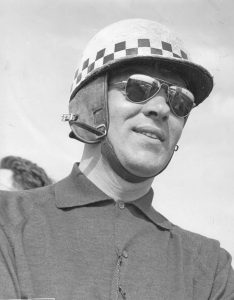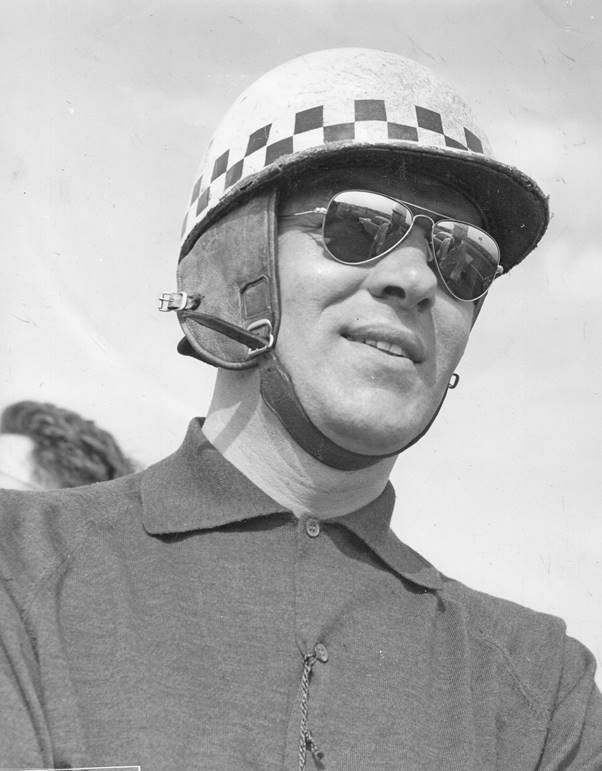 Very few people, however, know of his racing and rallying background and his introduction to Matra.
Born in Paris, Claude's father had been a pilot during World War 1 and ran a garage and repair company and so he was always interested in cars and racing.  His first important car was a Jaguar XK120 that he bought at an auction in Paris. It was an early US specification car that had been in Phoenix, Arizona and so was in perfect condition. The car is still in Claude's private collection of cars alongside his favourite, his 300SL Mercedes Benz.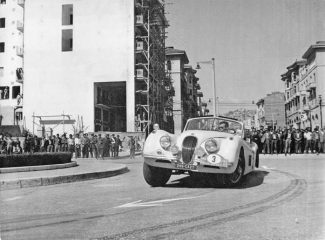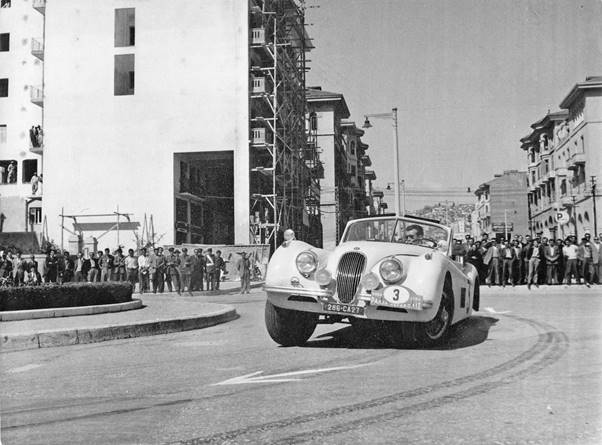 Claude and a group of friends formed their own team Ecurie Paris Isle de France and in 1952 one of the oldest members, Marius Heyman, announced that he had ordered a Ferrari 212 Inter berlinetta and planned to do the infamous Liege-Rome-Leige Rally. This was a non-stop 52 hour rally from Belgium to Italy and back and Heyman needed a co-driver.
Most of the club members had normal family cars that they used on events and it was suggested that as Claude's Jaguar XK120  probably was the only car that was equivalent in performance should co-drive.
" I explained to Marius that I had never driven a Ferrari and on such a tough event I would need to try it out before the event so Marius promised that when the car was delivered I could borrow it for a month to get used to it". 
As Claude was young and obviously quick Heyman suggested that he drive and so he drove the car non-stop to Rome  including the closed road special stages. The car needed some work done to it in Rome so Claude suggested that Marius drive the car so that he could get some sleep before facing the mountain stages in the Alps.
It was to be a tragic decision for 200 kms outside Rome the owner fell asleep and hit a tree. Claude woke up lying on the roadside having been thrown through the windscreen. He saw Haymen crouched over the steering wheel and then lost consciousness to find out later in hospital that his friend had been killed on impact.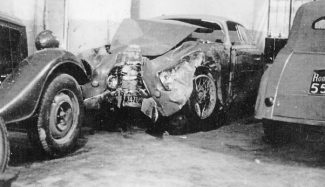 Claude recovered from the accident and went back to his garage in Paris that specialised in repairing coachwork on Facel Vega's and Facillias. As his father was now working with the luxury car maker, Claude got all the repair work.
However, he was invited to join Garage Mirabeau which had the Aston Martin agency for France and eventually the owner persuaded Claude to sell his garage and take over as sales manager selling Aston Martins. This gave him the funds to buy an Aston Martin DB4GT that a customer had crashed and he prepared it for racing.
He turned out to be a successful driver in rallies and races particularly with a Mercedes Benz 300SL but it was with Aston Martins that he had his greatest success.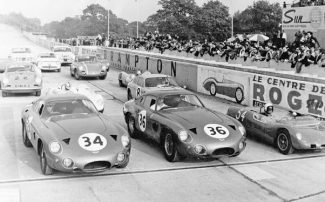 Whilst at Garage Mirabeau Aston Martin racing manager John Wyer arrived in Paris and asked Claude to drive him around. "…By that time I had won quite a few rallies and races with my Aston Martin and so I drove him flat out around Paris".  The drive must have worked as Claude was chosen as reserve driver for the Aston Martin DP214 to Jo Schlesser at Le Mans and he later was entered for one or two races in the Aston Martin DP214 and won the 1963 Coupe de Paris at Montlhery with the car.
In 1963 he also co-drove for his friend Jo Schlesser in the Tour De France with an unique Ferrari GTO, a car fitted with  330LM bodywork. They were leading the event ahead of fellow club member Jean Guichet when they broke a valve and though it was repaired they were deemed to be out of time at one of the controls and were out. Then in the Route du Nord he had the satisfaction of being the only driver in an Aston Martin DB$ Zagato to beat a Ferrari GTO in a race a Reims on the event.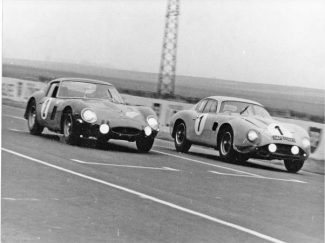 Meanwhile Claude was selling and racing Aston Martins
When Garage Mirabeau was taken over  Claude left the company. He had a racing contract with BP and so went to see Monsieur Peltier who was competitions manager for BP to say that he could not continue racing as he did not have a job. Peltier rang him a few days later and asked him to come to his office at 7.0 o clock the following evening.
He arrived and was introduced to Jean Luc Legadere who was CEO of Matra which was a large group of companies mainly in the defence business and missiles.
" Mr Lagadere asked me if I would like to run a team of racing cars because he had seen there were around 40 events coming up the following year and that he wanted to win all of them"!
What Claude did not know at the time was that Matra had bought the DB company run by Rene Bonnet who had been building and racing sports cars Internationally for many years  in the smaller categories. Matra's first joint project had been a small road car called the Matra Djet but Legadere went on to explain he wanted to use motor racing to get the Matra company better known.
"  I agreed with him but that he should go into single seaters and proposed that they should build a Formula 3 car. He asked me if I could do this and I said, yes I could.
" I first went to the aircraft engineers at Matra and said I did not want to make a racing car with a tubular chassis but a monocoque as we wanted the car to be as light as possible.
"We built two Matra MS1's  cars, for 1965, one for Jean Pierre Jaussaud and the other for Eric Offenstadt. When it came to engines I talked to Jabby Crombac the French racing journalist and he recommended either Holbay or Cosworth engines for the cars. As we had a pretty big budget we bought one of each but soon concentrated on the Cosworth.
" We had hoped to race the first car at the Prix de Paris on May 13 for Jaussaud but the car was not quite ready. The idea was to run the car before the prestigious Monaco Formula 3 race where we had entered two cars, For Jaussaud and Offenstadt.
As it turned out Offenstadt did not qualify but Jean-Pierre Jaussaud finished 15th.  We won our first race just two months later when Jean Pierre Beltoise won the Reims Formula 3 race.<
" I got on very well with Keith Duckworth and Mike Costin so much so that I told Mike Costin to let me know when they had  a really good engine. So, one day I was in Cannes and had a telephone call from M immediately ike to say he had a really good engine and it was ready to be picked up. I quickly phoned Jean-Pierre Jaussaud and asked him to take a Citroen shooting-brake to Cosworth, pick up the engine,  bring it back to the workshops and get the mechanics to put it in his car. Jaussaud explained that the mechanics had just put a new engine in his car so I told him to take it out and get this new one to put in. However, what happened was that the engine was put into Johnny Servos-Gavin's car by mistake and Johnny won several races with that car".
" I then asked Jean-Luc Lagadere if we could go ahead and build a Formula 2 car and he agreed"
So began the Matra adventure with Ken Tyrrell running Jackie Stewart in a Formula 2 Matra  that was to lead to Formula 1 and Jackie winning the team's first World Championship in 1969 with Ken Tyrrell's Matra ; a story that will be told another day.
There was a haunting follow up to Claude's tragic accident in the Ferrari when the Grand Prix Drivers Club held their Annual meeting in Maranello last year.
The members, including Claude, were taken into the Ferrari Classiche building where Ferrari rebuild and repair the classic Ferraris of the past. As we walked into the department  there was a two tone blue Ferrari Inter standing in a corner. Claude pointed to it and said "….that was the car that nearly killed me".   And it was: Ferrari Inter chassis 0190 and Claude was seeing it for the first time sixty four years after the tragic accident: a remarkable co-incidence.