′Welcome Back Tony
Of all the historic racing events the Goodwood Revival Meeting is usually a must for many members of the F1 Grand Prix Drivers Club. In recent years fewer of our members have taken part in the racing but others have been roped into the various parades and the like.
As usual Club President was busy with his camera and photographed some of our members and racing driver friends.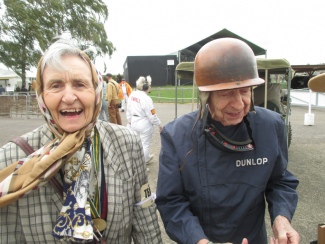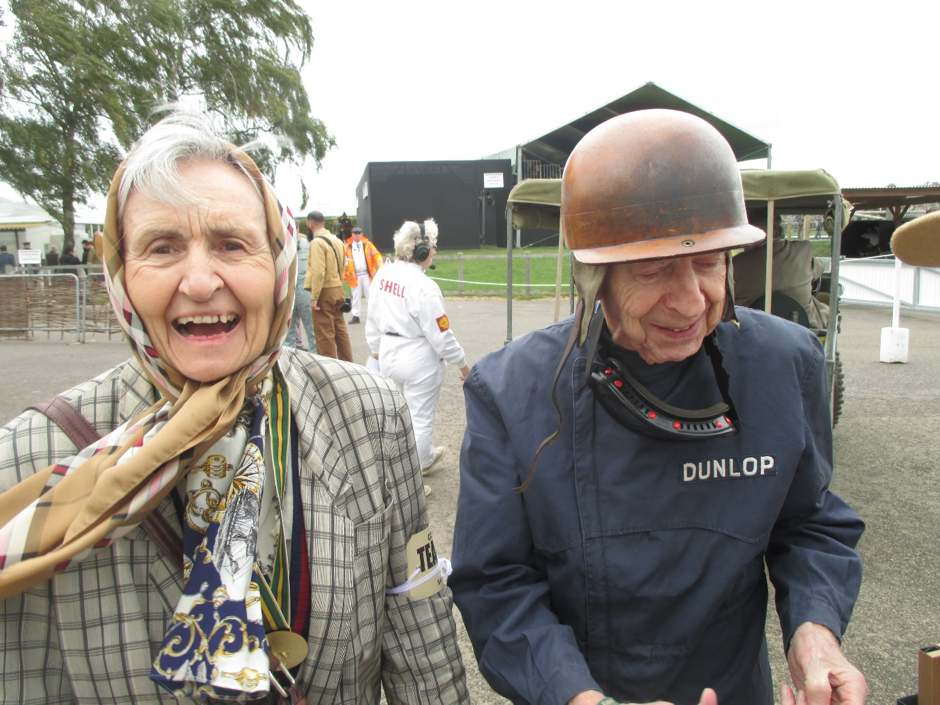 The most welcome was Tony Brooks who has been ill for some time and who not only turned up at Goodwood with his wife Pina but drove one of the Vanwalls he raced in a parade. In that same parade, we also had Sir Jackie Stewart driving a Maserati 250F and Dario Franchitti driving both the 250F and an Ecurie Ecosse Jaguar D type also in a demonstration.
When it came to the actual racing, which was amongst the most closely fought, partly do the ever-changing weather conditions, the best result came from member Tiff Needell who finished third in the Whitsun Trophy race driving a Lotus 30 which in period was notorious for its handling. Tiff finished behind a Lotus 19 Oldsmobile and a Lola T70 ahead of all the other T70s.
In the Freddy March Memorial Trophy race former Club President Jochen Mass arrived with a race prepared Mercedes-Benz 300SL sent over by the factory and was driving well against much more nimble opposition but sadly had to retire.
The Kinara Trophy race for truly classic GT cars Richard Attwood was sharing a Ferrari 250GT SWB with Richard Beecroft but switched to another 250GT before the race and so had to start at the back of the grid. They finished well down the field in 21st place. However, he more than made up for that setback in the Glover Trophy finishing 4th overall in the BRM P261 behind a Lotus 25 and two Lotus 24-BRMs.
In the TT Celebration, Jackie Oliver was driving an E type Jaguar with John Young but was also embroiled in the St Mary's Trophy for Austin A35 saloons. Those were certainly more competitive than the Austin A35's we saw racing when young but it did attract the largest number of GPDC members.  Tiff Needell finished in 8th place ahead of Jackie Oliver in 9th, David Coulthard in 14th David Brabham in 17th and Rupert Keegan in 18th.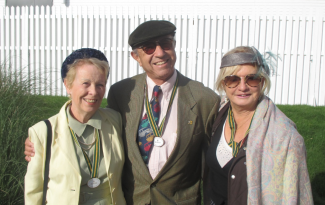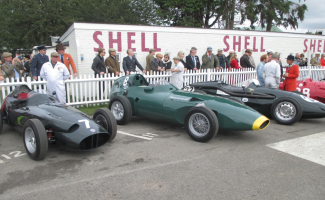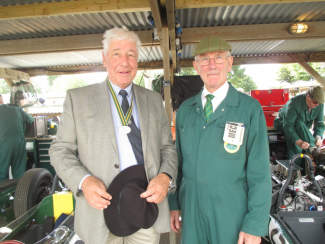 ( All photographs by Howden Ganley)