One of the very special highlights of the Grand Prix Drivers Club general assembly held in Stuttgart came on the second day when the members were taken to one of a number of venues around Stuttgart where Mercedes store their enormous collection of historic cars that are not on public display. It is said they have over 1300 cars as the company was one of the first to keep models of their more significant cars right from the beginning of its existence.
[Row][Column]
As a result we arrived at the Heilige Hallen (Holy Hall)  building tucked away in Stuttgart that looks fairly ordinary from the outside but when the roller shutter went up it was a true Aladdin's Cave of incredible cars. Can you imagine, for example, over sixty grand prix cars of the modern era powered by Mercedes engines?  All of these cars are in addition to the massive public motor museum elsewhere in Stuttgart. There were McLarens galore, Saubers and DTM models of every year.
What was even more impressive was that they were all in concours condition but placed in no great chronological order. For example one of the 1934 Grand Prix cars was parked between two of the more recent DTM racers.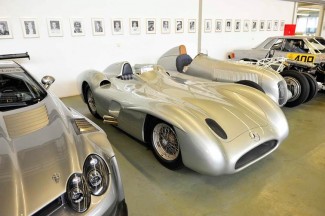 One of the most impressive cars was one of the two 1.5 litre supercharged Mercedes Benz cars built for the 1938 grand prix of Tripoli – the other one, also owned by Mercedes, was on show in the main Mercedes Museum.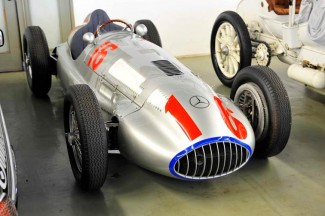 This car demonstrated the sheer determination of the Mercedes racing department to dominate in racing. They, and Auto Union were already dominating 3 litre grand prix racing and the race in Tripoli which carried significant prize money, was created for 1.5 litre supercharged racing cars. As a result the Italian manufacturers, Maserati and Alfa Romeo therefore had a chance to bring home a grand prix win. Indeed, Mussolini that year had decreed that all Italian grand prix races should be run to a 1.5 litre supercharged formula.
Reading between the lines one could imagine that this concept of smaller engine cars might eventually become the new grand prix formula for 1940. So Mercedes put on a secret crash programme at the end of 1938 to build two 1.5 litre grand prix cars which were actually completed by April 1939 and the first one tested by Hans Stuck at the Hockenheim circuit.
A second car was built and both were shipped to Libya for the Tripoli grand prix much to the chagrin of the bountiful Italian entrants.  Indeed there were no fewer than twenty three Maseratis and seven Alfa Romeo Tipo 158's entered.
Mercedes actually entered a third V8 1.5 litre car, now called the W165, for Manfred von Brauchitsch but it was never built and so Manfred became reserve driver to Stuck and Rudi Caracciola. In the race the Mercedes easily outpaced the rest and finished first and second.
Now, looking at the car, it is surprisingly small and, as can be seen from the photograph of the V8 engine,there was virtually no space around the engine and it must have been a nightmare to work on.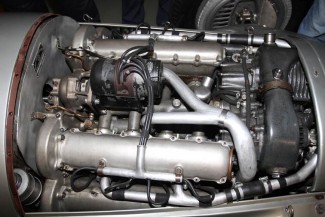 [/Column][Column]
Nearby was another fascinating car but this time it was one built for a race that never happened and as a result it never turned a wheel in racing anger;  the 540K Stromlinienwagen.
To understand this car one must try and imagine the rivalry within Europe, and in particular Germany, regarding high performance cars. As they were proving on the race track both Mercedes Benz and Auto Union were triumphant but for Mercedes this had to be further developed in a car to race based on one of their powerful road cars. The chance came in 1937 when Adolph Huehnlein, the director of motor sport for the German government and Guiseppe Furmanic – his opposite number in Italy – came up with the idea of a road race from Berlin to Rome to be run in September 1937.
There was general agreement the race should be run particularly as Germany had just completed their first stretch of Autobahnen and this would be incorporated into the race. The route would take this Autobahnen into Austria and then south over the Brenner Pass with a finish in Rome. It was due to be run in September 1938 and created quite a stir with the motor manufacturers in both Germany and Italy.  Lancia were first to announce a streamlined Lancia Aprilia for the race followed by Wanderer – part of the Audi Group – with their own road equipped race car and BMW who said they too would build special streamlined cars for the race. As we know Mercedes-Benz also decided to build a streamlined car for the race.
However, the German government, who were working with Ferdinand Porsche on the development of the Volkswagen – due to be launched one month before the race – commissioned Ferdinand Porsche to build a streamlined version of the Volkswagen even before it had been announced, to take part in the race.
This was Porsche development number 64 a streamlined high performance Coupe using the mechanicals of the Volkswagen but with hotter camshafts and the like. However, everything came to a stop in the summer of 1938 with the Sudettenland crisis and the race was postponed for a year until September 1939. History, however, tells us what happened in 1939 and the race was never run.
Meanwhile the manufacturers were in different stages of work on their special road equipped race cars. Porsche, for example, clearly had no hope of finishing a car by September 1938 and in the end their stillborn Porsche T64, the first car to carry the Porsche name, remained solely as an aluminium body shell which today resides in the Porsche museum in Stuttgart. However its body shape was a clear precursor to the 1948 Porsche Gmund Coupes that were to first establish the Porsche name in its own right in 1948.
As for Mercedes Benz they took the race seriously and started out with the chassis frame of a standard 540K roadster and added a supercharger which gave the 5.4 litre engine a bit more power. However it was the aerodynamicists who were given a field day to produce a body with the lowest possible drag ratio. Everything was streamlined down to a long pointed tail, fared in headlights and door handles. They even took off the iconic metal three pointed star and painted it on the hood.  A standard smooth 540K had a drag coefficie4nt of 0.57 and with all the changes they reduced this to 0.36.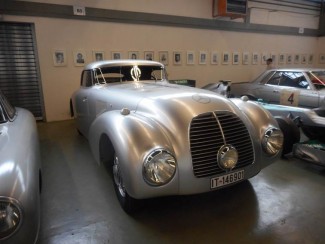 As all engineers know, however, if you modify one thing you need to modify others and the next thing they did was modify the drive train as the standard diff gearing was way out. As a result they dropped the final drive gearing from 3.08:1 to 2.90:1 and when the one prototype was built it was timed at 115 mph. It was a heavy car and there was concern from Dunlop about the tyres. Mercedes then decided to run a modified 540K in the race but by Spring it had been cancelled. Dunlop, meanwhile wanted to continue testing new tyres and so in June 1938 the Streamliner was delivered to Dunlop Germany as a test car and it remained such throughout the war until the American forces took it and repainted it in military colours before returning it to Dunlop, and later Mercedes Benz. In 1948 its aluminium body was scrapped and the frame and running gear put into storage. Many years later a full scale drawing of the car's original body was discovered in the archives and in 2011 the ok was given to build a completely new body and recreate the 540K Stromlinienwagen which today rests in the Hellige Hallen and probably will appear in public for the first time when it is moved into the main Mercedes Benz museum. A remarkable example of a company that truly honours its past.
[/Column][/Row]