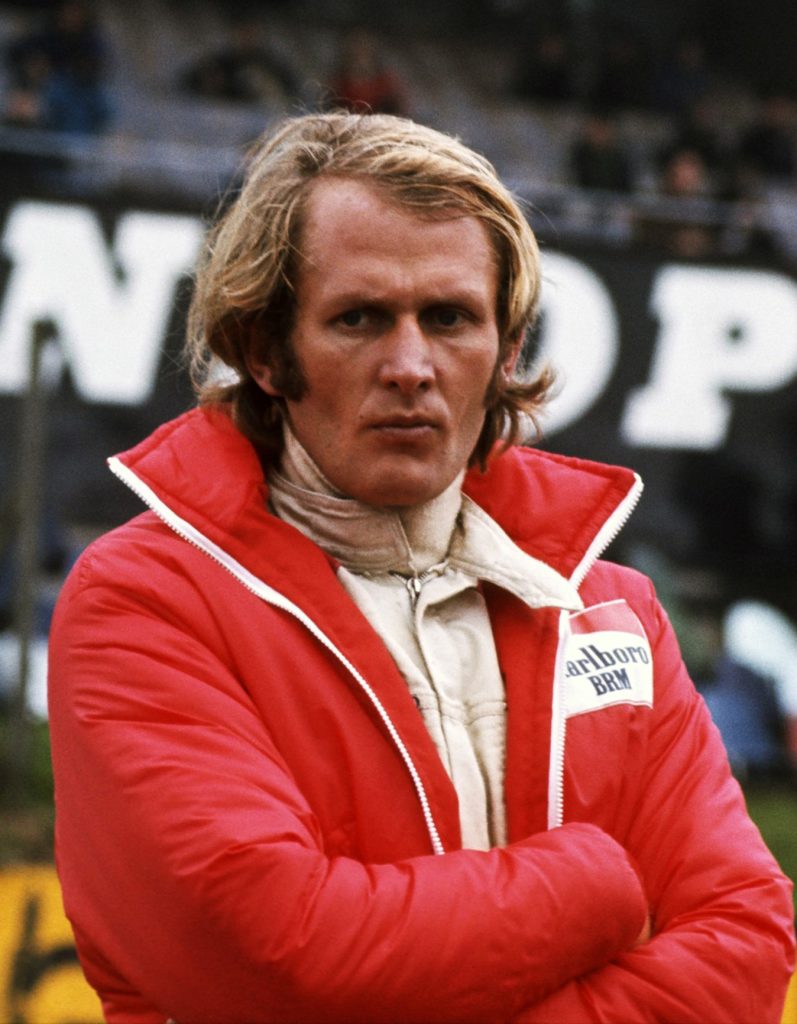 For many enthusiasts following Formula 1 Grand Prix racing the name Helmut Marko might be familiar.  Helmut, who has been a member of the Grand Prix Drivers Club for some time , is best known today as the chief advisor to Dietrich Mateschitz the owner of Red Bull, the energy drink company. As a result, we can see him at all the Grands Prix in the Red Bull pit advising and taking notes but Helmut's actual career as a racing driver, which included a stint in Formula 1 with BRM, is less well known.
So how did it all start for Helmut?
For this, we must go back to his school days and his friendship with a fellow Austrian called Jochen Rindt. They were both pretty wild so much so they were taken out of regular education and placed into a tough boarding school called the Salzkammergut which prided itself in being able to tame school rebels like Rindt and Marco.
Things changed in 1961 however after a visit to the German Grand Prix and the mould was set. At this stage, Helmut Marko heeded his parents' wishes and graduated as a Doctor in Law in 1967 only to continue his interest in motor racing.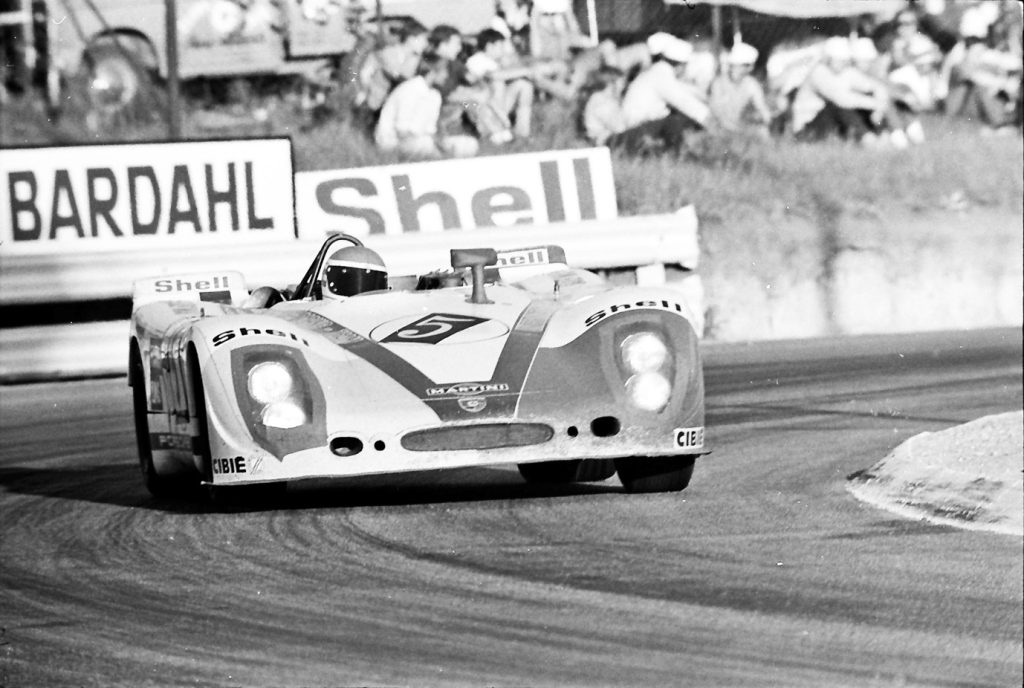 By 1970, for example, he was in South Africa racing a Lola T210 with Karl von Wendt in the 3-hour race finishing second and then for Martini Racing in the 9-hour race sharing a Porsche 908/02 with Rudy Lins and finishing third behind teammates Jo Siffert and Kurt Ahrens Jnr in a Porsche 917 and the winners, Jacky Ickx and Ignacio Giunti in a factory Ferrari 512M so Marco was no slouch.
However, by that time his friend Jochen Rindt was not only in Formula 1 but being managed by Bernie Ecclestone and at one stage there was a plan for Bernie and Jochen to go into Formula 2 with their own team with Helmut as their driver but nothing came of it.
Marko was clearly talented and it was Jo Bonnier who offered him his first Formula 1 drive with his McLaren in the German Grand Prix of 1971. It was a disaster for in practice the privately-entered car ran out of fuel on the Nurburgring and did not qualify which was infuriating.
However, all was not lost for Yardley-BRM entered no fewer than five cars for the Austrian Grand Prix race two weeks later. Four of them were the latest P160s and the fifth was a 1970 P153 which was given to Marko, and he finished the race in 17th place so was retained by the team for the rest of the season but still only with the P153.
Over the winter of 1971, BRM became Marlboro-BRM and Helmut Marko was given a full contract for 1972  but for the first race in Argentina he still laboured with the P153 yet finished 10th. Then in Brazil, he was to finish 4th and was the highest placed BRM driver which did a lot for his confidence as a newcomer to Formula 1.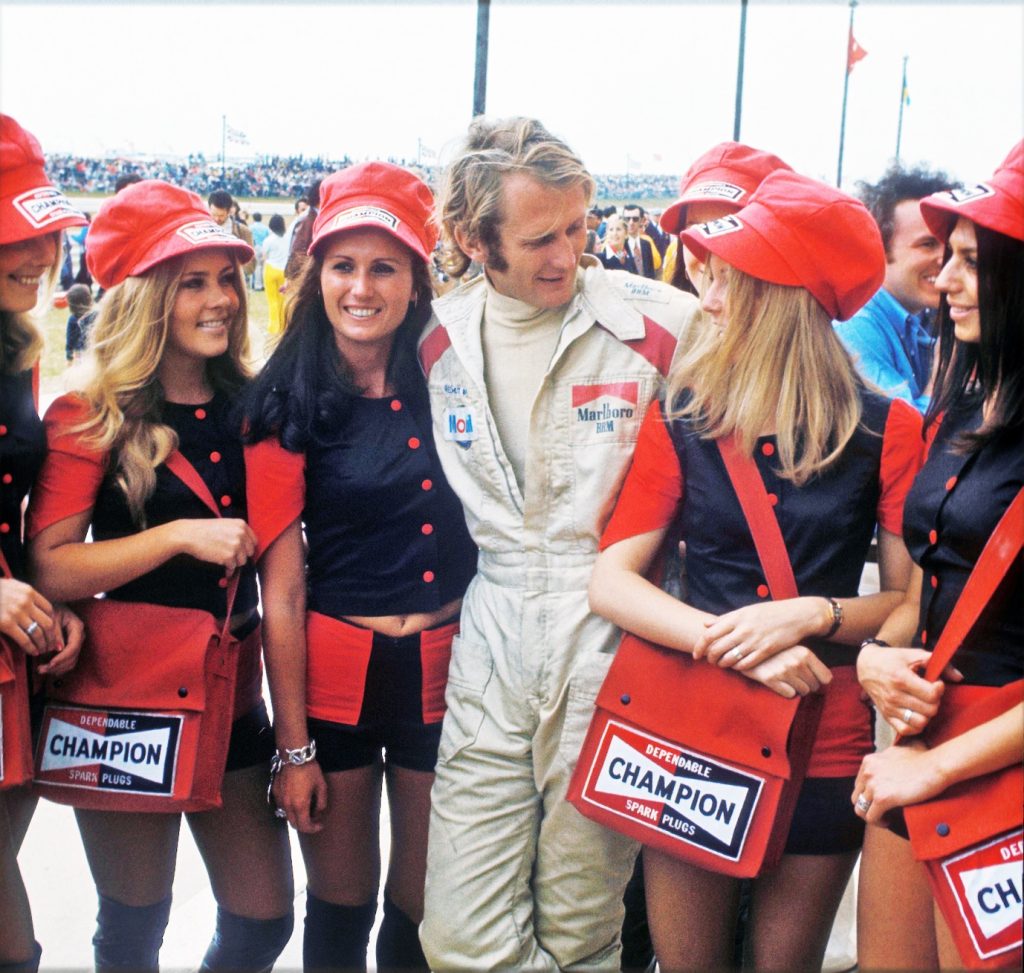 At Monaco, he had problems and was well down the grid but in the race, he managed to finish 8th.
Louis Stanley's BRM team was never the best organised and when the Belgian Grand Prix was moved from Spa to the new and disastrous Nivelles circuit, Helmut must have wondered what kind of team he had joined. 
During practice, Peter Gethin crashed his P160 and so Helmut's BRM was taken away from him and given to Gethin. Meanwhile, poor Vern Schuppan had to sit out the race as his P153B was given to Marko who finished 10th. Nivelles was never again used for a Grand Prix.
Helmut Marko was still racing sports cars and was clearly in demand as he had by now joined the Alfa Romeo team with the T33/TT/3, which he drove in the 1000kms race at Brands Hatch on April 16 then switched to a Porsche 908/2 at Monza ten days later and a week later was entered for the Interserie race at Imola in the BRMP167 sports car by Alcan Team BRM. It was a one off-drive as the car was to be raced all season by Howden Ganley.
The French Grand Prix in 1972 was moved to the Charade circuit near Clermont Ferrand which was built virtually on the side of a volcano and it was to prove disastrous for Helmut Marko. During practice, he proved to be quick but the trouble was small loose stones that were being thrown onto the circuit when a driver put a wheel on to the edge.
After setting 6th fastest time ahead of drivers like Ronnie Peterson, Emerson Fittipaldi and Francoise Cevert he was hit by a flying stone when chasing Emerson Fittipaldi which broke his visor and hit his eye.
He was rushed to hospital but he had been permanently blinded and his promising racing career came to an end.
Once he had recovered he developed his hotel business and moved into driver management with Gerhard Berger and Karl Wendlinger. He logically followed this by forming his own racing team RSM Marko for Formula 3 and Formula 3000 in which he was particularly successful during the 1990s.
Then came the moment when he was introduced to fellow Austrian Dietrich Mateschitz who had founded an energy drinks company called Red Bull.
This proved to be life-changing as Mateschitz was not only enthusiastic about racing but suggested that he and Marko formed a racing team with the idea of discovering and bringing on new racing talent starting with Enrique Bernoldi and later Juan Pablo Montoya.
Six years later with Red Bull a hugely successful business they decided to go into Formula 1 with Helmut Marko becoming the man who truly set up Red Bull in Formula 1.
His first job was to find a team manager and in this role, he chose a young racing driver called Christian Horner who had formed the Arden racing team.
Christian had not only met Helmut Marko but his team had raced against the fledgling Red Bull Junior Team and by 2004 Arden Racing had won the final season of the Formula 3000 Championship with Vitantonio Liuzzi who just happened to be managed by Helmut Marko who had also provided Red Bull Sponsorship for Arden; so the stage was set.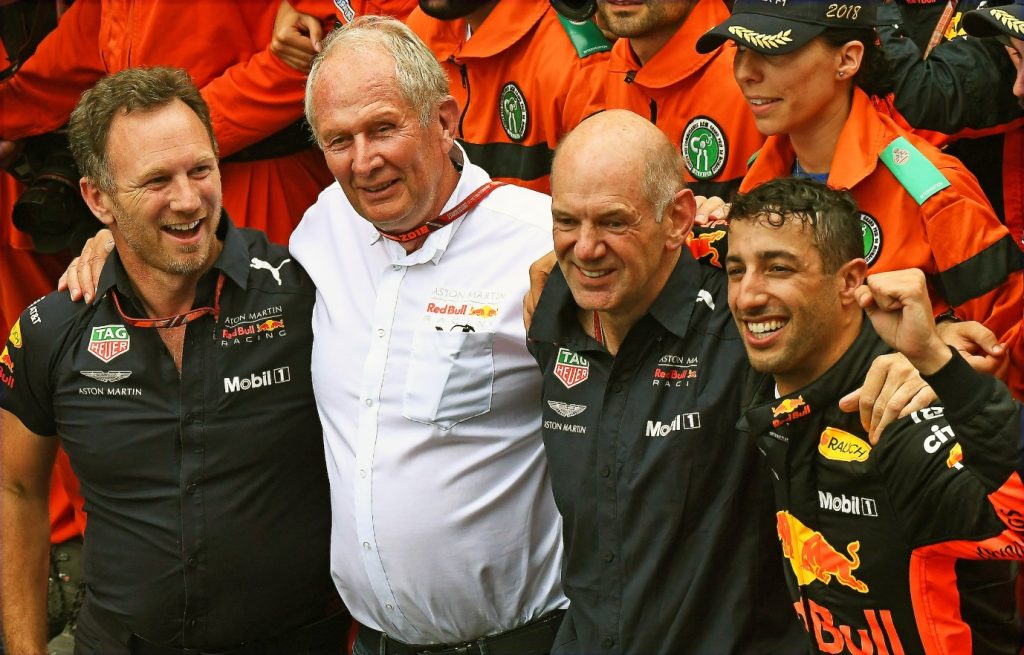 In modern times, Helmut Marko with his proteges, Christian Horner, Adrian Newey and Daniel Ricciardo (©Grand Prix Photo- Peter Nygaard)
Horner wanted to get into Formula 1 and tried to buy Eddie Jordan's team and Helmut Marko was about to go into Formula 1 as he had negotiated to buy the Jaguar team on behalf of Dietrich Mateschitz. As a result, Christian Horner was approached to head up and run the new Red Bull Formula 1 team which he has done so ever since.
In their first race, the Australian Grand Prix of 2005, their drivers David Coulthard and Christian Klein were fifth and sixth fastest in qualifying and in the race Coulthard just missed out on a podium finishing 4th behind Fernando Alonso's Renault.
Today Helmut Marko's successful motor racing career is relatively unknown but his influence in modern Formula 1 has been immense.
Right from the start and in his recovery after his accident he proved that he is as hard on himself as he has been on the many young drivers he has brought forward thanks to Red Bull's supporting junior team Alfa Tauri (formerly Toro Rosso). 
When the history of Formula 1 in the 2000's comes to be written the name of Helmut Marko should eventually be given the prominence he deserves.