During the Malaysian Grand Prix practice last Friday Johnny Herbert took time out to sign up as our latest member of the Grand Prix Drivers Club. For the past year Johnny has been tied up with his television commentating but, with a little help from fellow member Danny Sullivan – who is an FIA Steward for the weekend – he became the latest member.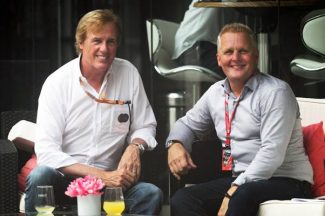 Johnny Herbert, right, the newest member of the Grand Prix Drivers Club with fellow member Danny Sullivan in Malaysia yesterday
Johnny started out the usual modern way by going into karting at the age of 10 but it was when he won the Formula Ford Festival at Brands Hatch in 1985 that everyone began to pay attention.
At the time Eddie Jordan had given up his racing career and, with good sponsorship backing, was running a successful Formula 3 team. He saw talent in Johnny and he won the Formula 3 Championship for Eddie in 1987. He then moved into F3000 but a horrendous accident at Brands Hatch saw him seriously injured.
He recovered, however, and joined Benetton for the 1989 racing season and started out well with a 4th place in the Brazilian Grand Prix but was dropped from the team after the Canadian Grand Prix. He had two races with Tyrrell before joining Camel Team Lotus for 1990 and was to stay with Lotus right up until 1994 with some good results in 1993.
By 1995 he was back with Benetton and won his first grand prix with them at Silverstone and won again at Monza. Seasons 1996/7/8 were with Red Bull Sauber before being recruited by Paul Stewart into the Jaguar team. He was to give the team their one and only win that season in the European Grand Prix held at Nurburgring. The following year the Stewart team was sold to Jaguar and Johnny continued but it was to be his last season in Formula 1.
Today he is best known for his commentary work with Sky Sports and their Formula 1 coverage. We welcome Johnny to the Club where he will be joining many old racing friends.