Recently Historic Club Lotus held an event in the little town of Duns in the Scottish Borders, this year celebrating the fiftieth anniversary of Jim Clark's finest racing season, 1965, when he won the European Formula 2 Championship, the Formula 1 World Championship (his second) and the Indianapolis 500.
[Row][Column]
It was appropriate therefore that a number of the cars that Clark raced were brought by their present owners to Duns.Though Jim Clark's farm was in Chirnside he had the habit of placing his home town on entry forms as "Duns" because he felt some of the foreign organisers might have found difficulty spelling Chirnside!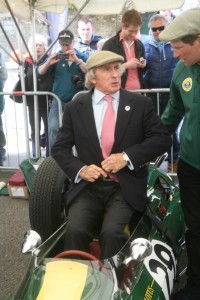 As has often been the case, the local Council and the police closed off part of the main street in which the Jim Clark Room is situated, and turned a blind eye to the odd Lotus being driven up and down the street to the delight of the enthusiasts who gather for the event each year.
As this year was special, GPDC member Sir Jackie Stewart arrived with former multiple Le Mans winner, and now TV commentator, Allan McNish as well as Clive Chapman, Colin's son, and Bob Dance and Dick Scammell former Team Lotus chief mechanic.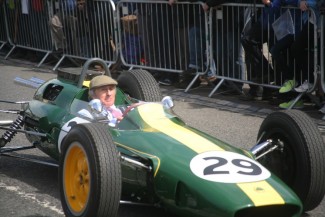 A number of present owners of cars raced by Clark were also there including Nick Fennell and Australian John Bowers with their ex-Cedric Selzer and John Dawson-Damer Lotus 25's, Andy Middlehurst with the US Grand Prix winning Lotus-BRM H16 and Jim Clark's 1967 Indianapolis Lotus, also owned by Nick Fennell.
[/Column][Column]
Both Jackie Stewart and Allan McNish drove the Lotus 25s and in Stewart's case probably the first time since the British Grand Prix practice day in 1964.
That year Jackie was driving for Ecurie Ecosse and for Ken Tyrrell in a Formula Junior Cooper. During practice Jim Clark persuaded Colin Chapman to let this young Scottish driver do a few laps in a Lotus 25 when practice finished.
The Clerk of the Course agreed and asked the marshals to stay at their posts for a few laps. Jackie stepped into the cockpit of Clark's Lotus 25 and after a few words of advice by Clark he set off on his first lap in a grand prix car. After a couple of laps the Lotus developed engine trouble and Stewart brought it back into the pits. Four months later he received a telephone call from Colin Chapman and offered his first every race in a Formula 1 car in South Africa and the rest is history.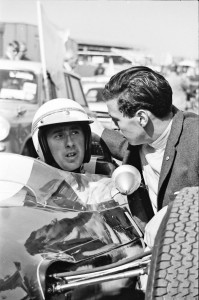 It was a nostalgic day in the Scottish Borders watched by an enthusiastic crowd as Stewart. Middlehurst and McNish powered the Formula 1 cars up and down Duns' main street.
[/Column][/Row]