European motor racing in the years immediately following World War II tended to be a strictly European affair; that is until the arrival of the great Juan Manuel Fangio in 1948. It could be said that Fangio introduced stylish race clothing to European motor racing.
Unlike in Europe, where there was a war to contend with, young Fangio learned his motor racing craft in the wild and dangerous racing in Argentina in the 1930s and '40s.
He proved to be not only a tough competitor but also a winner so who better to be an ambassador for the Salomon Rudman's Argentinean-based Suixtil company's entry into the area of motor racing.
Salomon Rudman's enthusiasm for motor racing saw him produce clothing that would not only be stylish but comfortable and he took advice from his motor racing friends like Fangio as to their design and functionality.
Thus was launched the Suixtil range, the first range of clothing specifically designed for race drivers and Salomon chose a number of the leading Argentinean drivers to be his ambassadors.
The great Juan Manuel Fangio, left,  the man who brought Suixtil into European grand prix racing, shows Maserati chief engineer Giulio Alfieri, in jacket shirt and tie, and Swiss journalist Hans Tanner, back to camera, his bandaged wrist. Fangio was injured in a road accident and could not compete in the race.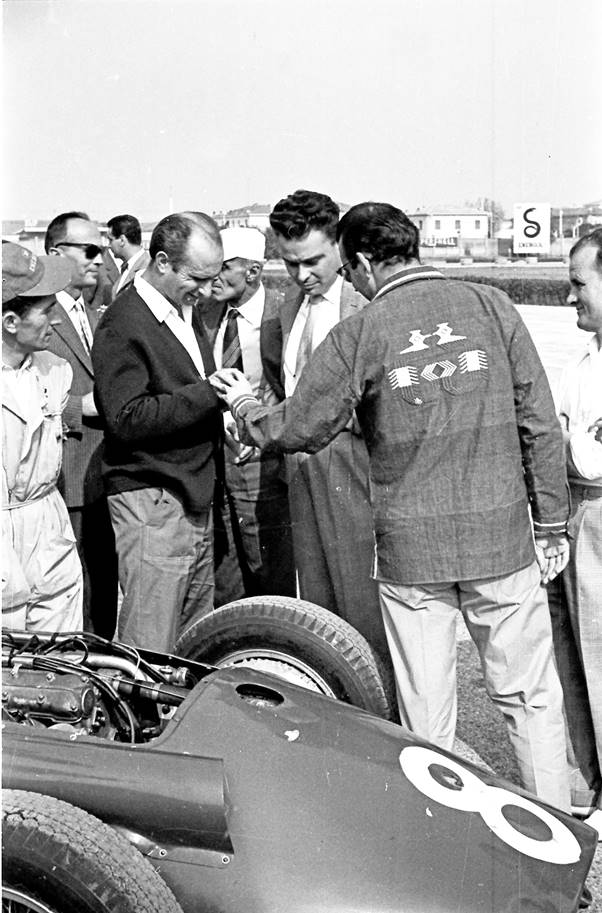 When Fangio and countryman Benedicto Campos arrived for their first major season in Europe in 1949 they were fully kitted out in light blue racing pants and white shirts or yellow short-sleeve polos sporting the Suixtil logo. They entered a new World.
Today there are many millions of Formula 1 enthusiasts glued to television sets all over the World thrilled by the speed, the electronics and the handling of modern Formula 1 cars. But for a moment let's have a closer look  at racing in Fangio's day by selecting one typical non-Championship Grand Prix race, the 1957 Grand Prix of Modena.
As Modena was the manufacturing centre for both Ferrari and Maserati the race always had a good entry and as a young motoring journalist I travelled all the way from Scotland to Italy.
First, the circuit. The Autodromo di Modena started out as a small airfield on the outskirts of town with an almost square format with a diagonal runway running North to South. The surface was of concrete and even in 1957 it was breaking up with fissures across the start and finish line, simple open grandstand and a row of small messy pit boxes again made out of slabs of concrete. There were no toilets, no restaurant and the occasional van selling sandwiches. It was not the place to find a lush hospitality unit and luxuriate with a gin and tonic. If you wanted a beer you brought it with you.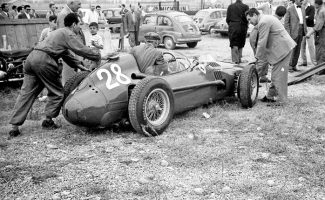 At that time the entire grid apart from around six cars was made up of private entrants some of whom were living on a shoestring and going from race to race with a race car on a trailer. Two of the English private entrants Horace Gould and Bruce Halford had brought their grand prix Maserati's over from England for the season and were living in a cheap room in a local hotel. As Bruce Halford told me at the time "….we lived on a pint of milk and a plate of pasta every day waiting to hear from the next organiser willing to offer us starting money".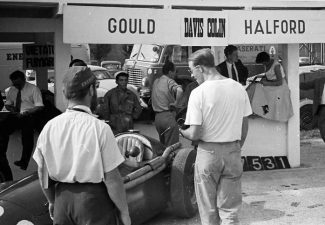 In those days racing was not organised in the business-like way it is today and it was the local race promoter and his local traders who would not only stump up the money to set up the race but would then offer drivers $50 to $100 to bring their cars and race in the hope of winning prizemoney which usually was spread over the entire field so that everyone got something.
At Modena that year there were roughly six race drivers who were fully paid up members of factory teams, two from Maserati, two from Ferrari and two English factory BRM Formula 1 cars. These were the drivers who had separate private contracts usually with a petrol company, a spark plug company and possibly a manufacturer of brake materials and were paid a commission depending on their race results which were used for advertising displays.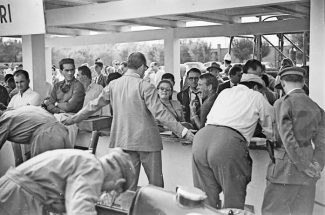 In those days there was little or no live motor sport on television as television itself was struggling to get a foothold. For a start the lack of modern day technology meant that a race was done with a hand held camera with film that took time to be developed and edited and so newspaper and magazine advertising was king.
There were one or two Suixtil supported drivers in that Modena race. The small and wiry Frenchman Jean Behra who had a penchant for wearing crimson Suixil sports shirts, the ebullient French-American Harry Schell who arrived at the race with sticking plaster on his face following an accident on the Tour de France car rally the previous weekend and the great Jan Manuel Fangio, the man who brought Suixil into European grand prix racing.
For Fangio, however, it was a case of standing on the sidelines. On his way down through Italy driving his Lancia Aurelia B20 a lorry driver pulled over without seeing Fangio comuing up behind him and Fangio deftly spun his car but hit the truck and sustained a fractured wrist. It was typical of the enthusiasm for race at the time that the lorry driver, realising that it was the great Fangio he had caused to crash, broke down in tears and was comforted by his hero.
Fangio was due to drive a powerful 12 cylinder Maserati in the race and it was decided to give it to the flamboyant Harry Schell but he could not get used to the more powerful car so he stayed with one of the six-cylinder cars.
After practice all the drivers went to a local hotel and stood around in the bar amongst the enthusiasts and enjoyed themselves. It was a relaxed atmosphere that would be totally impossible to envisage today with Television inspired mass enthusiasm. Fans were polite and respectful in those days and in return the drivers were open and friendly.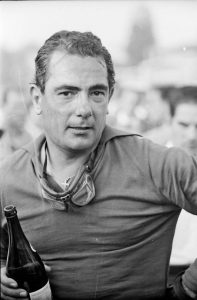 In a word, motor racing had a certain magical style sixty years ago, a style that aptly suited the Suixtil low-key high-fashion brand and it was a promotional exercise that was to inspire many other companies to follow suit. It is this kind of relaxed innovation and style that the modern Suixtil company represents in the market today.