Birabongse Bhanudej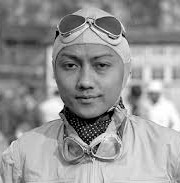 Prince Birabongse Bhanudej Bhanubandh (born 15 July 1914 in Bangkok, Thailand; died 23 December 1985 in Barons Court Station, London), better known as Prince Bira of Siam (now Thailand) or by his nom de course B. Bira, was the only Thai racecar driver to race in Formula One. He raced in Formula One and Grand Prix races for the Maserati, Gordini, and Connaught teams, among others. He also was an Olympic sailor in the Melbourne Olympics, 1956 in the Star, Rome Olympics, 1960 in the Star, Tokyo Olympics, 1964 in the Dragon and the Munich Olympics, 1972 in the Tempest. In the 1960 Games he competed against another former Formula One driver, Roberto Mieres, who finished 17th and ahead of the prince in 19th. Birabongse was the only Southeast Asian driver in Formula One until Malaysia's Alex Yoong joined Minardi in 2001. Prince Bira was not only a racing driver, he was also an excellent pilot of gliders and powered aircraft. In 1952 he flew the remarkable distance from London to Bangkok with his own twin engine Miles Gemini aircraft.
Bira first raced with his cousin Prince Chula's team, White Mouse Racing, driving a Riley Imp at Brooklands in 1935. In this car Bira established the national motor racing colours of Siam: pale blue with yellow. He later lived near Geneva, Switzerland, and in the south of France.
Later in 1935 Prince Chula gave him one of the new ERA voiturette racing cars – R2B, which was nicknamed Romulus. Bira finished second in his first ever race in Romulus, despite needing to stop for repairs. The remaining races of the season saw Bira consistently placing amongst the more powerful Grands Prix vehicles, with another second place, and fifth at the Donington Grand Prix.
For 1936 the princes decided that the previous season's results merited a second ERA. They purchased chassis R5B (which Bira named Remus) to use in British events and retained Romulus for international races. Chula also purchased a Maserati 8CM to complete the White Mouse roster. Bira's expertise behind the wheel earned him the Coupe de Prince Rainier at Monte Carlo. Bira won a further four races in the ERAs that season, and took the Grand Prix Maserati to 5th at Donington and 3rd at Brooklands. This was the high point for Bira and the White Mouse team.
Following Dick Seaman's move to Mercedes for 1937, the Thais purchased his Grand Prix Delage and all of its spare parts, along with a second Delage. Despite several upgrades, and hiring experienced race engineer and future Jaguar team manager Lofty England, the cars underperformed, and on many occasions Bira raced in the older and by now substantially inferior ERAs. In addition, the money spent on the Delage upgrades had sapped the resources of the team and corners were being cut in the ERA's race preparations. Later in the year White Mouse did invest in a newer C-Type ERA, chassis R12C. R12C came to be known as Hanuman, and Bira attached a large, embossed, silver badge depicting the Hindu deity after whom he had named the car. Following a major accident in 1939 Hanuman was rebuilt back to B-Type specifications, and in light of this major overhaul Bira renamed the car Hanuman II.
While Bira maintained a respectable results tally in British events, the more costly international races were largely a disaster.