José Froilán González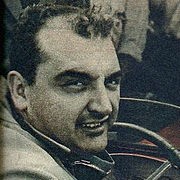 José Froilán González (October 5, 1922 – June 15, 2013) was an Argentine racing driver, particularly notable for scoring Ferrari's first win in a Formula One World Championship race at the 1951 British Grand Prix. He made his Formula One debut for Scuderia Achille Varzi in the 1950 Monaco Grand Prix. His last Grand Prix was the 1960 Argentine Grand Prix.
González competed in 26 World Championship Formula One Grands Prix over nine seasons (1950–1957 and 1960) and numerous non-Championship events. In the 26 World Championship races, González scored two victories (the 1951 British Grand Prix and the 1954 British Grand Prix), seven second place finishes, six third place finishes, three pole positions, six fastest laps, and 72 1⁄7 points. He won the 1951 Coppa Acerbo, in 1954 the 24 Hours of Le Mans with Maurice Trintignant, and the Portuguese Grand Prix for Ferrari.