Paul Pietsch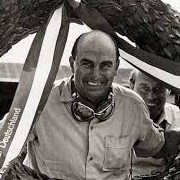 Paul Pietsch (20 June 1911 – 31 May 2012) was a former racing driver from Germany and founder of the magazine Das Auto.
Born in Freiburg, Pietsch began his racing career in 1932 with a private Bugatti and Alfa Romeo.
Racing with an Alfa Romeo, he won in Sweden the 1933 III Svenska Isloppet GP (Ice Race) in Hemfjärden, and in 1934 the I Vallentunaloppet (Ice Race) in Vellentunasjön.
In the 1935 German Grand Prix he raced for Auto Union, and finished 3rd in the Italian Grand Prix before leaving the team with its hard-to-drive rear engines. From 1937 onwards he entered a private Maserati. His greatest hours came in the 1939 German Grand Prix which he led from lap 2 onwards until the ignition failed, making him drop down to third, which was still an excellent result for a privateer against the dominant force of the Silver Arrows.
After the war, he participated in 3 World Championship Grands Prix, debuting on September 3, 1950. His drive in a factory Alfa Romeo in the 1951 German Grand Prix ended with an accident. He scored no championship points.
At that time, Pietsch was already a successful editor and publisher of motorcycle and automobile magazines. His company Motor Presse Stuttgart is the largest in the European market for technology and special interest magazines.
Up until his death, Pietsch was the oldest surviving Formula One driver, at age 100 and the last surviving of the Auto Union Silver Arrow drivers and one of the two overall (the other being Heinz Brendel of Mercedes-Benz). His son Peter-Paul Pietsch races often at the Nürburgring with fellow journalists.
On 31 May 2012, Pietsch died from pneumonia at the age of 100 years, 11 months and 11 days. Pietsch was also the first Grand Prix driver to reach the age of 100.