With everyone talking about the new technical plans for Formula 1 in 2021 I was reminded of some of the unique ideas that have found a place in motor racing and single-seater racing in particular. When thumbing through some old photographs I came across these of a Brabham Formula 3 car with a belt-driven automatic transmission, the Brabham-DAF.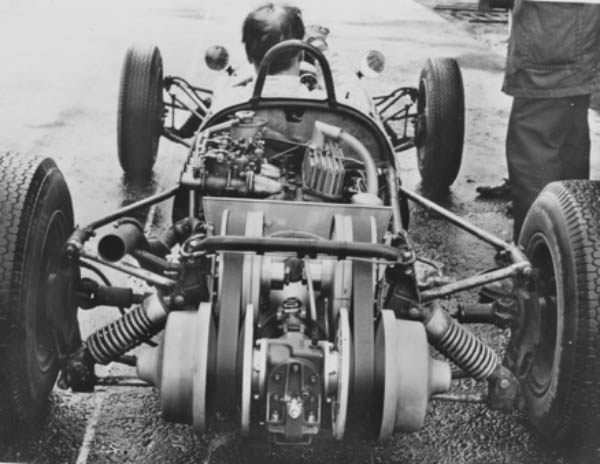 DAF, was the name given to the cars built by Hub and Wim van Doorne whose father was a blacksmith in Holland. Despite the financial crises of the 1920s and '30s they survived and founded a company to build a trailer they had designed. The company was called Van Doorne's Aanhangwagen Fabriek shorted to DAF. They went on to design products for the Army. During WWII the factory was taken over by the Germans but behind the scenes, Hub and Wim were hard at work planning for the future. From 1949 they never looked back building trucks and refuelling systems and eventually cars. Their first was a small car with a four-stroke air-cooled flat-twin engine and their own transmission system called the Variomatic and it was an instant success.
A lot of interest was shown in this transmission which in basic terms used the principle of two belts that when connected to the engine allowed the car to accelerate without the need of individual gears. In 1963, however, the R & D department at DAF decided to develop a version of this transmission that would operate with more powerful engines and Henk van Zalinge was put in charge. He immediately thought about developing this in a racing car and DAF bought an Alexis-Cosworth Formula 3 car with a Ford BDA engine and the DAF CTV transmission was put in place of the regular gearbox. The car was tested at the end of 1963 at a local track near the factory and Hub decided to form a racing department.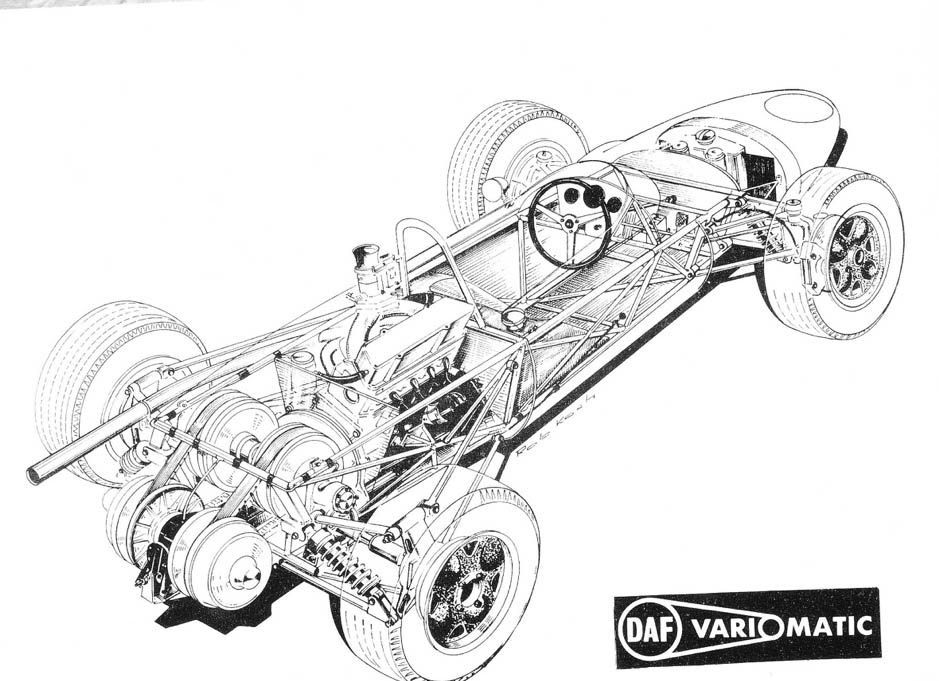 DAF had already run one of the Daffodil saloons in rallying driven by Rob Slotemaker and so he was signed up to race the Alexis which ran officially for the first time in the 1964 Monaco Formula 3 race where Slotemaker qualified in 11th place and finished 7th which was a remarkable launch for such a new drive concept. However, by the end of the season Hub Van Doorne felt they needed more technical help and approached Jack Brabham about helping out with the project using a brand new Brabham BT 13A Formula 3 car with the ubiquitous Cosworth engine and the car was duly entered by for the Formula 3 race at  Zandvoort in 1965 with Rob Slotemaker at the wheel. Once again the seventh-place result was promising but there were two drawbacks, the sheer bulk of the Variomatic unit at the back did not help the aerodynamics and when it was wet the exposed belts could slip. For 1967 DAF arranged for the Brabham to be run by Graham Warner's Chequered Flag team with Mike Beckwith and twice the Brabham Variomatic won races so the concept, though unbelievable when first suggested appeared to show promise but at the end of 1966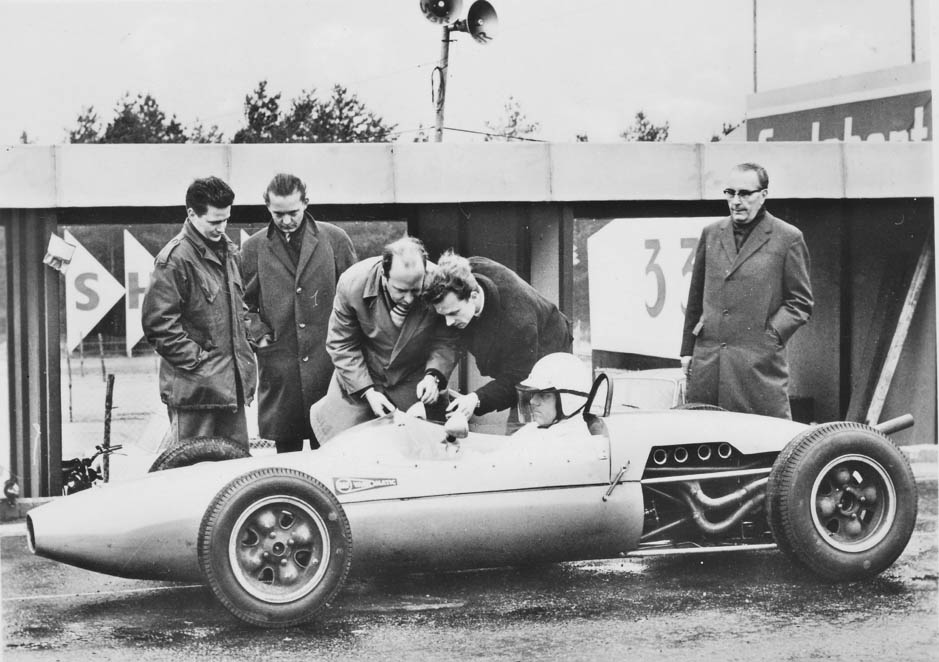 Martien Van Doorne was beginning to lose interest and with good reason. His racing manager Rob Koch explained that the cost of paying for Chequered Flag to run the Brabham was too high and so he had a word with one of Holland's best-known motoring journalists Fred Van deer Vlugt.
Four years earlier Fred had been one of the founders of a Dutch racing team called Racing Team Holland that had been founded to give Dutch drivers a larger profile in International racing and two of their members were Rob Slotemaker, circuit designer John Hugenholtz, Porsche driver Ben Pon and Count Godin De Beaufort and so he suggested that DAF become involved with RTH in order to continue a less costly racing programme. DAF already had Gijs van Lennep under contract and the brought in Mike Beckwith as both of them were used to two pedal driving and the next stage began.
At Monaco in 1968 Racing Team Holland created a sensation when, in the second heat, held in t pouring rain, Beckwith and van Lennep finished first and second. As the first heat had been held in dry conditions the organisers decided that grid positions for the final should be judged on the fastest laps from both heats so the two Brabham-DAFs were relegated down the grid and in the final Beckwith retired with a blown piston and van Lannep managed to finish 7th. Not long afterwards the Pederzani brothers at Tecno started to show an interest and as a result in August of 1958  Racing Team Holland's first Tecno-DAF ran in Sweden but retired with engine trouble.  Two weeks later the second Tecno-DAF ran in a second Swedish race and Van Lennep finished third behind Ronnie Peterson and Ulf Svennson.  
Both Tecno's had been entered for a race at Zolder the local circuit and so it was a big thing for DAF. There were three heats with the final results being an aggregate of the results of the three. The American Roy Pike was on form and won the first two heats but Beckwith and van Lennep were in second and third places in both. Then there was disaster in the third heat.
On the final lap, with Roy Pike leading and Beckwith in second place, Beckwith made a lunge to take the lead, spun, pushed Pike into the gravel and was hit by van Lennep. This let Charles Lucas rush cross the line the winner with a recovered Pike in second place. Van Lennep had damaged his steering and went off the road and out of the race and Beckwith recovered to finish fourth.
For DAF it was a total disaster and Martien van Doorne was so upset by it that he pulled DAF out of racing on the spot but allowed Racing Team Holland to finish the season as private entrants.  Both Tecno-DAFs were kept and put into a museum.