I want to take you back to September 17 1955. I was on a Vickers Viscount aircraft on my way from Edinburgh in Scotland to Belfast in Northern Ireland. It was a happy return trip for me because in the previous two years I had been based just outside Belfast when serving with the Royal Air Force as part of my compulsory National Service. In those two years, I was still doing some freelance writing for my old newspaper and covered the 1953 and 1954 Tourist Trophy races. Now I was on my way back for the 1955 race which looked good with the mighty Mercedes Benz 300SLRs against the Ferraris and Maseratis.
As we came into land, flying high over the Dundrod circuit, there was trouble below. Belgian driver Olivier Gendebien, one of the great gentleman drivers who later became a good friend, was out practising with his factory 857Sport (s/n 0588MM).
Dundrod is probably the most dangerous circuit ever used for a World Championship sports car event as it covers typical narrow Irish roads with high banks on either side. As a result of this, you could not see around corners very well and as was to be seen in the subsequent race when three drivers were killed. If you hit a banking you did not go over it but cannoned back into the path of everyone behind you. Gendebien was trying to be fast but careful but on Wheelers Corner he misjudged things, hit the bank and was lucky to escape with a badly injured shoulder when the Ferrari rolled.
So why am I telling you all this?  Because not only did I not even see the car at Dundrod back then but it took forty years before I set eyes on it for the first time but I did not recognise it as it did not look like the other 257S's I had seen at Dundrod in 1955.
Following the Dundrod race, the wreckage of Gendebiens car was dragged back to Maranello, taken apart, straightened out and then sent to Scaglietti who was asked to rebody it. Which he did, adding a distinctive tail fin on the headrest so that it looked a lot different from the original 857 Sport.
Ferrari then offered it for sale presumably as a new car and John Edgar in California bought it for Jack McAfee to race in the 1956 season that started in February. Ferrari and Scaglietti had done a quick job turning around the crashed original into this "new" car that still retained its original chassis number. It ran a busy season with McAfee, Shelby and Ginther driving it before it was sold to Jim Conner. When it was again sold it went through a number of hands including Andy Warhol who painted it yellow for gawds sake! By that stage, it ran with an American Chevy V8 engine.
Then the car went into the collector market and was owned by Sir Anthony Bamford and then Count Luigi Castelbarco before it was sold to the chain-smoking French collector Jean-Claude Bajol in 1997.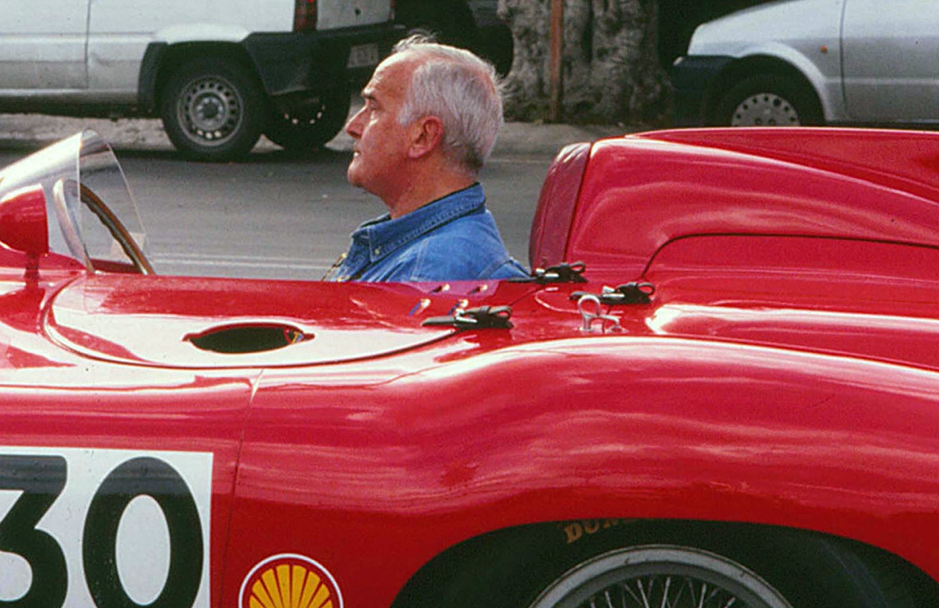 Jean-Claude had not long before sold his GTO (s/n 3451GT) to Lawrence Stroll and found the 857Sport an ideal replacement even though it now had a 12 cylinder 250GT engine rather than the hefty original four-cylinder.  He took the car to Enna in Sicily for the final round of the Shell/Ferrari Historic Challenge meeting and planned to race it but elsewhere in the paddock, there was a problem.
The young Brazilian enthusiast Carlos Monteverde had arrived on the historic scene with a very nice Ferrari Testa Rossa (0738TR) painted yellow with a green nose, the Brazilian colours. Carlos did not normally race and he asked English historic racer Willie Green to drive the car. After trying it out midweek Willie told me it was undrivable and was looking for a drive.
He happened upon Jean-Claude Bajol who, being the gentleman he was, immediately offered him the 857 Sport which looked much more unsanitary than the Testa Rossa and Willie ended up way back in the field.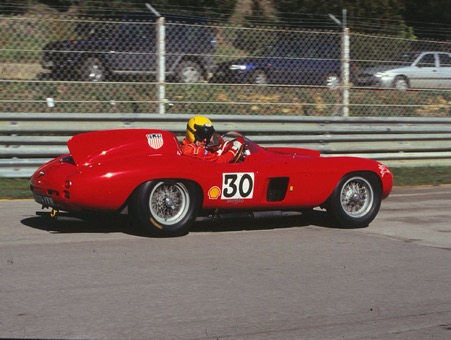 However, Carlos Monteverde was now in the middle of Sicily with a nice 250TR and nobody to drive it. Jean Sage, organiser of the event, suggested he drive it but Carlos explained he did not have an International competition licence at which Sage disappeared.
Two days later in time for final practice, a shiny new French International competition licence arrived at Enna with Carlos Monteverde's name on it which started him out on his continuing successful career in historic racing. To add total irony to the story Carlos took the TR out on to the fast and dangerous Enna circuit – which boasted a lake full of poisonous snakes! – and finished third overall in the race.
It was a great moment of Italian opera acted out under a Sicilian sun.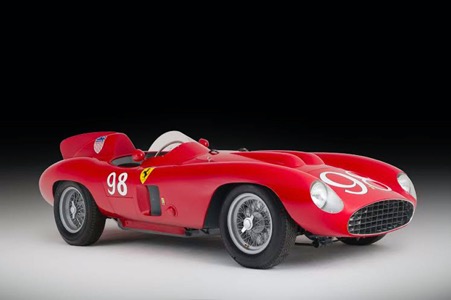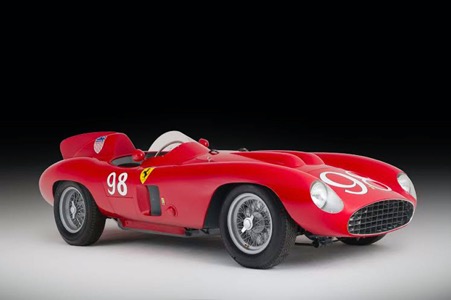 Jean-Claude Bajol kept the 857Sport but in November 2010 he sold it to David Cottingham the well-known English restoration specialist who had been trying to buy the car from Bajol for a number of years. The reason was that nearly twenty years before, David had actually found the original 857Sport engine. By the time of the sale, most of us knew that Jean-Claude was seriously ill with cancer and he tragically died just three months later in March 2012.
Now David got down to a full restoration of the car as Jean-Claude had a habit of ignoring bumps, scrapes and paint chips on his cars and also used them as portable ashtrays!
David Cottingham wanted to restore the car properly complete with its original engine which meant he had to recreate the original hood design with the double bubbles to clear the cam covers.
His son Jeremy gave the car a run at the Goodwood Revival at the end of that year before it was whisked over to California and put up for sale at Goodings' auction in Pebble Beach where it was sold for just over $6 million to Leslie Wexner.
So Ferrari 257S 0588M has now been lovingly restored and is in good hands ready to surprise new generations of Ferrari enthusiasts. I was enthused about the car when I first saw it in photographs published in the California Sports Car Club Journal in which I had a column back when McAfee was racing it. I never thought I would ever see the car in the flesh until that warm day at Enna in 1997.