I have always had a fascination for small motorsport events around the World because usually it is a new experience but often it reveals cars or drivers that you thought had disappeared off the radar for years.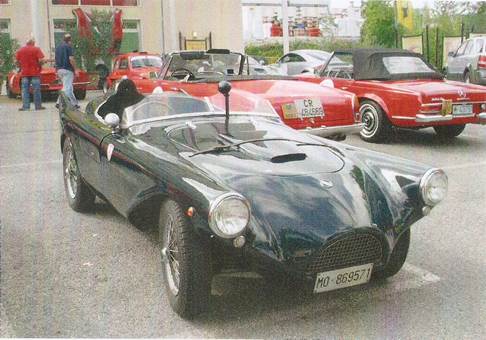 I had such an episode more than ten years ago on a visit to the Maranello Rosso collection of Ferrari's and Abarths of Fabrizio Violati. Fabrizio, who died in January 2010, was quite a character. He was a founder of Ferrari Club Italia and at the time of his death had been the person who had owned a Ferrari GTO for the longest time.
He bought his GTO (Chassis 3851GT) from Ernesto Prinoth in 1965 so that by the time he died he had owned it for forty-five years: probably even today, longer than any other owner of a GTO.
His passion for Ferrari started in 1947 when his father took him to the Caracalla Baths circuit in Rome to see Franco Cortese drive the first 12 cylinder 125S.
This story, however, has nothing to do with Fabrizio and his Ferrari's and his Abarths but a typical example of his electric personality. On this particular visit to his Motor Museum inland from, and on the border of, the private state of San Marino, he had something else in mind. He had invited some of his friends to come to the Museum with their cars and then do a mini-rally route ending up in a tiny village where he decided there would be an impromptu Concours d'Elegance and would I be a judge alongside the legendary founder of Auto Sprint, the weekly motor sporting magazine, Marcello Sabbatini and former Ferrari engineer Stefano Icoponi ( Ferrari 212E flat-twelve hill climb car).
Needless to say, it was a lot of fun but for me one that took part made me step back in surprise as it was one of the British sports racing cars of the early 1950s built by Harry Lester. Lester produced his first MG special with independent front suspension in the early 1950s and he made one or two which he sold off. Then in 1951 Lester produced the lightweight Lester-MGs in a variety of capacities to fit in with the then different classes for racing. His greatest achievement was when Pat Griffith and Gerry Ruddock finished first and second in the 1952 British Empire Trophy on the Isle of Man.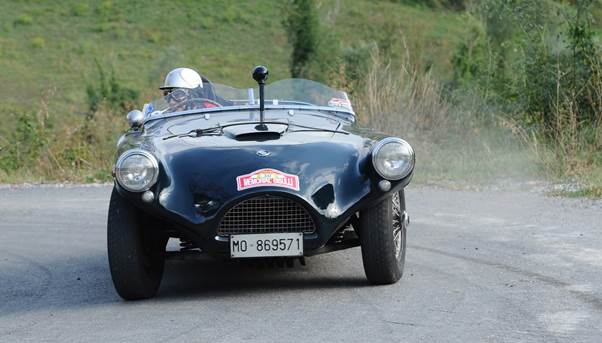 In 1955 he planned to produce two glass fibre bodied coupes and two with Climax engines but the backers of the cars, Jim Meyers and Mike Keen were both killed in separate racing accidents that year, Keen at Goodwood and Meyers at the TT at Dundrod and the project collapsed.
The car that now appeared in Italy was one of the coupe's but rebodied with a rather ugly spyder bodywork which aptly confirmed American journalist Henry Manney IIIs observation that if you give an Englishman a piece of glass fibre you should see the mess he will make of it. The Italian owner was Gian-Luigi Marabini but the interesting thing was the engine which had come from a 1500cc Riley road car modified for racing. Gian-Luigi commented that back in 1955 one of the Lesters was going to be a 1500 the others having 1100cc Climaxes. He believes his car was one of the Coupes but had had the roof hacked off and certainly the style of the windscreen would appear to back up his contention.
His car had been sold to Tom Bleasdale who ran it and then owned it until 1967 and it eventually came into the hands of Ken Booth who sold the car into Italy where it found its way to the Isle of Capri which is where Gian-Luigi found it.
Imagine my surprise, then, when just over a year ago at the General Assembly of the Grand Prix Drivers Club hosted by Gabriele Fabbri who should turn up, nearly ten years after our first meeting, but Gian-Luigi Marabini. I asked him if he still had the car but he has now sold it so it is back into the Italian club historic scene but for me, the fact of finding a Lester-Riley in the middle of Italy was yet another of life's great surprises.