Howden Ganley was at Goodwood for the revival meeting and caught up with former historic racer and character Alain de Cadenet and too this photograph of him with an actor, I presume, perfectly dressed up as Tazio Nuvolari complete with yellow sweater, red leather helmet and even the little gold tortoise badge around his neck.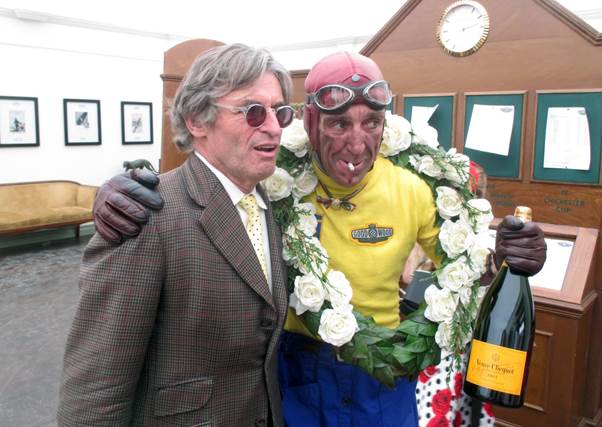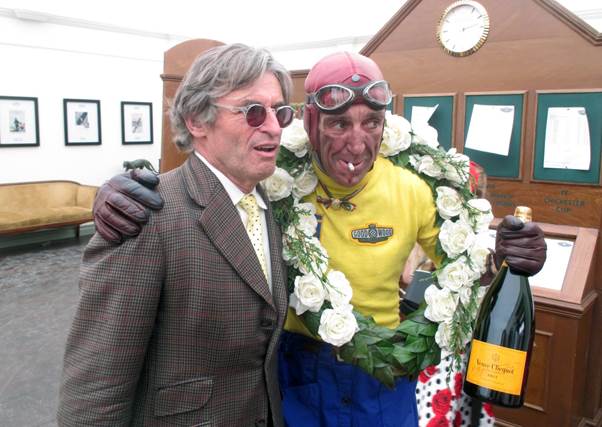 I have waited over 25 years to get a photo like this because it naturally leads me to a true and amusing story from back then.
The phone rang in my office in Edinburgh and it was Michael Ware who was the curator of the Montagu Motor Museum, as it was called then but is now the National Motor Museum. It was winter and he wanted to hold a special evening for the Members of the Friends of the Museum and came up with the idea of a balloon debate.
For those who do not know, a balloon debate is where four people debate a specific subject and the audience votes for each in turn with the concept that all four have taken off in a hot air balloon from New York to England but as the balloon continues it loses air and one by one the four debaters get thrown out of the balloon depending on the quality of their erudition and presentation until you end up with the last man who is the winner.
On this occasion the question was " Who was the greatest racing driver the world has known ?"
The plan was that Doug Nye had been invited to talk about Juan-Manuel Fangio, Alain de Cadenet was to talk about Tazio Nuvolari, journalist Alan Henry was to do Ayrton Senna and I was to do Jim Clark. Then about two days before I was due to fly down to take part Michael phoned in a panic to say Alan could not be present so any ideas who could do Ayrton Senna. Quick as a flash, I said how about Denis Jenkinson the sports editor of Motor Sport who was a staunch fan of Senna. I telephoned Jenks and he agreed immediately so we were all prepared.
What we were not prepared for was de Cadenet who was in his Showman mode and arrived with a ventriloquist's dummy dressed up as Tazio Nuvolari complete with the accoutrements mentioned above which he held in his hand as he spoke. He was a riot and apart from his eloquence, his dummy stole the show and he won easily.
So how did the rest of us get on? Well, Jenks, was just Jenks as usual. Everyone had 20 minutes to make his case for his driver and Jenks stopped after 10, remarked " I have said enough" and promptly sat down. He was thrown out of the balloon first. Despite my claim that Clark's ability over all forms of motorsport classed him as the best, I was thrown out the balloon second and poor old Doug Nye was tossed out third. So De Cad won and never fails to underline this whenever we meet.
The fact that this Nuvolari look-alike turned up at Goodwood and was grabbed my De Cad and Howden's photo made the ideal addition to the story.