In the past we have commented on the outstanding performances of our member Alex Zanardi  in para-cycling such as in the Olympic Games but last week Alex was in Pietermaritzburg in South Africa for the 2017 UCI Para-Cycling Road World Championships and it proved to be a successful week for the BMW brand ambassador and ex-grand prix and Indycar driver.
Last Thursday Alex won his ninth para-cycling world title in the time trials but this was only a build up to his most important event, the MH5 category road race on Saturday. This category is probably one of the most gruelling of all as it is for hand cycles and calls not only for great balance but tremendous upper body power.
If you consider that this was a 60.7 kilometre road race which is tough enough the final stretch came down to a sprint finish between Alex and Tim De Vries of the Netherlands and as can be seen from the photograph the finish was so close that only the camera decided that de Vries had become new World Champion with Alex taking the silver medal. Indeed it was so close that in the final classification the time distance between the two of them was recorded as 00.00 seconds!
The route was through the streets of Pietermaritzburg and each of them played cat and mouse to such an extent that before the final corner Zanardi was lying third and de Vries fourth but with the finish line in sight they scrapped for the lead and de Vries crossed the line centimetres ahead of F1 Grand Prix Drivers Club member Alex to take the title.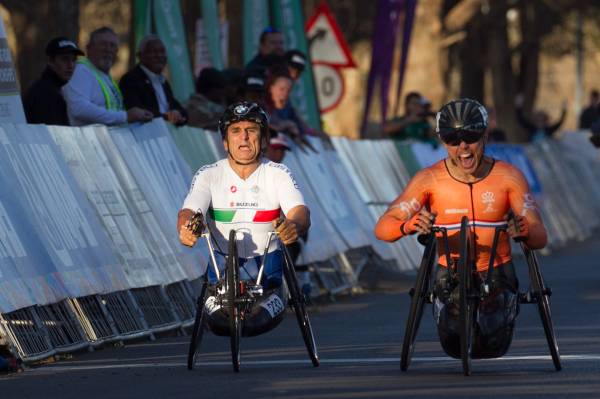 After the race Alex, always the sportsman, was generous in his praise "…..Tim won a great title today and hats off to him, but next time I will make his life as hard as I can again."