Another photograph sent by Howden was of this Alta race car which immediately brought back many memories of an old friend, Alastair Cormack, who died a number of years ago. He was born into the Cormack shipping company in Edinburgh but despite being a very shy and retiring man became a racing driver and eventually ended up as a factory driver for Alta in the 1930s.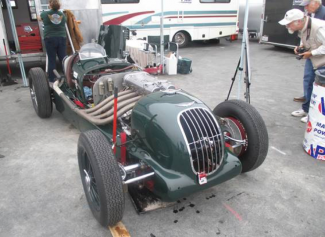 He also owned his own plane and when WWII started his plane was taken over by the government, became a test pilot for the Ministry of Aviation and was the first British pilot to be cleared to fly American aircraft like Boston's Liberators and Flying Fortresses.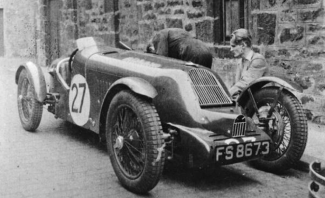 Why I am telling you all this is that Alastair Cormack was the original factory driver for Alta in 52S  and the car Howden photographed a few weeks ago at Laguna Seca was Chassis 53S.
The first Alta race car was a 1100cc sports car built in in 1931 with a 1100cc twin cam engine designed by Geoffrey Taylor. A year later an Alta was to run at Le Mans but retired after six hours.
It was this model of Alta that was the first of the marque Alastair Cormack bought in 1934 and road registered it in Edinburgh. With this car, and the help of Geoffrey Taylor, he set a new 1100cc Mountain record at Brooklands. He also took the car to the Klausen Hill Climb in Germany
Cormack was named the factory driver for the 1936 season and at Monaco, for the voiturette race, he became the first official Alta entry in an International European event. That year Alta produced their new racing car, which could be bought with either a 1500cc block or a 1960cc block. Taylor announced that six would be built with the first two going to the noted English tuner Robin Jackson.
The car at Laguna Seca was chassis 53S which has been owned by Jan Voberil in the US for nearly twenty years. It was the only car delivered to Jackson as 52S was kept by Taylor as a factory car for Cormack to race. It was the first true single-seater built by Alta who were to go on to provide racing cars into the 1950s and Formula 1.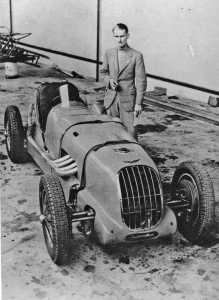 The Cormack Car, 52S, was sold to Australia but it came back to England in the early 1950s to be raced by Robert Cowell who made front page news in the British tabloids when he became one of the first people to have a sex change and continued to race; but as Roberta Cowell. I then lost track of it until I visited Laguna Seca in 2000 and bumped into Canadian enthusiast David Cohen who had bought 52S and taken it to Canada.
As for 53S, it disappeared into a Swiss Motor Museum and was later sold to a mystery buyer.  In conversation with Jan Voboril, he confirmed it was he who had bought the car. It is good to see it still racing today.
As for Alastair Cormack, at the end of WW2 he was involved in a Scottish airline based at Prestwick but also ran the successful Rootes agency in Edinburgh. He was a staunch supporter of Scottish motor racing and with the development of Ecurie Ecosse he gifted the Commer rolling chassis to David Murray for the building of the iconic Ecurie Ecosse transporter.