Whilst Club President Howden Ganley was in California for the Laguna Seca historic races he sent back various photos of interesting cars he found in the paddock. One of them was this Gordini which had been driven by the Argentinean driver Benedicto Campos.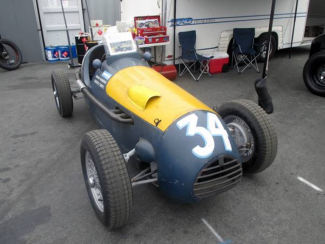 Much has been written about Juan Manuel Fangio who arrived in Europe in the late 1940s surprised everyone with his remarkable pace and shook up the European establishment of that time.
Fangio did not come alone, however, he arrived in Europe with fellow racing driver Benedicto Campos, both of them being sponsored by the Automobile Club of Argentina that wished to fly the flag in Europe.
Both drivers had been brought up in the rough and tumble of town to town races on unmetalled roads in a variety of specials. To drive fast in those conditions gave most of the South American drivers a slight edge, particularly on slippery circuits and Europe sat up and took notice. It also began a series of visits to Europe of other Argentinean and Brazilian drivers to Europe.
So who was Benedicto Campos?
Born in 1912 he leapt into the Argentinean racing scene in 1935 when he built up a Dodge and was to race at Benito Juarez just outside Buenos Aires that year. The Dodge proved to be low on power so he switched engines to a Ford and began to get some good results. By 1938 he had bought a quick Model T Ford from the famous Argentinean polo player Gutierrez Martinez de Hoz. He tore it apart and rebuilt it to race in the Playas de Necochea race and led from start to finish.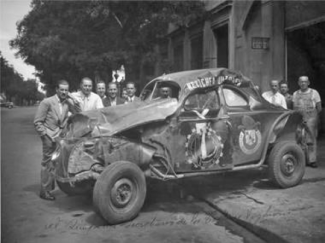 He was so successful with the Model T that it is said he was invited to race at one particular event and the other competitors refused to race against him!
By this time his friend Juan Manuel Fangio had started to race with a Ford Coupe and in 1940, when Fangio switched to the Chevrolet that gave him many successes, Benedicto chose a Ford Coupe but by the end of 1941 with World War II in full swing, he stopped racing.
By 1946 Argentinean racing had started up again and for this Benedicto bought a Midget Race car that he prepared himself and again won a number of races beating not only local hero Oscar Galvez but Juan Manuel Fangio, and it stayed in his stable until 1949 when he sold it before coming to Europe.
Another landmark in his racing career came in 1948 when he, along with Fangio, took part in the Formula Libre race held in on a 1.6 km street circuit in Mercedez, Uruguay. A local driver, Eitel Canton took pole position but right behind him was Juan Manuel Fangio
It was a 50 lap race and right from the start it was Benedicto Campos who led but he was overtaken first by Fangio and then by the local Uruguayan driver Angel Pascuali so had to be content with third place.
Meanwhile, the Automobile Club of Argentina had decided to form a team to go over to Europe and race in the major grand prix races. They contacted Maserati and placed an order for two of the very latest 4CLT Maserati's ( Chassis 1599/1600). Both cars were shipped directly to Buenos Aires around Christmas 1948 so that they could be run in the Temporada races before being sent to Europe.
When the series finished the two Maseratis were shipped along with Juan Manuel Fangio and Benedicto Campos. They arrived in time to race in the San Remo Grand prix in April 1949 entered by the Automobile Club of Argentina. A third car, a Simca-Gordini, was entered by the Club for Louis Chiron to drive.
Most of the leading European drivers were there but it was this newcomer Fangio who was on the centre of the front row of the grid and Fangio totally dominated the two heats with his 4CLT from Prince Bira's identical car. Meanwhile, newcomer Campos finished 5th in the first heat and third in the second so starting the South American wave of drivers which has continued to this day.
Two weeks later at Pau, now running as Squadra Argentina,  Fangio and Campos finished first and third and repeated this at Roussillon.
By now the Automobile Club of Argentina had formed Scuderia Achille Varzi with the intention of running other Argentinean drivers in Europe in the future. They added a second Gordini and ran them in Brazilian colours for Fangio and Campos in the grand prix of Marseilles. Fangio finished a remarkable second with his little car to Philippe Etancelin's full grand prix Talbot Lago in the first heat. Campos won the second heat ahead of Maurice Trintignant in another Gordini and in the final Fangio and Campos were first and fifth. The Gordini that appeared at Laguna Seca this year would appear to have been one of those two cars which were chassis 08 and 09.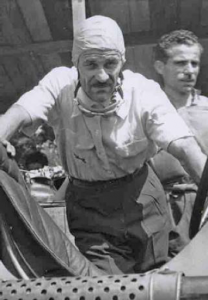 All of this was a build up to Fangio and Campos racing in their first major grand prix, the Belgian Grand Prix at Spa in 1949. Neither had raced on the circuit before and now they were up against full teams from Ferrari, Talbot and the Scuderia Ambrosiana 4CLTs. However, it was a disaster as Fangio was out after two laps with a burnt piston and Campos retired after 20 laps with a broken oil pump.
The French Grand Prix was to be the last race in Europe for Fangio and he and Campos ran well,  and literally took turns leading the race until Fangio retired with a sticking throttle and then Campos retired with a broken valve.  The Campos 4CLT stayed in Europe and was entered for the Italian Grand Prix where again he impressed with 5th place on the grid after practice. In the race he was running fourth and then moved to second when Farina and Villoresi retired but all in vain as he broke the crankshaft and had to retire.
The arrival of Fangio and Campos in Europe created a sensation and, as we know, much more was to follow in 1950.
Campos returned to Argentina and continued to race but retired from racing in 1951 at the age of 39 to set up a company hiring out agricultural equipment but he tragically died of a heart attack when driving his car on a business trip.
We all remember Fangio and those that followed like Froilan Gonzalez so perhaps we should pause and remember Benedicto Campos as well.