We in the Grand Prix Drivers Club can count amongst our members World grand prix champions and many successful grand prix drivers but none can match the performances of Alessandro Zanardi who joined the Club on the urging of Mario Andretti.
Alex Zanardi is an inspirational character like no other member past or present because he has proved the power and remarkable resilience of the human condition. Few who have seen it on television, at the time or since on You Tube, could not only believe that he could possibly survive his horrendous accident in a CART race at the Lausitzring but do what he has done since.
In that race, on leaving the pits, he was hit by Patrick Carpentier in a devastating collision in which he lost both his legs. There it all might have ended and we can see the news headlines "Grand Prix and Indycar driver retires from racing after life-threatening injuries" ; but this was not how Alex wanted the story to end.
Not only did he recover but he even helped design the artificial legs with which he was fitted.
He had had an interesting career in racing climbing the regular ladder, karting, Formula 3. Formula 3000 and then Formula 1 with a first drive with Jordan where he was signed when Michael Schumacher left to join Benneton. He almost joined Tyrrell for 1992 but managed to salvage three races with Minardi at the end of the season. With Team Lotus in 1993 he was sixth in Brazil but it was not a great season overall. He stayed with the team in 1994.He made the move to the USA for the US CART championship with Chip Ganassi and became Rookie of the Year in 1994.
However, he came back to Europe to driver for Williams in 1997 and 1998.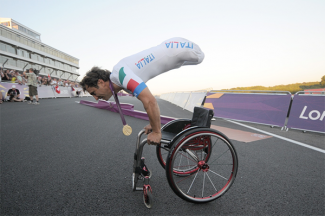 After his huge accident in 2000 his sheer determination to race again saw him appear at Monza in 2004 in the German DTM Championship driving a hand-control BMW finishing 7th, a remarkable performance. But more was to follow with a season in the World Touring Car Championship for BMW. Then Peter Sauber had one of his Sauber grand prix cars converted to hand controls which Alex tested.
By now, however he had started Para-Cycling using hand-controlled bicycles and in 2012 he won not one  but two Gold Medals in different disciplines in  the London Para-Olympic gold medals
Now, four years later, he has again won the Gold Medal in the H5 time-trial at Pontal in Rio de Janiero by nearly three seconds after being 18 seconds behind Australian Stuart Tripp. On Friday ( September 16) Alex will be out again as one of the three members of the Itaalian team in the mixed relay race.
The Grand Prix Drivers Club is proud to have Alex Zanardi as a member for he reflects not only the true spirit and determination that marks great drivers in Formula 1 but that same spirit and determination to beat the World's best in the Para-Olympic Games.