As usual the Goodwood Revival brought out the crowds and also a raft of our members most of whom were there to meet up with old friends and racing colleagues and to take part in the parades honouring Sir Jack Brabham.
Obviously David Brabham was out there in one of his father's cars and a number of members ran in the parade on the track including Sir Jackie Stewart and even Dario Franchitti out in the ex-John Coombs/Brian Redman Jaguar lightweight E type. Club President Howden Ganley was there but sadly vice-President Emanuele Pirro, who is normally seen racing something, had other plans and did not attend.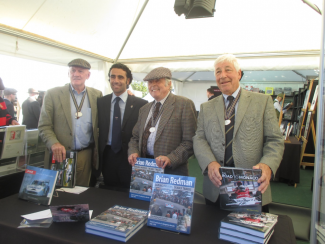 So, how about the races, well, Jochen Mass, who is a permanent fixture at Goodwood, arrived with a factory loaned 300SL Mercedes Benz to run in the Freddie March Memorial Trophy race and was inspired in practice placing the car in 9th place on the grid ahead of a lot of serious racing machinery like Maserati 3000S and Jaguars but his luck ran out in the race and he pulled off to retire after six laps.
As is usual our most active member was Richard Attwood who placed his BRM P261 fourth on the grid ahead of such noted historic races as American James King driving Dan Gurney's former Brabham. In a tremendous race where he was pushed to keep up with the flying Lotus-BRMs he kept his fourth place position for our first Club podium of the day.
In the Kinrara Trophy Richard was out again this time in Adrian Beecroft's Ferrari 250GT short wheelbase which was originally raced by Wily Mairess for Ecurie Francorchamps in Belgium. The race was brought alight by multiple Le Mans winner Tom Kristensen also in a short wheelbase 250GT. In this two driver race it was a struggle and the car retired from the race after four laps.
The main race of the weekend is the one hour RAC TT race and here our member Jackie Oliver was sharing a Jaguar E type with owner John Young. In a huge field and with two qualifying sessions Jackie qualified 13th  but in the race both he and John Young drove a great race to finish sixth overall against much quicker cars.
Lord March one of our Honorary members not only sanctions a truly world class event at Goodwood but comes up with some unique events such as the St Mary's Trophy which was a one-make race made up of small Austin A30/35 models specially built to a fixed specification and joining into the fun of the event five of our members took part, Tiff Needell, David Coulthard, Rupert Keegan, David Brabham and Jackie Oliver. Of those Tiff Needell was the quickest in the Saturday qualifying race in 14th place ahead of Rupert Keegan. David Coulthard was clearly in something of a quandary as he had never driven anything like this before and was really learning as he went along.
It is not as though the Austin A35 was making its first appearance in race for way back in the 1950's, in period, none other than Graham Hill raced a grey Speedwell A35 in the support race to the British Grand Prix at Silverstone in 1958.
In the first actual race it was still Tiff who finished 12th ahead of Jackie Oliver 18th, David Brabham,21st, David Couthard 22nd and Rupert Keegan 23rd. As there were two drivers to each car the final was an aggregate of both drivers times and our highest placed member was Tiff Needell who with his co-driver were credited 8th overall. Jackie Oliver was 9th, David Coulthard 14th David Brabham 17th and Rupert Keegan 18th.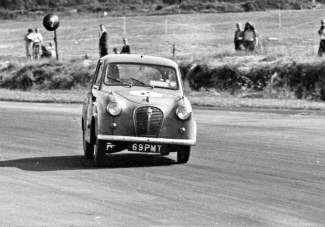 In the Whitsun Trophy for the big sports cars it was Tiff Needell who starred and managed to finish third overall to Rob Huff's Lotus19-Oldsmobile an Mike Whitaker's Lola T70 Chevrolet. What makes this such a great result for Tiff was that even in period the car was a pig to drive as most who got behind the wheel of one would attest.