If someone had asked me to describe a racing car called the Bi-Motore I would probably launch into a story about how Enzo Ferrari's long time engineer friend produced a car called the Bi-Motore in 1935 using two Alfa Romeo Monza engines, one mounted normally at the front and the other behind the driver but at a dinner on our second day organised by the Rotary Club of Riccione there was a lone racing car parked out on the lawn which immediately attracted GPDC President Howden Ganley, Tim Schenken and David Piper.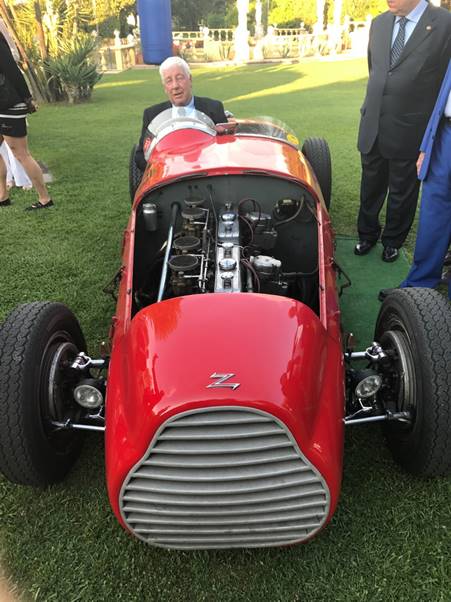 The car was the Monaci 8C Bi-Motore Zagato built by Ciro Monaci and fitted with two Fiat 1100cc engines mounted nose to tail and driven by Monaci's own design of coupling which he apparently patented. His original prototype was built towards the end of the 1940s and was crashed but not before Monaci realised it had potential as a Formula 2 car.
He then went to GILCO, who made a number of chassis for Ferrari and others back then had them build a new chassis into which he put his unique engine. He ran it in some small events but in 1952 he entered the car for the 5th Gran Premio Dell'Autodromo di Monza on June 8 with well known Maserati driver Giovanni Rocco at the wheel. It qualified on the second last row of the grid but ahead of seven of the other entries that included two Ferraris.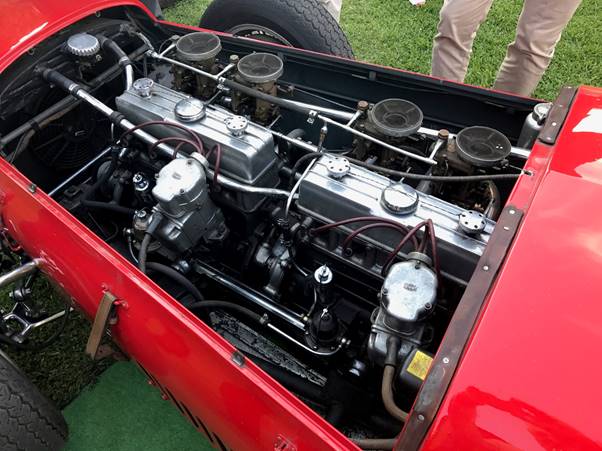 Needless to say the performance of Rocco in the race was totally forgotten about but he eventually retired after ten laps. The reason this interesting newcomer was overlooked was that Juan-Manuel Fangio driving a 4CLT Maserati crashed and seriously injured himself and it took the headlines.
When we think of air travel these days it is relatively simple for a driver to drive in one country one day and another country the next but back in 1952 it was not quite so easy.
You see, Fangio had been running the famous 16 cylinder BRM grand prix car in the Ulster Trophy Race at Dundrod in Ireland on the Saturday and not unsurprisingly the car retired. Maserati were desperate to have Fangio drive their new A6GCM at the Monza race – which was not the Italian Grand Prix but the Autodromo Grand Prix – and he had arranged with Prince Bira that Bira would fly him in his own plane from Belfast to Monza late that afternoon. However Bira retired early in the Dundrod race and flew off on his own leaving Fangio back at the track. So Fangio  decided he would try and make it for the race the next day. He was rushed to Aldergrove airport in Belfast and caught a BA flight to Paris but there was no onward connection to Milan and so Fangio borrowed/rented a car and decided to drive overnight to Monza. He arrived at the circuit just before the race and asked if he could race. The organisers went round every other driver in the race with a sheet of paper and each signed it to say they were happy for Fangio to race starting from the back of the grid and so the weary Fangio climbed into the Maserati and set off. True to form he set of like a rocket passing six cars on the first lap. On the second lap he passed another nine so now he was up to around 12th place in the big field but on the third lap he misjudged the Lesmo and had a massive accident that put him out of racing for some months. He vowed he would never start a race in a tired state ever again!.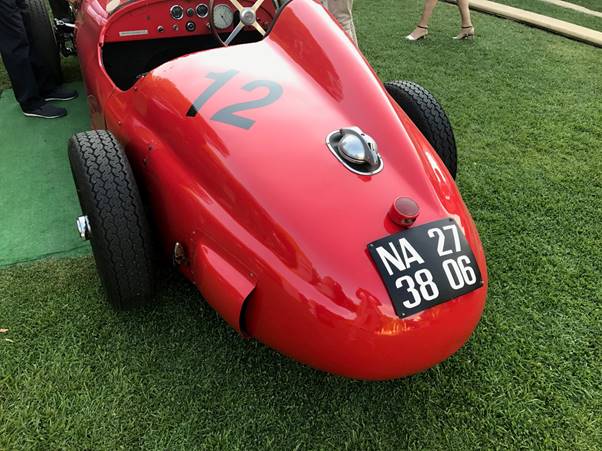 As for Rocco he had driven well and some observers at one of the corners felt that his Bi-Motore Monaci was cornering as fast as the leading Ferraris. It was a pretty car and had a dual purpose as Zagato had designed the bodywork so that cycle wings could be added and run as a sports car and it competed in sprints races and hill climbs and then, in the rush of progress disappeared and here it was, 65 years later running again.