I have a great deal of time for Brian Redman and though he did not have a long and successful career in Formula 1 his ability in all forms of racing mark him as one of the truly great drivers of the 1960s to the '80s.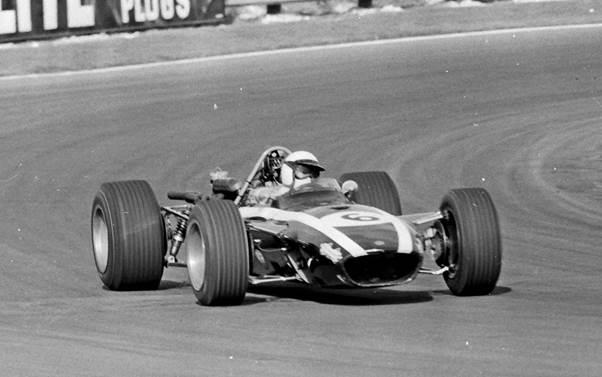 Brian had his Formula 1 debut in the 1968 South African Grand Prix driving for the Cooper factory team using Maserati V12 engines. That year in the Race of Champions he was given a Cooper fitted with the BRM engine and finished in fifth place ahead of Jackie Stewart's Matra. However this part of his racing career was to end in 1970 only for him to return to racing and become even more successful.
Back in 1981 he and I sat down for a cup of Coffee after practice for the Daytona 24 Hour race and I asked him about his final seasons in racing.
"In 1970 I had a very successful year starting with a win in the Daytona 24 Hour race when I shared a Porsche 917K with Pedro Rodriguez and Leo Kinnunen. This was followed by a Targa Florio win with Jo Siffert in the Porsche and wins at Spa and Zeltweg also with Jo.
"But at the end of 1970 I actually decided to retire from racing and move to South Africa as I felt too many of my driver friends were being killed.
"The first one that really hit me hard was Jim Clark because it happened on the same day Jacky Ickx and I were leading the BOAC 500 race at Brands Hatch in a Gulf Ford GT40. Just as I was getting into the car for my last stint in the race, the news came through that Jim Clark had been killed at Hockenheim.
"You can imagine what I felt like getting into the Ford and even though we won the race it affected me. Then Mike Spence was killed testing at Indianapolis and shortly after that I had a monumental accident at Spa when the front suspension of my Cooper collapsed which ruined my arm. Added to that, my team mate in the 1968 South African Grand Prix, Ludovico Scarfiotti, was killed in a hill climb and another former team mate, Lucien Bianchi was killed at Le Mans.
"Lucien and his wife had gone with me to the hospital when I had the accident at Spa and greatly helped my wife; it was just one thing after another.
" I was concerned about my kids so I made the decision to retire and was offered the post of Public Relations Director for the BMW importers in South Africa and so moved the family there"
Retirement from racing did not work out. Brian was concerned about living in a difficult time in South Africa's turbulent history and he returned to England but by then all the good drives had been settled.
"I found I just couldn't stand the return to a normal sort of life and so four months later I came back to England and, of course, missed all the contracts and the only drive I was offered was by Sid Taylor in a McLaren M18 Formula 5000. Though I won my first race in the car at Thruxton I struggled all year with it. I was then approached by John Wyer to drive a 908 Porsche in the Targa Florio alongside Jo Siffert. John asked me to drive the first stint and I crashed on the opening lap when either a wheel broke or a tyre burst. The car hit a concrete post and the car absolutely exploded on fire and I was badly burned.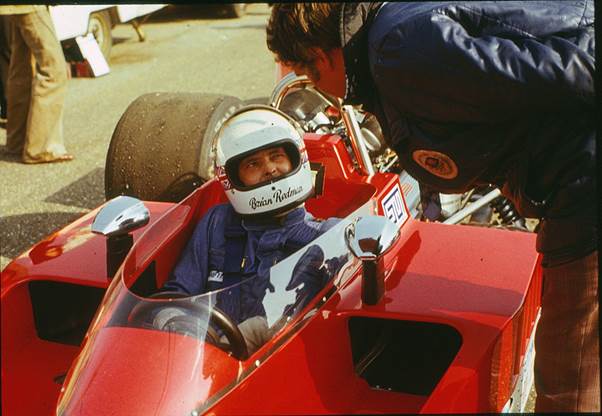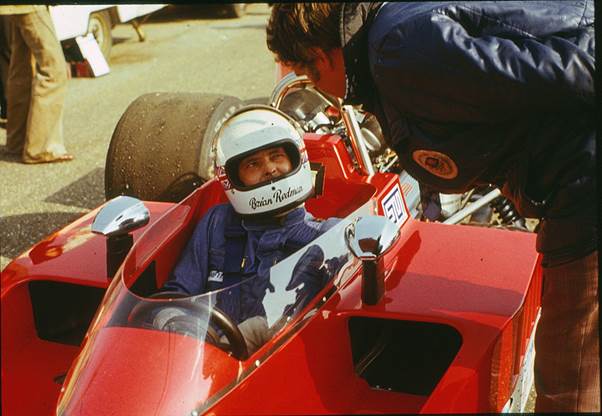 At the end of that year when I had recovered Sid Taylor arranged to run a BRM Can-Am car at Imola and for some reason I was very quick in the wet and lapped the entire field. There and then I was approached by Ferrari and offered a factory team drive for 1972 but before that they entered me with Clay Regazzoni for the Kyalami 9 Hour race which we won."
In 1971 he won the Camel GTP Championship with a Lola T600 Chevrolet.
Brian was also able to return to Grand Prix racing when John Surtees entered him for the 1971 South African Grand Prix. The following year, 1972, despite his sports car contract with Scuderia Ferrari Brian drove in Formula 1 with Yardley Team McLaren taking fifth in both the Monaco and German Grands prix and ended that season with a one-off race with Marlboro-BRM at Watkins Glen. He had only one Grand Prix in 1973 as he was busy with the F5000 series in the USA as well as Ferrari in sports cars but in his final season in Formula 1 he drove three races with the4 UOP Shadow team. All told Brian won three Formula 5000 Championships in the USA against all the leading American drivers. Despite a huge accident in an F5000 at Mont Tremblant he continued to race through the early 1980s usually driving Porsches and was to win the 24 Hours of Le Mans in a Porsche 035.
Indeed Redman can also add his South African Springbok Championship in 1970/71 and no fewer than four manufacturers championships.( 1968 with Jacky Ickx in a Gulf GT40, 1969 and 197 with Jo Siffert in Porshe 908 and 917 and the 1972 Championship with Clay Regazzoni and Arturo Merzario.)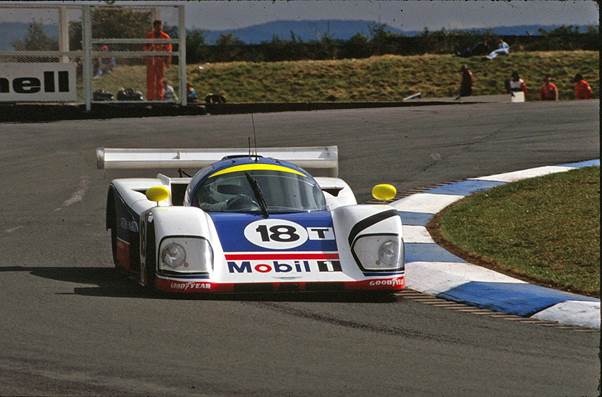 Brian eventually retired from serious racing in 1989 driving for the factory Aston Martin team in the World Group C1 Championship. He then settled in Florida and has guested on many occasions in Historic events as well as organising his own major historic meeting in the USA. Indeed just a couple of weeks ago he was able to race the 1989 Aston Martin AMR1 at the Daytona 24 Hour Classic. So how did that race end ?
"…..I built up to full speed on the 4th lap of practice, when at 190 on the banking the rear suspension broke!"
For Brian Redman the racing never ends.