In recent weeks we have been able to welcome a number of new members to the Grand Prix Drivers Club and after the Mexican Grand Prix, where he was an Ambassador for the event alongside our other members Emerson Fittipaldi and Jo Ramirez, Hector Rebaque  became the second Mexican member of the club.
Hector was a true private entrant and even created his own Formula 1 car before spending his last two seasons with the Parmalat Racing Team in Brabham BT49's.
Hector took the usual route in racing by going to England at the age of 18 to run  in Formula Ford and was befriended by American Fred Opert who brought him into his Chevron Formula 2 team for 1975.
After a sixth place at Rouen, Fred Opert sent him over to Canada to compete in the Canadian Formula Atlantic Championship where he took a fifth place at Trois-Rivieres.
For 1976 he stayed with the Canadian Atlantic Championship and also the IMSA Atlantic Championship in the USA this time driving a Lola for Carl Haas.
Hector wanted to go Grand Prix racing and returned to England for the 1977 season to join the Hesketh team but had a difficult time so decided to become the complete private entrant in 1978  buying Mario Andretti's Championship Winning 1977 Lotus 78 Cosworth.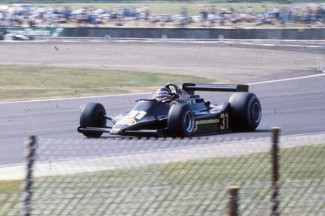 This brought him some success with his best result being 6th place in the German Grand Prix at Hockenheim. Encouraged, he went back to Colin Chapman and bought a Lotus 79, keeping his 78 as a spare, but again had a difficult season with only a 7th place in the Dutch Grand Prix to show for it. When he arrived at Zandvoort for that race he brought something new, the Rebaque HR100, his own Grand Prix car. He had commissioned Penske Racing in Dorset to supervise the project and the car had a mixture of Lotus and Williams influences. It was not a success qualifying for the Canadian Grand Prix but in the race an engine mounting broke. At the end of the season he stopped development on the car and in 1980 was brought into the Parmalat Brabham factory team with good finishes in the British and Canadian Grands Prix.
He stayed with the team in 1981 and had his best season in Grand Prix racing finishing fourth at San Marino, Hockenheim and Zandvoort. He then moved to Indycar racing for 1982 and qualified on the fifth row of the grid in the Indianapolis 500. He was delayed by a fire in the pits but was classified 13th and then, to wind up his career, he won the Indycar race at Road America . Following a testing crash he retired from racing and returned to his architectural business.
As a reminder of his grand prix racing he keeps his Rebaque HR100 mounted in the sitting room of his house!
He was successful designing, building and then running hotels but decided that running hotels offered too many problems and sold his hotels to a big hotel group. He then concentrated on designing and building apartments in Mexico at which he has been very successful and we welcome him to the Club.