The death, last week, of Carl Haas at the age of 86, came as something of a surprise for he always appeard to be ageless. He was the man behind various ventures in American motor racing perhaps best known for his partnership with filmstar and racer Paul Newman in the 1980s.
He ran many of our Grand Prix Drivers Club members in his various teams with Jackie Stewart in the Can-Am Lola, former world champion Alan Jones and Patrick Tambay in his two year stint in Formula 1 with the Beatrice and his long time association with Mario Andretti. Another member, Dario Franchitti, also drove for Carl Haas and has written a very personal note about Haas.
"I'm so sad to hear of the passing of Carl Haas. He owned cars in all kinds of series, can am, F1, NASCAR and of course Indycar where he became a legend. Together with Paul Newman they had many huge years, world class drivers, big sponsors and a great team of people, in later years though Carl and Paul dug into their own pockets to keep that group of amazing people together. He was an unbelievably hard business man but loved his sport.
I talked with Carl and Paul once to come to their team, Paul wanted to drink beer and talk it over… Negotiating with Carl is something neither my manager Julian or I will ever forget!! He wrote the book. 
Carl was an eccentric, hilariously so at times. I'll tell you this though, when I won a race or championship or had another sizeable crash the first email I always received was from Carl and wife Bernie either to congratulate me or to ask if I was ok and if I needed anything.
We will never see his or Paul's like again, rest in peace guys, we miss you both."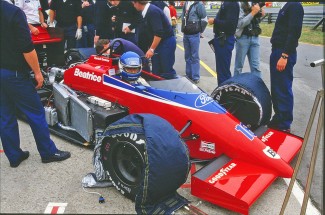 P.S. Carl Haas should not be confused with Gene Haas the owner of the present-day Haas Formula 1 team.