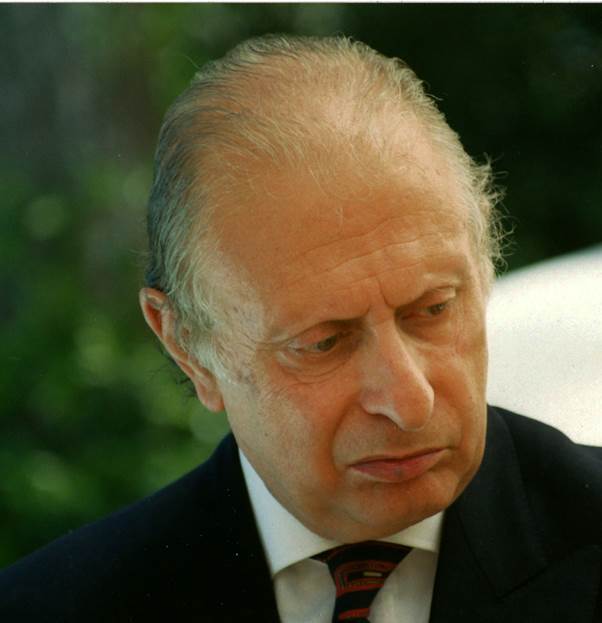 At a time when most enthusiasts for racing can only recognise Formula 1 and its races, one forgets that the majority of racing drivers from the past were true all-rounders who would enjoy World Championship sports car events, hill climbs and the like and one of them was surely Nino Vaccarella.
Nino has been a member of the Grand Prix Drivers Club for many years and until recently was a regular attendee at GPDC events.
As most people know, he was born in the coastal town of Palermo, the capital of the island of Sicily and home of the Targa Florio. When his father died he was studying law and after a few small events driving his father's little Fiat he bought a Lancia Aurelia B20 which, at the time, was the entrance level for many young up and coming Italian racing drivers. It was in the Aurelia that he competed in his first Targa Florio in November 1957 but he finished well down the field in 109th place.
However, two weeks later he went to Vallelunga near Rome this time with a Fiat 8V and finished a creditable third overall in the 6 hour Esso GT event.
Nino did very little racing in 1958 but again he took part in his home race, the Targa Florio again in the Lancia with his friend Enrico Giacconi but retired when lying fourth in his class but a sixth-place overall at Messina and 10th in the Giro Calabria clearly helped to make his decision to become more serious in 1957
A friend, Guiseppe Alotta, loaned Nino his early A6GCS Maserati sports car ( chassis 2064) and they finished 10th overall and third in the competitive sports car class.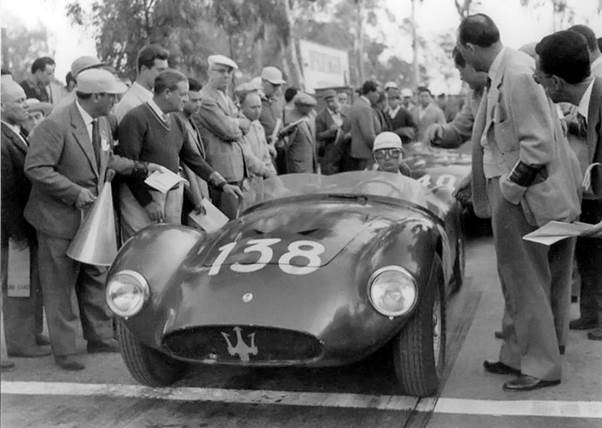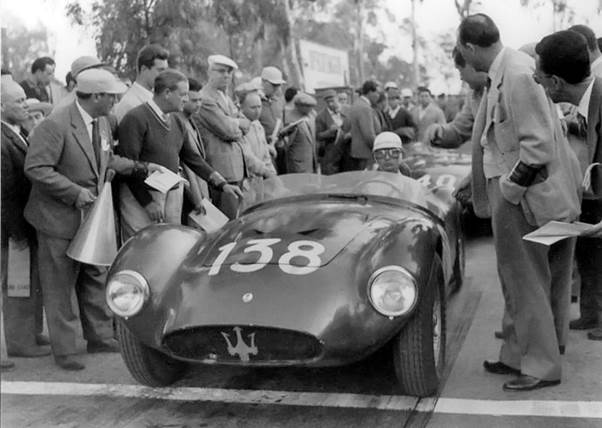 This clearly helped Nino to decide on buying a Maserati 200SI sports car that had originally been owned by Adolfo Tedeschi and he won first time out with the car at Enna.
It became clear that Vaccarella was a man to watch and he was to move into more international events when he joined Scuderia Serenissima driving a Type 63 Maserati birdcage.
However, Count Volpi had also bought one of six new Formula 1 cars built by Argentinean Alessandro de Tomaso. The cars were offered with either Alfa Romeo or OSCA engined 1500cc engines and the Serenissima car had Alfa power.
The car had its debut in the 1961 French Grand Prix with Giorgio Scarlatti but he was well down the field after practice and retired in the race.
For the Italian Grand Prix it was decided that Nino Vaccarella would make his grand prix debut in the car. In fact, there were three de Tomaso's entered and Vaccarella was the quickest but even then he was right back in the field alongside John Surtees in the Reg Parnell Cooper.
He did well to reach 12th place before the Alfa engine called it a day and he retired.
Clearly Count Volpi was impressed and entered Nino for the non-Championship Coppa Italia race at Vallelunga but this time with the much more competitive Cooper-Maserati the team owned. It was run in two heats and in the first Vaccarella finished third behind Giancarlo Baghetti's Porsche 718 and Pinroth's Lotus 18.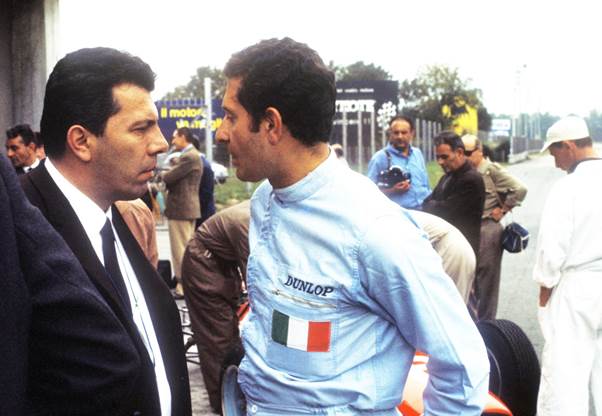 Volpi then bought a Lotus 18/21 for the 1962 season and Nino drove it in the non-Championship Pau Grand Prix in April that year and this time he finished 6th behind Lorenzo Bandini's Ferrari Dino 156.
The team, which changed its name to SSS Republica di Venezia, then bought two of the new Porsche 718's and Vaccarella drove this for the first time at the German Grand Prix qualifying on the fifth row of the grid but 15th was his highest position.
Then came the third change of car when they bought a Lotus 24 for Vaccarella to drive in the Italian Grand Prix. In qualifying, he was quicker than three of the factory Ferrari 156 cars of Phil Hill, Lorenzo Bandini and Giancarlo Baghetti and in the race finished 9th. He was only to race one more time in a World Championship grand prix race, in with a factory Ferrari at Monza in 1965.
If Vaccarella's results in Formula 1 were modest one must remember that the cars he drove were all privately entered save for the Ferrari entry but it was Vaccarella's successes in sports car racing that really confirmed his career that included racing at Le Mans twelve times. Though he is best known for his races with Ferrari he was also a factory driver for Porsche and of course his local circuit was the Targa Florio.
His first Targa Florio was in 1957 when he entered his Lancia Aurelia and finished 109th overall. He did it again in 1958 with the Lancia but retired. A friend of his, Giuseppe Alotta bought a Maserati A6GCS54 ( Chassis 2064) from Johnny Simone in Paris who had run it for two seasons. In this event, it was Vaccarella who did the driving and he and Alotta finished 10th overall which opened doors for him. In 1960 he was to drive one of the Maserati T61 birdcage models for Scuderia Camoradi alongside Umberto Maglioli but they failed to finish.
When he joined Scuderia Serenissima he continued to race Maserati's and had his first Ferrari drive in Serenissima's Ferrari 250GT with Maurice Trintignant in the Paris 1000 Kms race. They finished in third place and Nino raced in his first Le Mans that year, 1963, in a Serenissima Maserati T63.
Some years ago at a GPDA function, I sat down with him to talk about some of his sports car racing and he admitted that he enjoyed the bigger and faster circuits like Spa, Monza and of course the Targa Florio. Le latter because of the enthusiasm of the crowds around the circuit for who he was something of a hero.
He also loved Le Mans, winning the 1963 race with his fellow Grand Prix Drivers Club member Jean Guichet in the remarkable 275P Ferrari. However, of all the Ferrari's he raced, his favourite was the P4.
Vaccarella's last Le Mans in 1969 saw a complete change when he joined the Matra factory team and took fifth place, again with his friend Jean Guichet.
Though he is usually associated with Ferrari he was able to race also for Porsche in the same season as racing with Ferrari and later was not only to run an Abarth but also raced a Ford GT40 for Scuderia Brescia Corse before joining Alfa Romeo in 1966 to race the T33 cars.
During his main period driving for Ferrari Enzo Ferrari was going through many difficulties and was being criticised by the noted Italian racing journalist Franco Lini. It, therefore, came as a surprise when he appointed Lini his racing manager.
Whereas Nino Vaccarella thought Romolo Tavoni was the best team manager he raced with at Ferrari his view of Lini was more dismissive, with his characteristic laugh he remarked "..Lini was a good journalist but no good as Ferrari team manager"!
Probably his most memorable race was, however, back in 1965 when he won the Targa Florio for the first time sharing a Ferrari 275P with Lorenzo Bandini.
Nino's final two seasons in racing were 1971 and 1972. At Le Mans that year he was teamed up with Portuguese driver Jose Juncadella in one of the Escuderia Montjuich Ferrari 512Ms but it proved a disappointment as Vaccarella was running a full 9 seconds a lap faster than the Portuguese and the car finally retired. Then came his last Le Mans race, this time in an Autodelta Alfa Romeo 33T3 "Batmobile". On this occasion, he was teamed with Andrea de Adamich and they finished 4th
What everyone tends to forget is that Nino Vaccarella was never a full professional racing driver as his normal day job was as a school teacher in Palermo but his results place him amongst the finest Italian sports car drivers of his era and we look forward to him attending one of the future Grand Prix Drivers Club events.