On Tuesday of this week, May 26, the Grand Prix Drivers Club lost a good friend and member of long-standing in Paolo Marzotto: and Italy lost the last of the famous four Marzotto brothers who really captured the spirit of immediate post-war international sports car racing.
Born in 1929, Paolo was the youngest of the four and was born just one year after his brother Giannino Marzotto who was also a member of the Grand Prix Drivers Club.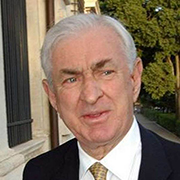 The Marzotto empire was founded in Valdango in the Province of Vicenza in 1836 as wool millers with their own factories. The continued to expand through two World Wars.
After WWII the Marzotto's really took off particularly manufacturing menswear so the four brothers were in a position not only to be one of Enzo Ferrari's earliest and best customers, but they also crafted their own designs for some of their Ferraris which were clothed by various specialist coachbuilders.
The oldest brother was Vittorio Marzotto whose most famous victory was winning the 1952 Monaco Grand Prix – which was run as a sports car race for the one and only time – driving a Ferrari 225S. He was followed by Umberto Marzotto whose racing career was more low key, then Giannino Marzotto, the best known, who twice won the Mille Miglia in 1950 and 1953, and finally Paolo Marzotto who started racing in 1948 when he was just 20 years of age. It is interesting that all four brothers started their racing careers with Lancia Aurelias.
As true racing amateurs the Marzotto's raced when business allowed them time to do so and often they raced together such as in the 1953 Le Mans 24 hour race when Paolo was entered with his brother Giannino at Le Mans with a Ferrari 340 Berlinetta and finished fifth overall.
Paolo's first Ferrari was a 166MM which he ran in the Coppa de Sicilia in 1951 finishing second but like his brothers he moved up the scale first with a 250S on the 1952 Coppa Acerbo when he won with Giovanni Bracco and the Dolomite Cup which he won twice, the second time with his 250S.
He later had two drives at Le Mans with Scuderia Ferrari, in 1954 with a 375 Plus and his final Le Mans was the tragic 1955 race driving a 375 LM he shared with Eugenio Castellotti .
Castellotti was determined to show the Mercedes-Benz team of 300SLRs that a Ferrari could beat them put the car on pole position with a lap of close on 119 mph. Castellotti led the race for the first hour ahead of Mike Hawthorn's Jaguar and Juan Manuel Fango's Mercedez Benz 300SLR but it was not to last as first Hawthorn and then Fangio passed him. Castellotti's pace was such that the clutch began to give trouble and he was pushing the car hard. He steadily dropped back and at 9.00 pm the car retired with engine trouble. It was a sad end to Paolo Marzotto's adventures with Scuderia Ferrari.
By this time the Marzotto business was expanding rapidly and in 1955 had started to manufacture their own label Menswear eventually going public in 1961 with the United states one of their richest markets. In 1997 they formed Gruppo Industriale Marzotto and became the Worlds largest designer clothes manufacturers.
Paolo Marzotto was a regular attendee at Grand Prix Drivers Club events and was always well-liked and all the members of the Grand Prix Drivers Club send their deepest condolences to his wife Carolina and his family.