In the fifty four year history of the Grand Prix Drivers club there have been three occasions when both a father and son have competed in grand prix racing and become m embers. This story is about one of them, the Parnells, Reg and Tim.
[Row][Column]
It is often said that the majority of racing drivers in the pre-1939 era were born with silver spoons in their mouths but in the case of Reg Parnell, one of the great stalwarts of British motor racing after the War, this was certainly not the case.Born in July 1911 his mother and father owned a public house, the Royal Standard, in Derby not far from the present Donington Park racing circuit. He was the baby of the family and was no student at school, leaving at the age of 12 to join his older brother Bill who had started the Standard Transport Company. Reg learned fast and one of his favourite stories was when a policeman stopped the bus Reg was driving and asked him how old he was. Reg replied he was 21 and the policeman replied " Look here sonny, we know all about you. You're fifteen and in cas you want to know a rival bus driver tipped us off but we are not going to do anything about it"!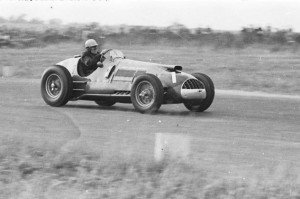 It was the opening of Donington Park Circuit in 1934 that caught Reg's attention for not only did the speed and excitement attract him but the idea you could win money in motor racing was an added incentive. All he needed was a car and he was able to buy an old Bugatti for £25 and despite the fact it was bought from a family friend it was a true dog of a car and he then bought a K3 MG Magnette one of the most popular cars for up and coming racing drivers. It was a quick car and Parnell began to make a name for himself not only at Donington but at Brooklands where there was a more aristocratic approach to motor racing and where this gruff Midlander did not appear to fit in. Indeed in 1937 Reg was involved in a serious accident at Brooklands when he and the English racing driver Kay Petre touched and Kay was seriously injured and was in hospital for months. The RAC held an enquiry and found Parnell guilty of causing the accident and he lost his licence for the whole of 1938. In 1939 Parnell began work on two of his own racing cars, the BHW, a Bugatti engine special, and the Challenger which he hoped would become a grand prix car but War stepped in.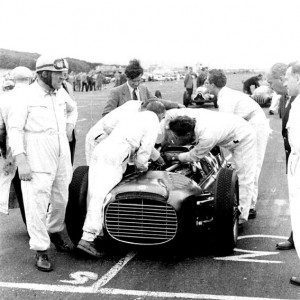 During that period Parnell was kept busy in the transport business and along with two friends, the Ashmore Brothers, bought some thirty grand prix cars which Reg stored in barns on his farm. At the end of hostilities he sold most of the cars to a lot of young men who were to go on to become grand prix drivers in the late 1940s and '50s. With all his connections and experience he soon became one of Britain's most successful racing drivers winning the BRDC Gold Star three times. He raced ERAs and then was able to import a Maserati 4CLT thanks to another late Club member, Count Johnny Lurani. He also raced the early BRM and probably won more races in the original BRM than anyone else. His great day, however, came at the British Grand Prix of 1950 when the all- conquering Alfa Romeo team arrived at Silverstone and offered one of their cars to Reg Parnell to race. It was the first occasion a British driver had been entered in a foreign factory team since Dick Seaman joined Mercedes-Benz in 1938.The pragmatic Alfa team manager told Reg that he was expected to finish 4th – such was the confidence of Alfa Romeo during that season – and he surprised them by finishing third when the great Tazio Nuvolari retired. To ensure that Reg did not challenge their other team members they fitted a higher final drive ration to Parnell's car and did not tell him.
His son, Tim Parnell remembered that race. "We used to stay at the Grand Hotel in Northampton and I remember Luigi Fagioli, another member of the Alfa team, sitting down at the piano after practice and we would have a good sing-song".
By the time he retired Reg Parnell had proved to be a wise and good team manager and he managed the Aston Martin sports car team before setting his own grand prix team.
[/Column][Column]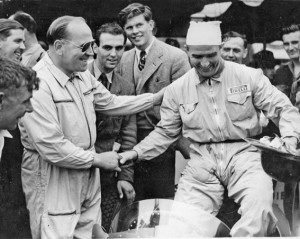 By now, of course, young Tim Parnell, who was a lot taller than his father, had started to race.
"To follow in the footsteps of a famous father is never easy. I grew up knowing knowing and sharing my father's successes and failures and I ventured along a similar path which created problems in my own racing career. Expecations were high and criticism would be swift".
Reginald Harold Haslem (Tim) Parnell was born on June 25 1932, two years before his father even saw his first motor race. His father did not like his rather fancy, full name and so used to call him Tim and the name stuck.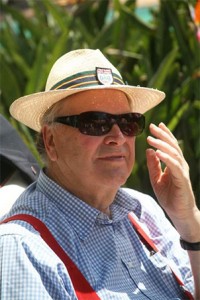 One of Tim's early memories is of going with his father to Brooklands and being told to hide under a blanket as he only had one ticket to get in ! During the War he and his school friends played with the racing cars stored in the barns. His father never wanted him to race and yet he saved up everything and briefly owned a Frazer-Nash Le Mans Replica before investing in a Cooper Bobtail sports car which he took out on hire-purchase. In those days starting money was quite good and he was able to save up his winnings and bought a Formula Junior Cooper but saw the Lotus 18s were better and so changed to a Lotus 18 and finished 10th in the Italian Grand Prix in 1961. Clearly 1962 was going to be his year as he now had his Lotus upgraded to 21 specification but he took ill and was out of racing for most of the season. Then came tragedy. In 1963 Tim was running as a private entrant and his father was running his own Formula 1 team in grand prix racing and all seemed to be working out but one day near Christmas Reg was out on the farm with a bulldozer and felt unwell. He had severe stomach pains and was taken to hospital where they attached a drip to his leg but it created a blood clot which went straight to his heart and he died.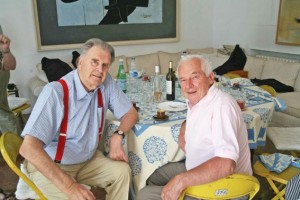 This left Tim to take over the running of the Reg Parnell Racing Team. At the time of his death Reg had planned to build his own new car, the Parnell, to be designed by Les Redmond and this was shelved. Obviously all of Tim's personal racing plans were ditched and he went on not only to run his father's team but later he also managed the BRM grand prix team.
Though his racing career was short there is no doubt that Tim Parnell had talent but as is often the case he was always to be in the shadow of his father which is often the case with the sons of famous and successful racing drivers. However Tim Parnell did prove himself not only capable of taking over his father's racing team but going further to run one of the best known teams in motor racing.
( Fathers and Sons part 2, The Pilettes, Andre and Teddy, will follow later this year.)[/Column][/Row]