It is always sad when a member of our club dies but on January 19 the club lost perhaps their most important and best loved members with the passing of Robert Manzon and the age of 97 – he would have been 98 on April 12.
[Row][Column]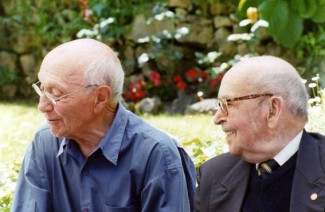 Robert was the sole remaining founder member of our club.
When the Club was formed in 1962 by Louis Chiron as the Club International des Anciens Pilotes de Grand Prix F.1 Robert Manzon was one of a small group of former grand prix drivers who wished to keep contact with each over through various activities even though they had retired from racing. Today, of course, the club is called the Grand Prix Drivers Club and it has maintained the traditions of those early days and when the other founders passed away there was always Robert Manzon to remind us of the original concept of the club.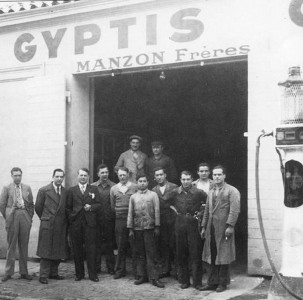 Born in Marseilles on April 9 1917 Robert was literally surrounded by cars as the family had a garage business and his future career lay before him. Working in the garage he was kept busy but in 1947 he decided to try a car rally and ran in the first post-war Coupe des Alps rally with his little Simca.
Then on a visit to Milan he saw one of the first Cisitalia T46 models. This was the first post-war production racing car and it was a little sensation. He bought one and on June 1 1947, at the age of 30 he took part in his first motor race, the Coupe Robert Benoist held at Nimes, north of Marsailles.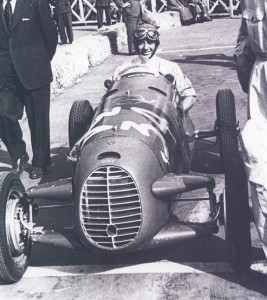 [/Column][Column]There were three of the pretty Cisitalias in that race the other two being driven by the young Harry Schell and the other by French racing legend Raymond Sommer. Jean-pierre Wimille won the race in a Simca-Gordini but Sommer was second and Manzon third. This caught the eye of Amedee Gordini and he brought Robert into his Gordini team for the Voiturette race supporting the Grand Prix des Nations in Geneva. One of his team mates was fellow Frenchman Maurice Trintignant and they became close friends throughout their lives.  In that race Robert Manzon took third place behind Prince Bira who was also racing a Gordini.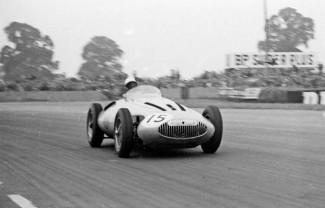 Robert was a stalwart of the Gordini team and he stayed with Gordini for nine seasons.  However, he did compete in other events in other cars. For example when fellow Frenchman Louis Rosier bought a 2 litre Ferrari 500 and also a 2.5 litre Ferrari 625 625 grand prix car he offered Robert the larger car for the Grand Prix of Bordeaux in 1954. This was a change from his usual car but Manzon was completely at home and was fifth fastest, three seconds faster than Rosier in the smaller engine car. He then went on to finish second to Froilan Gonzalez. It was this win that probably caught Enzo Ferrari's attention for Robert was asked to share an 860 Monza sports car with factory driver Eugenio Castellotti. They battled with the all-conquering Mercedes Benz 300SLR team and took third place behind Moss and Fangio but ahead of the third Mercedes of John Fitch.
A year later he agreed to race a tiny 1100 cc French DB in the Mille Miglia and proceeded to win the 1100cc class.
In many ways Robert Manzon was the ideal racing driver, small and wiry he was able to throw the little Gordini about like a toy and it is no surprise that he was probably the longest serving driver of Factory Gordinis and gave the team some of their finest successes even when later  challenged by Jean Behra. It was perhaps fitting that his last major grand prix was in a Gordini at Naples in 1956 when he was 49 years of age.
We in the Club will miss his jaunty walk, and his ever-present smile but behind it all was a very talented and determined racing driver who, probably, should have had more success in other, bigger, teams than Gordini but his other enduring quality was his loyalty not only to Gordini in good times and bad times, but also to this club.[/Column][/Row]