On July 18, 2015, Jules Bianchi's legendary and infectious smile was lost forever, just a few days before his 26 birthday on August 3.
[Row][Column]
Our thoughts go out to Jules' parents Christine and Philippe, as well as his sister Mélanie, his brother Tom and his grandfather Mauro.
The Grand Prix Drivers Club is immensely saddened by his passing, not least because Jules was a very likeable and endearing person, loved by everyone in the paddock and racing circles.
The Club admires that Jules was selected as a Ferrari driver aged just 20 but unfortunately was injured on his 34th GP in Japan when driving a Marussia.
Jules was clearly the hope for France's F1 drivers and was following the trend of racing passion in the family: his great uncle Lucien Bianchi raced touring cars, sports cars and rally cars, having success in all disciplines, his biggest victories coming in the 1968 24 Hours of Le Mans, behind the wheel of a Ford GT40 with Pedro Rodríguez and at Sebring in 1962 with Jo Bonnier. Lucien was killed when his Alfa Romeo T33 crashed into a telegraph pole during Le Mans testing in 1969.
Jules' grandfather Mauro Bianchi (77 years old, 31 July 1937) was Team-mate with GPDC member Claude Le Guézec during the Monte Carlo Rally (R8 Gordini) and Jules had the dream to become an F1 world champion.[/Column][Column]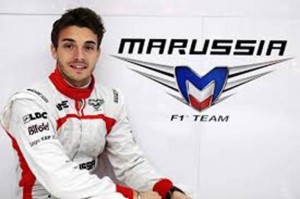 "A bad year for F1 and a sad day." Noted GPDC Club President Howden Ganley, "GPDC lost Robert Manzon, its most senior member on 19 January 2015. July 18 was also a bad day for a new generation of young drivers who had not experienced any fatalities since Roland Ratzenberger and Ayrton Senna 21 years ago. The thoughts and condolences of the Grand Prix Drivers Club go out to Jules' family."
The Grand Prix Drivers Club, GPDC, was founded in 1962 by Louis Chiron, Gianfranco Comotti, Albert Divo, Juan Manuel Fangio, Nino Farina, Paul Frère, Toulo de Graffenried, Yves Giraud-Cabantous and Robert Manzon.A number of the present day Club members attended the funeral on July 18 in Nice Cathedral including Patrick Tambay, Alexander Wurz, Claude Le Guezec and Vice-President Teddy Pilette. [/Column][/Row]
GPDC: Hommage à Jules Bianchi
18 juillet 2015 – Brione – Suisse -Le légendaire sourire contagieux de Jules Bianchi s'est éteint à jamais ce 18 juillet 2015, quelques jours avant son 26ème anniversaire le 3 Août prochain.
[Row][Column]
Les pensées et toutes les condoléances du bureau et des membres du GPDC, le club des pilotes de Grand Prix vont aux parents de Jules, Christine et Philippe, ainsi qu'à sa sœur Mélanie, son frère Tom et son grand-père Mauro.
Le GPDC, le Club des pilotes de Grand Prix est particulièrement attristé par la disparition d'un vrai talent mais aussi parce que le jeune Jules était spontanément aimé par tous ceux qu'il rencontrait dans le paddock ou ailleurs. Que Jules ait été choisi aussi jeune par Ferrari reste un exploit comme reste un drame qu'il ait été blessé lors de son 34e GP à Suzuka.
Jules au volant d'une Marussia depuis deux saisons, avec deux points à son actif, portait les espoirs d'une nouvelle génération de pilotes de F1 en France. Il a été victime de sa passion de la course. Une passion héritée de famille: son grand-oncle Lucien Bianchi avait remporté en 1968 les 24 Heures du Mans, au volant d'une Ford GT40. Lucien se tua au volant de son Alfa Romeo T33 lors des essais au Mans l'année suivante, en 1969.
Le grand-père de Jules Mauro Bianchi (77 ans, né le 31 Juillet 1937) champion GT fut coéquipier d'un des membres honoraires du GPDC Claude Le Guézec sur une R8 Gordini lors du rallye de Monte Carlo. Dans cette ambiance de course, le jeune Jules poursuivait son propre rêve: celui de devenir champion du monde de F1.[/Column][Column]
"Une mauvaise année pour la F1 et un jour bien triste" a commenté Howden Ganley, le président du Club : le 19 Janvier 2015 c'est en effet Robert Manzon, l'un de ses plus illustres fondateur du Club GPDC qui disparaissait. Ce 18 Juillet fut une journée toute aussi noire pour la nouvelle génération de pilotes de F1, eux qui n'avaient encore jamais été confrontés à un décès après une course depuis les accidents de Roland Ratzenberger et d'Ayrton Senna, il y a 21 ans. Le GPDC adresse toutes ses pensées de profonde sympathie et ses sincères condoléances à toute la famille de Jules."
Le GPDC Club des pilotes de Grand Prix a été fondé en 1962 par Louis Chiron, Gianfranco Comotti, Albert Divo, Juan Manuel Fangio, Nino Farina, Paul Frère, Toulo de Graffenried, Yves Giraud et Robert Manzon. Quatre de ses représentants se rendront à l'enterrement de Jules Bianchi à la cathédrale de Nice le mardi 21 juillet 2015: Patrick Tambay,Alexander Wurz, Claude Le Guézec et le Vice-Président du Club Teddy Pilette.[/Column][/Row]