The F1 Grand Prix Drivers Club (F1GPDC), established in 1962 as The Club International des Anciens Pilotes de Grand Prix F1 by nine former F1 drivers headed by Louis Chiron and Juan Manuel Fangio, held its  General Assembly at Riccione (Italy) on Saturday June 3, 2017 in the  presence of former F1 drivers and club members from the Club's 100 registered members.
The Club, whose previous Honorary President was Maria Teresa de Filippis,the first woman driver to compete in Formula 1, decided following its meeting in Riccione to elect Hans-Joachim Stuck as Vice President.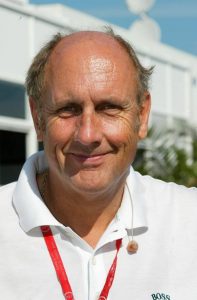 It also elected the following Board Members for a period of three additional years:
Howden Ganley (NZ) President; Emanuele Pirro (I) and Hans-Joachim Stuck (D) Vice-Presidents; Theo K. Huschek (AUT) General Secretary and Agnes Carlier (CH) Deputy Secretary.
Other internal F1GPDC issues were discussed including enrolling additional active F1 drivers as members, the distribution of the F1GPDC Magazine via the F1GPDC website and an active promotional programme for the Club members in 2018.
Howden Ganley, President of the F1GPDC, also thanked Theo K. Huschek, the General Secretary for his work of the year and special thanks to  Gabriele Fabbri at Hotel Promenade in Riccione.
Responding to his election Hans-Joachim wrote :
" I'm overwhelmed.
"Thank you very much for the honour to elect me as Vice-President for our unique Club. It is not only an honour it is also a great pleasure for me and I will takereponsibility in my position. Our Club is more than unique in the world especially by the fact that our members are unique personalities in this world. I am looking forward to seeing you all to share great memories and help create a great future for our Club.".
Vern Schuppan :
I would like to congratulate Hans Stuck's election as vice President. I can't think of a better more likeable, respected and qualified person than Hans. 
Derek Warwick
Deserved, couldn't think of a better person.