Here in the South of France we will be starting the olive picking in three month's time.
There is a small olive group in the village run by retired engineer Robert Barbetti so whilst you tease the olives from the trees you talk and I almost fell out of a tree when Robert told me a little story that answered a question about an unique Ferrari 250GT SWB.
The car was owned by Adrian Conan Doyle whose father, Sir Arthur Conan Doyle, was born in Edinburgh and went on to create Sherlock Holmes.
Adrian Conan Doyle was born in 1910, and, with his brother Dennis, became owner of a very famous aero-engined racing car, Chitty Chitty Bang Bang 1 that had been built by Count Zborowski and had lain in a shed for a number of years.
This was not the oddity that Hollywood produced in a movie but a proper wild racing car.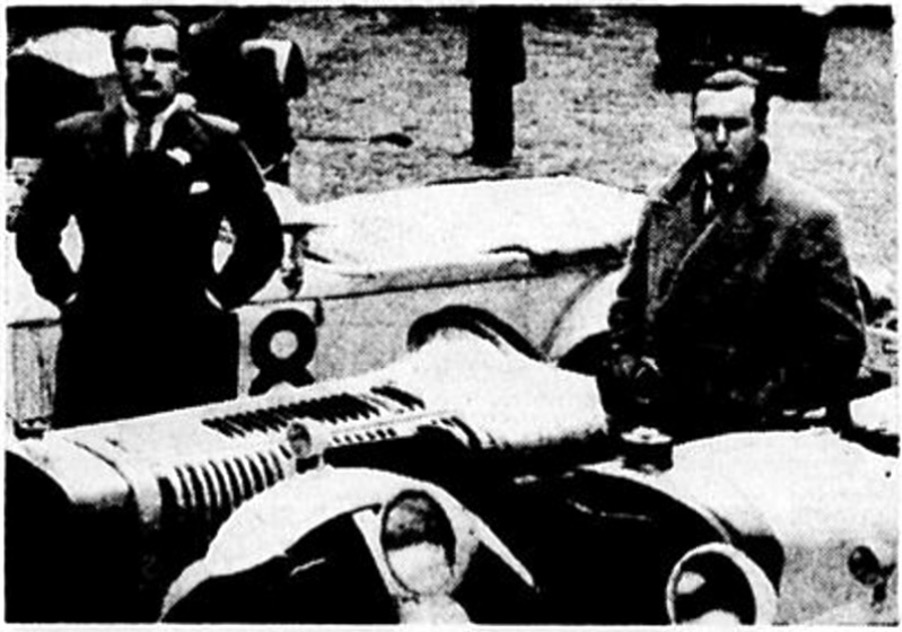 Adrian then raced a Bugatti in England and competed at Donington Park in 1936 but was better known for racing and hill climbing a Delage and a Frazer-Nash.
In 1938 he and his brother bought a Mercedes-Benz 38/250S and were actually invited to the Berlin Olympic Games that year as guests of Mercedes-Benz.
Probably Adrian's most notable car, however, was a Ferrari 500TRC Testa Rossa with chassis number 0692 MDTR. It is interesting that Conan Doyle entered this car for at least three International races but did not turn up for any of them!
He did, however, compete in a number of hill climbs. Conan Doyle then sold the car to Swiss art dealer Robert Jenny who entered it for the 1961 Nurburgring race. Jenny finished fifteenth overall co-driven by Sepp Lieble and an up and coming young Swiss driver called Jo Siffert.
Today that TRC is in the French National Motor Museum in Mulhouse, France.
As can be appreciated, the royalties from all the Sherlock Holmes books produced a pretty comfortable income for Adrian, his brother and sister. Though he was the youngest child it was Adrian who was nominated as the executor of his father's estate and in particular the book royalties.
Not only was he vigilant about any infringement of his father's work but he wrote a biography of his father when he did not agree with the writing of his father's official biographer. He even sat down and wrote his own series of Sherlock Holmes stories.
However, back to the story.
My friend Robert mentioned that in the early 1960's he had worked in Cannes with the coachbuilding company, Carrosserie Brandone, founded by Etienne Brandone in 1893.
Brandone was originally a saddler but in the 1920's became a coachbuilder. Later joined by his son Pierre, Brandone became quite popular with the Riviera set and produced bodies for Delahayes, Ballots and Alfa Romeos which was a lot of fun but the company actually survived, financially, by building hotel busses on the side.
When the WWII finished Pierre Brandone came to England and worked with James Young on Bentleys before returning to France and his garage in Cannes.
One day, when Robert Barbetti was working there, a Ferrari 250GT SWB was dragged into the garage with a lot of front-end damage. It was chassis number 2231GT and was owned by Adrian Conan Doyle who had bought it from the Swiss Ferrari dealership, Garage Montchoisy, around Christmas 1960.
Now, in 1964, Conan Doyle had wiped out the front end on the autoroute near his villa in Cannes and it needed to be repaired.
Conan Doyle had his own idea of how the car should be rebuilt and was keen to incorporate a shark nose on the car similar to the 1961 Ferrari grand prix cars.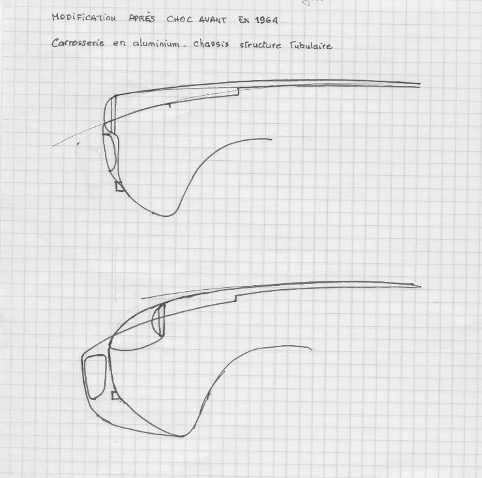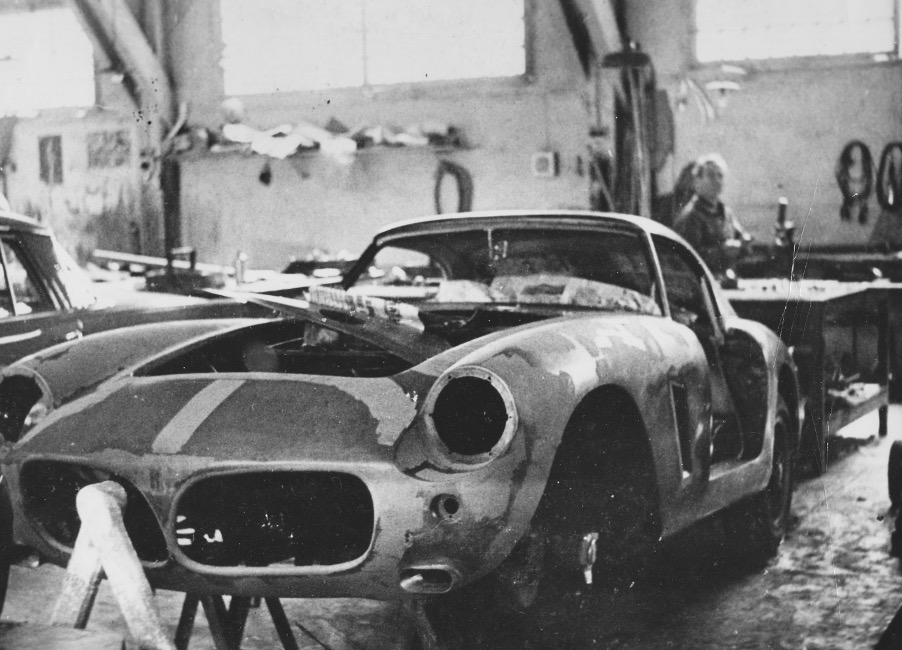 Robert Barbetti remembers making drawings of the normal Berlinetta bonnet, and the design for the twin nostrils, on an old notebook (as reproduced here). He started to hammer out the new shape but, as can be seen from the photo of it being built, the idea of having covered headlights was dropped. The car remained in this twin nostril form for the next thirty years and even appeared at the odd Concours d'Elegance in the United States where it was something of an oddity.
When Conon Doyle decided to sell the car it went to Claude Powell in England and in turn was sold to Bill Lake the great Jaguar enthusiast.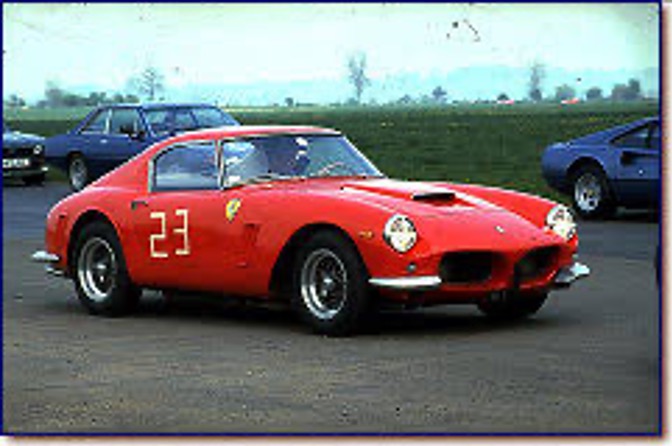 The trail then goes blank until 1996 when German historic driver Burkhard von Schenk the owner of Beck's beer, bought 250GT SWB 2231GT with the British registration number ULY8F and it has since appeared in a few historic events.
Burkhard was not enthused with the nostril shape of the nose and had it returned to its conventional 250GT style. I am a great believer in one-offs and I hope my friend "Burky" has kept the twin nostril nose as a souvenir at least.