Jack Brabham has died at the age of 88. He was a towering figure of his era, becoming a triple World Champion in Formula 1, the first motor racing knight of the modern era. He started his own Brabham team and won the World Championship with it in 1966, while also achieving success as a racing car manufacturer. He ultimately became the head of a family of racers, the third generation of which is now beginning to flower.
The grandson of a Londoner who emigrated to Australia in 1885 and opened a grocer's shop in Adelaide, Brabham was born in Sydney where his father worked as a dealer in flour. Brabham grew up fascinated by machinery. He was studying mechanical engineering when he was called up to work for the Royal Australian Air Force in World War II and worked as a mechanic on Beaufighters based in Australia. When the war ended he was demobilised and he immediately began to build a midget racer which was raced by an American called Johnny Schonberg. When Schonberg decided to stop racing Brabham thought he might try himself and he took part in his first race at the Paramattta Speedway in the suburbs of Sydney. He was soon winning races and in the years that followed he became one of the stars of the midget racing scene in Australia until his original engine blew
itself up.
Brabham very nearly quit the sport after that, but a meeting with a young engineer called Ron Tauranac resulted in a switch to hill climbing in 1951 and from there he moved into road racing with a Cooper-Bristol which had been shipped out from Europe. He found sponsorship to run the car but the Confederation of Australian Motor Sport forced him to remove the name of his sponsor from the car and Brabham decided that he would go racing in New Zealand instead. This brought him into contact with a number of international drivers who raced each winter in New Zealand and in 1955, and having seen that he could be competitive with some of the best international racers, Brabham headed off to England where he raced a Cooper-Alta without much success. It was not until he switched to a Bristol engine that thing began to improve and he was soon working at the Cooper Car Company in Surbiton where in lieu of payment, he was allowed to build a car which he raced and then sold.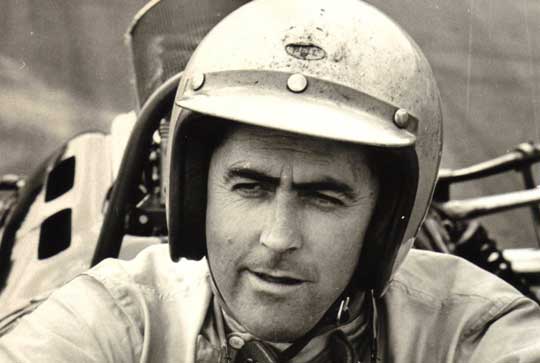 This enabled him to buy a Maserati 250F for the 1956 season. That initiative was not a success and so Brabham went back to Cooper, racing for the factory team in Formula 2 and in sports car events. In 1957 the Climax engine in his Cooper F2 car was stretched to 2.2-litres and Brabham went to Monaco for the Grand Prix. He crashed. A deal was struck with Rob Walker to put Brabham's engine into one of Walker's chassis and Jack raced the car. He was running third with three laps to go when the engine failed, although he pushed the car to the finish and was classified sixth. Brabham and Cooper continued to develop the car and the engine and in 1959 Brabhham began to win FI races, his first being the Daily Express Trophy. This was followed by wins in the British and Monaco Grands Prix and these successes took him to the World Championship. The following year he did it again but Cooper's domination waned with a change in the rules which ended up with Ferrari dominant in 1961. It was during that year that Jack and Tauranac established Motor Racing Developments Ltd and began building a Formula Junior car in a shed in Esher. The project was kept secret as Brabham was still a Cooper driver. At the end of the year Brabham left Cooper and the Brabham company moved into new workshops in Surbiton and began to design a Formula 1 car.
Brabham bought a Lotus with which to start the 1962 season and then in July 1962 the Brabham BT3 finally appeared at the German GP. Cars for other championships followed but success in FI did not come until 1964 when Brabham driver Dan Gurney won the team's first Grand Prix at Rouen. Brabham himself did not win a race in one of his own cars until 1966. A new engine formula was introduced that year and in preparation for that Brabham convinced the Repco company in Australia to build an engine for his team, based on an aluminium Olds mobile V8. This proved to be the most effective engine of 1966 and 1967 and enabled Brabham to win his third Drivers' Championship and the team's first Constructors' title. In 1967 the team won again
with Denny Hulme taking the title. In 1966 Brabham was appointed an Officer of the Order of the British Empire for his services to motor racing.
In 1968 a new Repco unit proved to be less effective and the arrival of the Cosworth DFV left all opposition standing and Brabham duly became a DFV user in 1968. He continued to win races but at the end of 1970, at the age of 44, he decided to retire and sold his half of Brabham to Tauranac and went back to Australia. The following year, he and former Repco engineer John Judd set up Engine Developments Ltd, originally marketed as as Jack Brabham Conversions.
His three sons Geoff, Gary and David all enjoyed successful racing careers, David getting to Formula 1 with Brabham and later with the ill-fated Simtek team, in which Brabham was a shareholder. Brabham was knighted in 1979.
He competed in a total of 128 Grands Prix in his 15-year FI career, winning 14 of them. In Australia he was one of the greatest sporting legends, while in the wider world he was one of the view whose name became synonymous with the sport.
On behalf of the family, Jack's youngest son David said: 'It's a very sad day for all of us. My father passed away peacefully at home at the age of 88 this morning. He lived an incredible life, achieving more than anyone would ever dream of and he will continue to live on through the astounding legacy he leaves behind.' One of the greats has gone.