Ever since I first visited in 1960 I have always enjoyed Turin. Back then I had just taken over as Editor of one of the oldest motoring magazines that still existed, Motor World, founded in Scotland in 1899. By 1960 Motor World was the second oldest motoring magazine in the World still in publication – only Autocar, founded in 1895 – was older.
All of this sounds terribly dramatic but in fact Motor World had been declining for years and, though a weekly, was struggling in a fast-changing world.
The launch of the Fiat 1300 and 1500 was my first foreign car launch and my love affair with Turin started there. People talk of Milan and the cathedral and feel Turin, dominated by Fiat, is an industrial town; but it is in fact a city of culture which over the years I have come to know well.
Last month I had the chance to go back as AISA, the Association of Italian Motoring Historians, were holding a special conference on Jim Clark. I chose to talk about Jim Clark's early life and how he became involved with Indianapolis whilst one of Italy's leading historians Gianni Cancellieri talked about Jim's racing career once he joined Lotus.
The affair was held in the Italian National Motor Museum, on the banks of the river Po, that had been opened originally in 1960 as the Biscaretti Museum but was completely rebuilt a few years ago to give more space.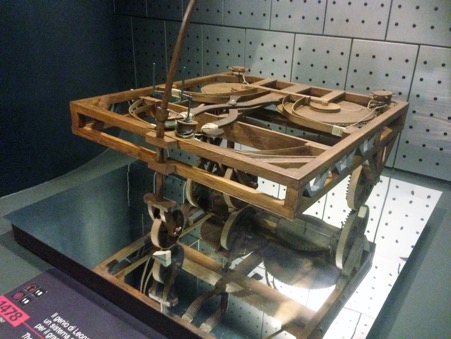 Recently it was named one of the fifty finest museums of all types in the World and it certainly has blended the latest audio-visual techniques with superb presentation.
Only a few months ago the Museum announced Mariella Mengozzi as its new Director and it is clear she intends to stamp her mark on it.
Prior to this she had been working with the Walt Disney Company in Italy and was later the head of the Ferrari Museum in Maranello. She is now preparing for a big exhibition to take place at the Museum in Turin next year to celebrate the 70th anniversary of Grand Prix Formula 1 which will be worth marking in the diary.
To go back to the talk. I am constantly amazed at the sheer interest and enthusiasm for Jim Clark which seems to have crossed all generations as many of the Italian enthusiasts present were not even born when Jim Clark was killed.
In Britain I could easily understand this; but in Italy!
It was also interesting to meet up with some old friends from the Circolo della Biella ( The Conrod Circle) which was a group originally set up by Enzo Ferrari and his friends who would meet on a Friday evening in a bar and talk motor racing.
Today the Circolo is an important private racing club based in Modena whose members compete in historic events all over Italy. A group of members led by their chairman, Matteo Panini, arrived having driven all the way from Modena.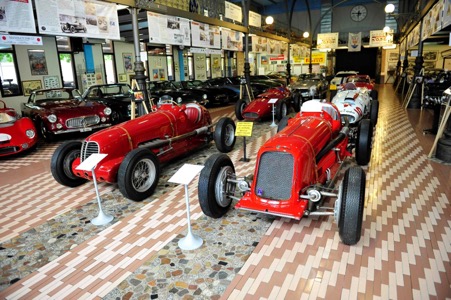 It was Matteo's father, Umberto, who was able, along with the local Modenese authority, to save the unique collection of Maserati's that had been put up for sale by the family of the previous owner of Maserati, Alessandro De Tomaso.
It was a last-minute intervention as all the cars and engines had already been sent to London to come up for sale by auction.
Adolfo Orsi, whose grandfather had bought Maserati in 1937, had kept various cars and engines but when the company was taken over by a consortium led by Alessandro De Tomaso and later sold to Fiat, the actual engines and race cars were still owned by the de Tomaso family. Orsi organised a campaign to raise money to save the cars and engines from being broken up and sold by auction and was successful thanks mainly to Umberto Panini.
Panini made his fortune with what we used to call cigarette cards and sporting promotional cards. Immediately prior to and after WWII most kids persuaded their fathers to buy cigarettes where the company provided these picture cards and they became great collectors items. When Mr Panini sold out to Marvel Comics in the USA he was able to achieve his dream which was to produce his own Parmesan cheese.
His Farm, el Hombre, and factory today is one of the most important and famous in Italy. Part of the farm buildings were taken over and rebuilt as a museum and today it is a truly unique collection that contains, amongst other cars, the famous Maserati Eldorado Indianapolis car that ran in the Monzanapolis race driven by Stirling Moss.
It is a superb collection and today Matteo Panini not only runs the Museum and his father's El Hombre factory but is President of the Circolo della Biella.
Matteo continues to develop the museum and amongst the more modern and interesting cars he owns, and occasionally races, is the Marcos-Ford that really set Jackie Stewart off on his motor racing career. Famous for its use of laminated wood it was very lightweight and Stewart was able to beat far more powerful cars with the nimble Marcos.
AISA, the Italian motoring historians Association publish various in-depth articles on Italian racing history and motoring history in general and they have now published one of their 44 page booklets on the whole Jim Clark conference as well as a number of different articles on Jim Clark including one from Jackie Stewart about his friend. These are profusely illustrated and are published in Italian. Though they are meant for the historian members of the Association copies of these are available through AISA in Milan at a bargain 20 euros including postage for Europe and 25 Euros for the rest of the World. You can contact through the President Lorenzo Boscarelli at lorenzo.boscarelli@gea.it
The weekend of April 27/28 will be a sadly nostalgic affair as Grand Prix Drivers Club member and former Grand Prix team owner Giancarlo Minardi is organising an event at the Imola circuit to mark the 25th anniversary of the death of Ayrton Senna.
It is amazing to think that 25 years have passed since Senna's tragic accident at Imola and many of our members will be present to remember Senna, one of the truly great racing drivers.