On Saturday March 30 Jim Russell died at the age of 98 – he would have been 99 next month – in hospital where he was having surgery on his hip following a fall.
He left the RAF at the end of the war and set up his garage in Norfolk, Downham Market to be correct, and was soon trading in cars and eventually became a major Vauxhall dealer.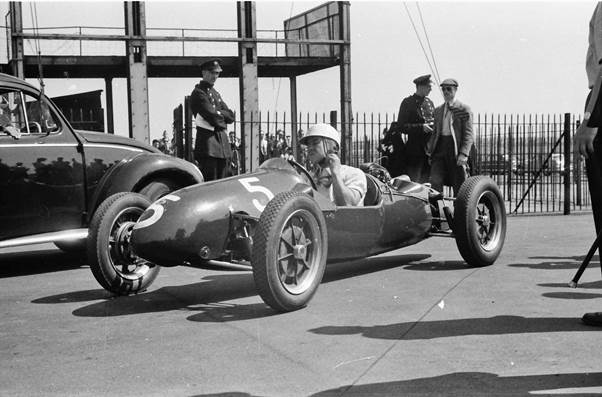 Snetterton circuit opened towards the end of 1952 and, as it was on his doorstep, he went along to have a look.
He was 32 years of age but was enthralled by racing and got on to John Cooper and bought one of the latest VI Cooper JAP 500cc Formula 3 cars but caught on fast and switched to a Mark VII Cooper with a Norton engine and immediately was up with the best. He won the Daily Telegraph Trophy Formula 3 race three years in a row beating Stirling Moss and became the man to beat.
He and John Cooper became close friends and Jim became a Cooper factory driver. In the 1955 Tourist trophy race at Dundrod he shared a Cooper 39 with his friend Ivor Bueb and they had a race long battle with Colin Chapman and Cliff Allison in a Lotus X, finally winning the hotly contested class.
In Formula II he won eleven races again up against all the current grand prix drivers but his business continued to grow and was taking up more of his time. However, at the age of 39 he won the British Empire Trophy at Oulton Park in a Formula 2 Cooper but shortly afterwards he suffered a huge accident at Le Mans, again in a Cooper, when he collided with An Aston Martin and went off the road at White House and was badly burned when the car caught fire.
The late Lotus driver Mike McKee, who had gone through Jim Russell's Driving School and was racing in the same event, went to see him in hospital at Le Mans. Despite being in pain Jim pleaded with Mike to get him out of that hospital and back to England. Mike contacted his father, Kenneth McKee who was one of the most famous British surgeons, and a private plane was organised to fly Jim back to England and Norwich General Hospital where Mike's father took care of Jim and helped him to recover.
In other respects Jim Russell was a phenomenon. Though racing driver's schools were not new it was Jim who developed what was probably the iconic go-to racing school in the World.
He attracted young drivers from everywhere who flocked to his Snetterton based school to learn and be taught not only by Jim but by the team of instructors he built up around him.
Many of the members of the Grand Prix Drivers Club today went through the school, such as Teddy Pilette who did all sorts of menial jobs to help pay for his lessons at the Jim Russell school.
Later Jim Russell helped his mechanic brother-in-law, Ralph Firman, to set up the Van Diemen company to build Formula Fords and it became one of the most successful racing car manufacturers at the time.
Jim Russell will be remembered not just as a racing driver or a racing school entrepreneur but someone who clearly helped and nurtured many hundreds of racing drivers from around the world and the Grand Prix Drivers Club sends condolences to his family on their great loss.
Footnote:  It is somewhat ironic that the man who had tended to him after his Le Mans accident, Kenneth McKee, became famous as the creator of the McKee-Farrar ball and socket joint which transformed the art of hip surgery.
G.G.