Choosing the Right Tyre
No Formula 1 grand prix these days is complete without a discussion about tyres and the enormous investment Michelin have made in providing tyres of different compounds and specifications; also the remarkable capabilities of the cars when they are fitted with the right type at the right time. Somehow it appears sad when a modern grand prix driver and his pit counter crew have to work out not only what tyre to change to depending on the weather conditions but when to actually make the change to gain the greatest advantage.
Tyres were different in the past but they have also had their controversial side issues. Take Ferrari, for example, way back in 1935 with Mercedes-Benz and Auto Union running rampant engineer Bazzi, Enzo Ferrari's trusted friend and collaborator came up with the idea of taking a regular Alfa Romeo P3, lengthening the chassis by six inches and reinforced to take another engine at the rear and thus was born the Bimotore. The aim was to take it to Tripoli where the organisers were offering an awful lot of money but not only that, perhaps a twin-engined Alfa could beat the German cars.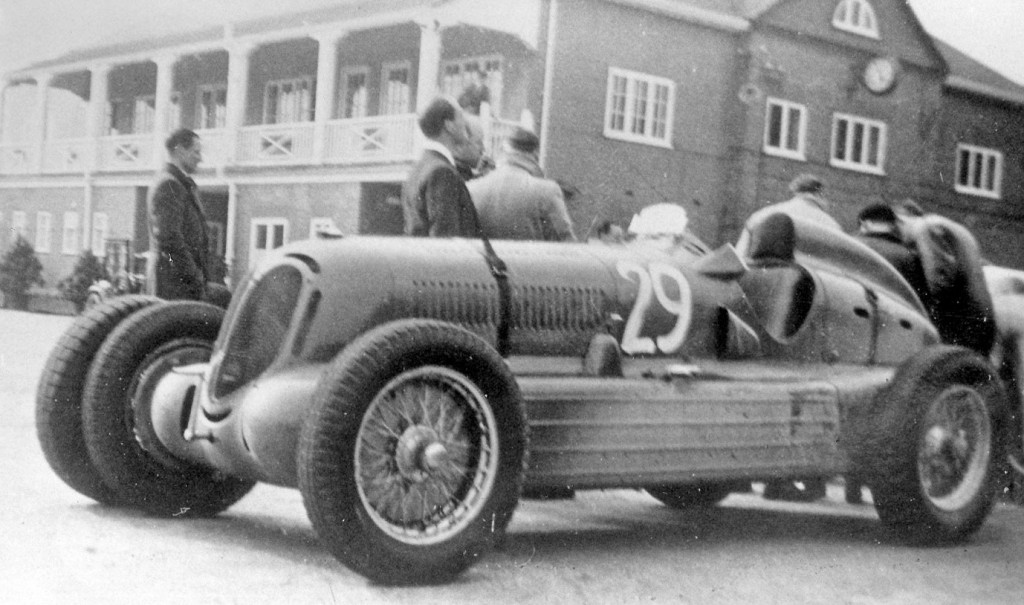 The idea was to build two cars with one using two 3.1 litre supercharged engines and a second one with two 2.9 litre engines. The fact that with their two engines the Alfa would weigh nearly half a ton more than the Mercedes and Auto Unions did not seem to worry anyone in Modena.
In Tripoli Tazio Nuvolari was given the large-engined one and Louis Chiron the smaller-engined one but what they had not counted on was tyre wear and in practice the cars proved to be ridiculously fast but the tyres were wearing out even faster. When Nuvolari finished fourth in the race after changing tyres thirteen times it is said that Georges Englebert, the owner of the Belgian tyre company that supplied Enzo Ferrari's Scuderia Ferrari personally thanked Nuvolari  for not complaining about his tyres to the press after the race.
Around twenty years later, in 1957, Enzo Ferrari was still using Englebert tyres but not for much longer. In September of that year I was at the Modena Autodrome when Ferrari turned up with a 355S sports car for a test session to try out Dunlop wheels and tyres. They continued with Engleberts to the end of the season and not long afterwards Ferrari adopted Dunlops.
Tyres also came into a conversation I had with club member Claude le Guezec – perhaps best known as competitions manager for Matra during their grand prix and sports car years. Claude raced and rallied many cars, in particular an Aston Martin DB4Zagato but recalled buying a Mercedes-Benz 300SL and sending it to the factory to be checked over. "When I went to collect it I found that they had put Continental tyres on it. I told them I did not want Continentals and wanted to use Michelins".
Mercedes refused to put Michelin tyres on his 300SL and Claude refused to take it on Continentals and the impasse continued until it was agreed that if he bought five 300SL wheels then took them to an independent Michelin dealer and had them fitted on the Mercedes wheels Mercedes would remove the Continentals. This was done and he promptly went out and won the Sestrieres Rally on his Michelins.
" At the end of the rally Karl Kling the deputy competitions manager of Mercedes Benz came up to me and congratulated me on winning. So I pointed out to him that I had won the rally on Michelins and sometime later Mercedes did specify Michelin tyres for the 300SL".
---
The Yanks are Coming
My early motoring journalistic days were spent in Scotland and you must remember that the first motor race meeting ever to be held in Scotland took place only in October 1951 and since then Scots have fought above their weight in motor racing ever since. The first race I covered at the old Charterhall circuit when Jackie Stewart's older brother Jimmy was still racing his Healey Silverstone. What was astonishing, however, was the number of International drivers who fought their way northwards to Scotland to race for a few pounds. Guiseppe Farina – with the "tubular" Ferrari Thinwall Special, Louis Rosier with both a Maserati 250F and a Ferrari 750 Monza, Prince Bira with the ex-Whitney Straight Maserati, and even the three Kangaroo Stable Austrialians with their team of Aston Martin DB3S'. Americans, however, were more rare. In 1961 resent-day Ferrari  collector Peter Sachs, was a student at London University and arrived with his modest Turner-Austin sports car but for an American to race in Scotland truly rare.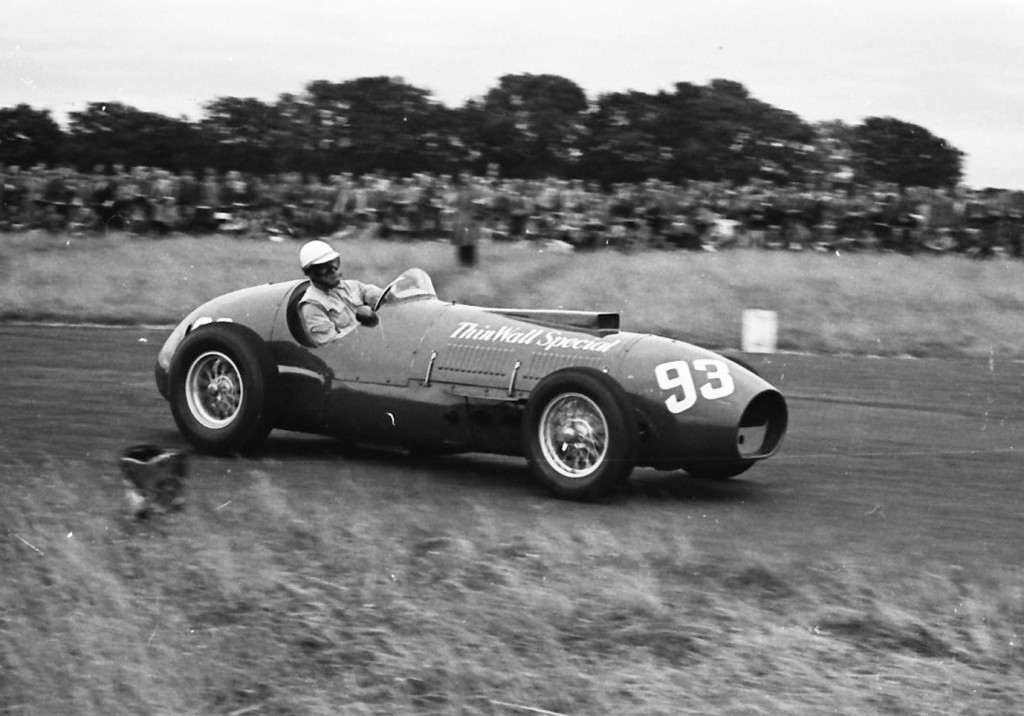 You can imagine the surprise when the Knockhill race circuit opened in 1975 there was great enthusiasm when a non-championship Formula 3 race was organised with sufficient sponsorship to attract factory entries. Two of those who took part were Eddie Cheever and Danny Sullivan. Both of them were driving the Jo Marquart-designed Modus cars and were very early into their racing careers. Eddie's Modus had sponsorship from American Health Spa's in Rome, his father's company, and Danny was in the factory Modus sponsored by its subsidiary Modus Homes.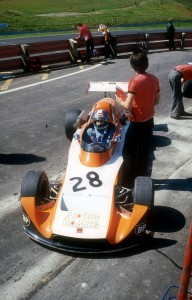 Though they were only in racing for three years, Modus, backed by Modus Developments, a building company built up by Terry Savory who was himself a racer in Formula 5000, were quite remarkable. In the space of those three years, from 1974 they produced not only the Formula 3 cars but cars for Atlantic, Super-Vee, Formula 2 and Super Renault. However when the building company collapsed the team followed shortly afterwards.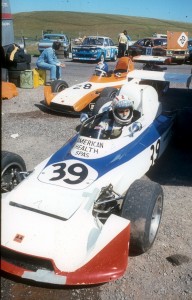 At Knockhill Eddie Cheever was sensational and was on pole position with Danny Sullivan third fastest. The surprise driver between them was Belgian Patrick Neve in the Safir.  The Safir was designed and built by Peter Thorpe of Safir Engineering who had already proved their worth as Safir collaborated with Ford Advanced Vehicles to produce the MkV Ford GT40. Also, in 1975, they had bought the Token RJ02 Formula 1 car and renamed it the Token. It never competed in a World Championship Formula 1 race but was run at the end of 1975 in a non-championship race with Tony Trimmer at the wheel. With the Formula 3 car Patrick Neve was second fastest, splitting the two Moduses but in the race Cheever had to retire with a blown engine and to everyone's surprise it was Patrick Neve who won the race with the Safir followed by Danny Sullivan.
Both Eddie and Danny not only went on to factory drives in Formula 1 but both of them were to become Indianapolis winners. That day in Scotland demonstrated that the two of them had great talent and a promising future.