It has always amazed me that the majority of British racing magazines tend to go on and on telling stories about a large number of British racing drivers who, though never World Champions, gets loads of publicity but rarely do they talk about John Watson whose motor racing career and particularly his Formula 1 career appears to have been forgotten.
After all in the 1982 World Drivers championship finished in third place behind Keke Rosberg and Didier Pironi and ahead of Prost, Lauda, Arnoux, Tambay with Nigel Mansell 13th.
My first link with the Watson family came in 1953 at the Irish racing circuit Kirkistown where a car familiar to me was lined up on the grid for a Formula Libre event. The driver was Marshall Watson, John's father, who at the time was racing a Scottish race car a JP fitted with an 1100cc Vincent motorcycle engine originally owned and raced by Ron Flockhart.
Marshall went on to race an Alta Formula 2 car and retired from racing in 1956.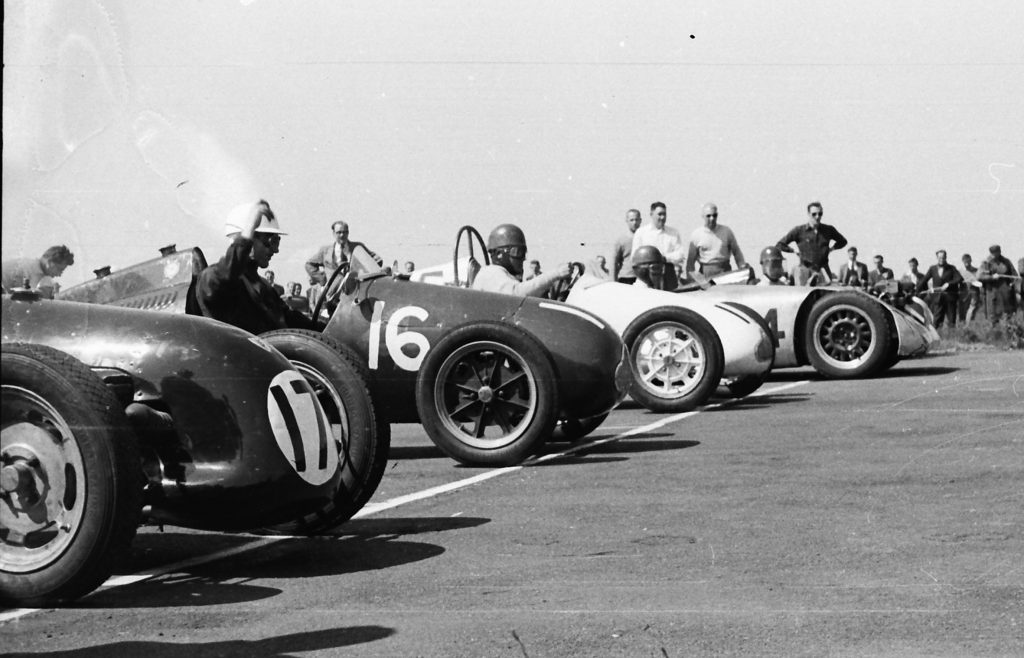 In the foreground, car 17 is the JP-Vincent of Marshall Watson at at the far side is the interesting four-wheel drive McCandless racing car built by Rex McCandless.Below young John Watson with his mother and, on the left, Ron Flockhart.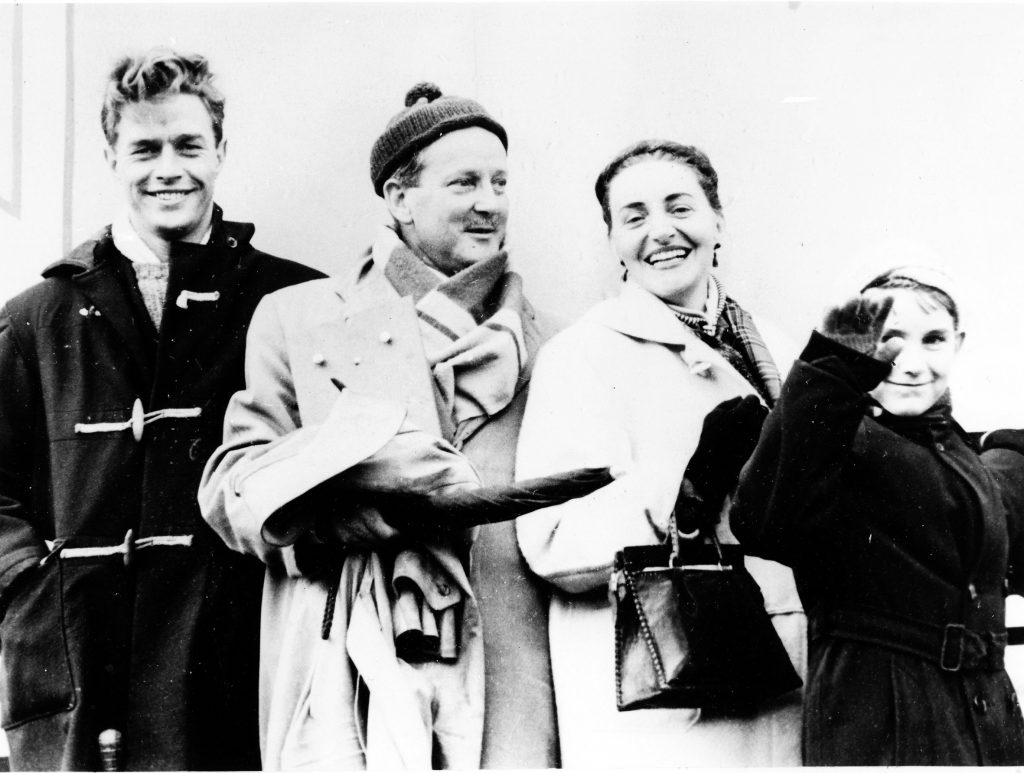 Needless to say his son John was keen to race and in 1964 at the age of 18 he had his first race on the same circuit, Kirkistown, in an Austin Healey Sprite.
His proper racing started a year later when he bought one of John Crossle's Formula Fords and took second place in the Dunboyne Trophy event and a year later, in 1966, he won the Dunboyne trophy, took second at an Oulton Park race meeting and was now a factory driver for Crossle.
The Irish and Scottish race meetings at that time featured Formula Libre events and John Watson became a regular winner with a Brabham BT16, a Lola and a Brabham BT30. With the Brabham he entered the European Formula 2 Championship but a broken arm in a crash kept him out for the rest of the season.
It was not until 1972 that we saw John's true potential as he was given a factory driver in Chevron B20 Formula 2 car and drove the Tui in Formula 2. He was also approached by the Hexagon of Highgate team to drive their March 721. He was entered for the John Player Challenge Trophy at Brands Hatch where he finished in sixth place in his Formula 2 car behind five Formula 1 or Formula 5000s and ahead of Brian Redman in the next Formula 2 car.
As a result John was signed up by Bernie Ecclestone for the Brabham Formula 1 team in 1973 driving the Ceramica Pagnossin BT37 Cosworth for the British Grand Prix but retired with a broken metering unit. For the US Grand Prix he was given the later BT42 but the engine gave up after only seven laps.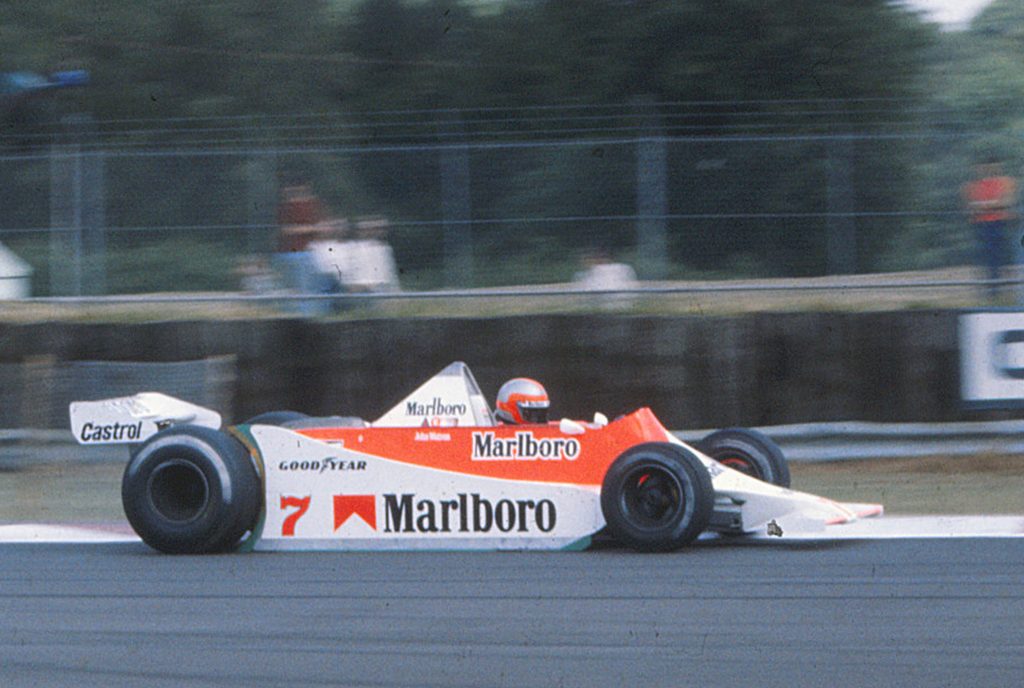 During 1973 John was also signed up by Gulf Racing to race the Mirage in International sports car events.
His fourth place at the 1000 kms at Zeltweg with Mike Hailwood was followed by a 5th at Watkins Glen led to him have two drives in the Springbok series with Jody Scheckter in the Team Gunston Chevron B26 where they were fifth in one race and won the next.
When Hexagon of Highgate bought a BT42 to run in 1974 John Watson was chosen to race it for the full season and his sixth place at Monaco with the privately entered car showed his potential. When the team switched to a BT44 mid season he had one of the best races of his career in the Austrian Grand Prix. He had moved from 11th on the grid to 7th before having to pit which dropped to the back of the field and he fought his way to 4th at the end of the race.
From then on John was a permanent fixture in factory teams for the next nine seasons, He had a poor year with Surtees in 1975 but a better one in 1976 when he joined Roger Penske's Citibank Team Penske culminating in his first grand prix win in Austria and two third places in the French and British grands prix.
After two modest seasons back with Brabham John was eventually signed up by Ron Dennis for McLaren and made his debut with the team in the Argentine Grand Prix and took third place.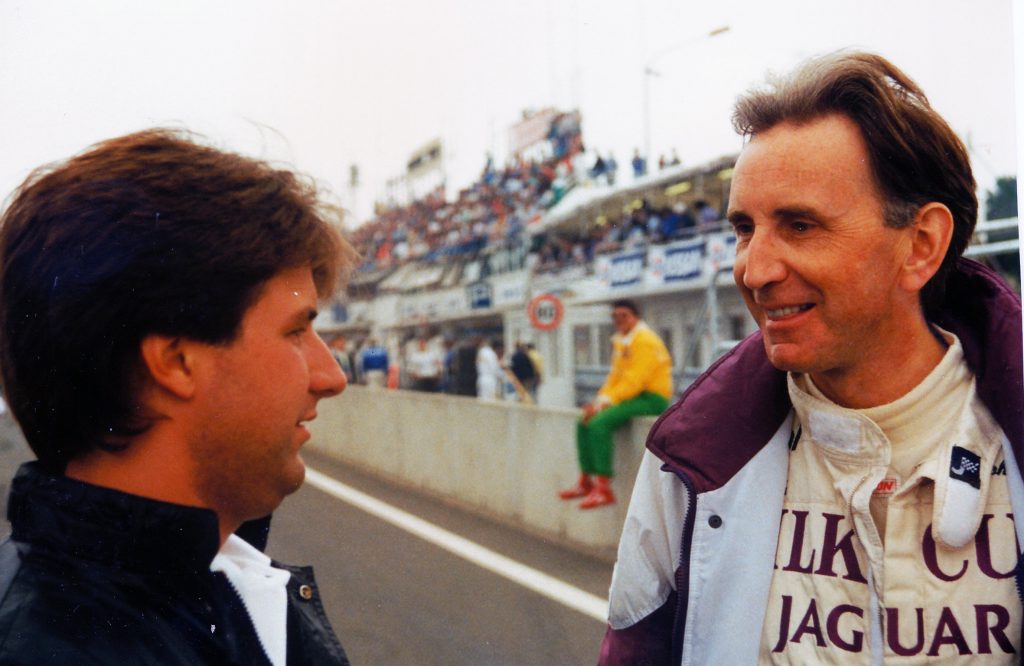 Michael Andretti with John Watson at Le Mans during the Jaguar days.
John Watson is probably one of the longest serving McLaren drivers as from 1979 to 1985, when he retired from grand prix racing, he had spanned six seasons. Not only that but he gave McLaren three grand prix wins.
His final drive with McLaren and final grand prix was the European Grand Prix of 1988 when he was brought into drive an MP4 2B at Brands Hatch. It was a disappointing end, however , as he finished seventh and two laps behind the winner.
Meanwhile throughout his Formula 1 career he always made space for the odd sports car race
In 1977 for example, when driving with Bernie Ecclestone's Brabham team, he was drafted into the Alfa Romeo team to drive the great T33 at Dijon and in 1979 he was one of the group of Formula 1 drivers to run in the BMW M1 Procar series.
The following year he also drove a BMW M1 Procar in the support race to the British Grand Prix entered by a certain Dr Marko, Helmut Marko , better known as the power broker behind Red Bull Racing.
If his grand prix racing career ended on a low note his sports car career was really only starting.
The American Group 44 team brought him into their team for Le Mans in 1984 in a Jaguar XJR5 sharing with Tony Adamowicz but the car was eliminated in an accident. Then along came Rothmans Porsche and now he was in a truly competitive car and took sixth place at Spa but he had made himself available as a gun for hire and in 1986 raced the BMW GTP car in American racing.
Eventually Tom Walkinshaw came along and for 1987 he brought John into his sports car team with the J12C and he immediately won in Jarama then followed up with a win at the Monza 1000 kms and completed the season winning at Fuji.
Naturally he continued with Walkinshaw into 1988 but it was a disappointing season so he switched to Toyota for 1989 and 90 but again reliability was one of the problems and his best result during the Toyota years was his 4th place at Le Mans only on that occasion he had taken up the offer of a drive in Richard Lloyds Porsche.
At the end of the 1990 season John finally retired from International racing.
So how do you sum up John Watson ? His versatility and capability in driving a wide variety of cars over his racing years marked him as someone special and yet he never appeared to seek publicity and remained cheerful and content with his lot.
A modest and talented man.