From time to time I receive books for review that feature present or past members of the Grand Prix Drivers Club but few are as impressive as this book that has been compiled by Andre Etancelin the grandson of one of the Club's earliest members Philippe Etancelin.
As Andre explains, his grandfather was an obsessive collector of everything during his racing career, trophies, race programmes, letters, photographs, business cards and even bills and menus from restaurants in which he had eaten have been reproduced. As a result, this large boxed book – it weighs 4 kilos and measures 16 inches x 12 inches – is not just a history of a notable French racing driver's career both before and after WWII but a fascinating social history of each of the periods.from 1926 to 1954.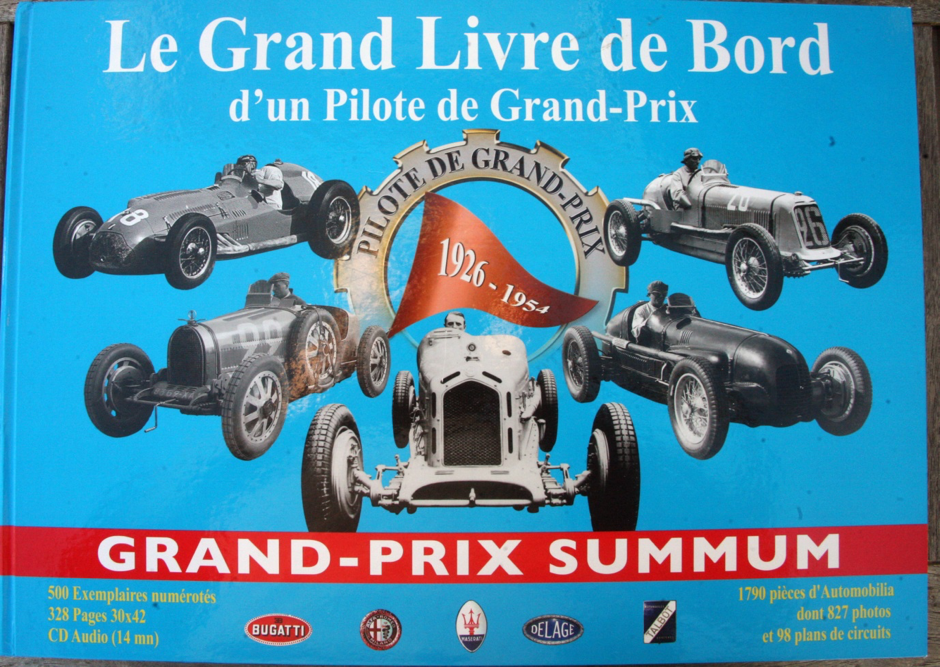 Philippe "Phi-Phi Etancelin on December 28 1896, started racing at the age of 30 and ran in his last grand prix at Reims in 1952 at the age of 55 in a Maserati A6GCM finishing 8th.
Though published in French there is a separate booklet written in English and for anyone interested in the history of motor racing and what went on behind the scenes this is one of the most informative books.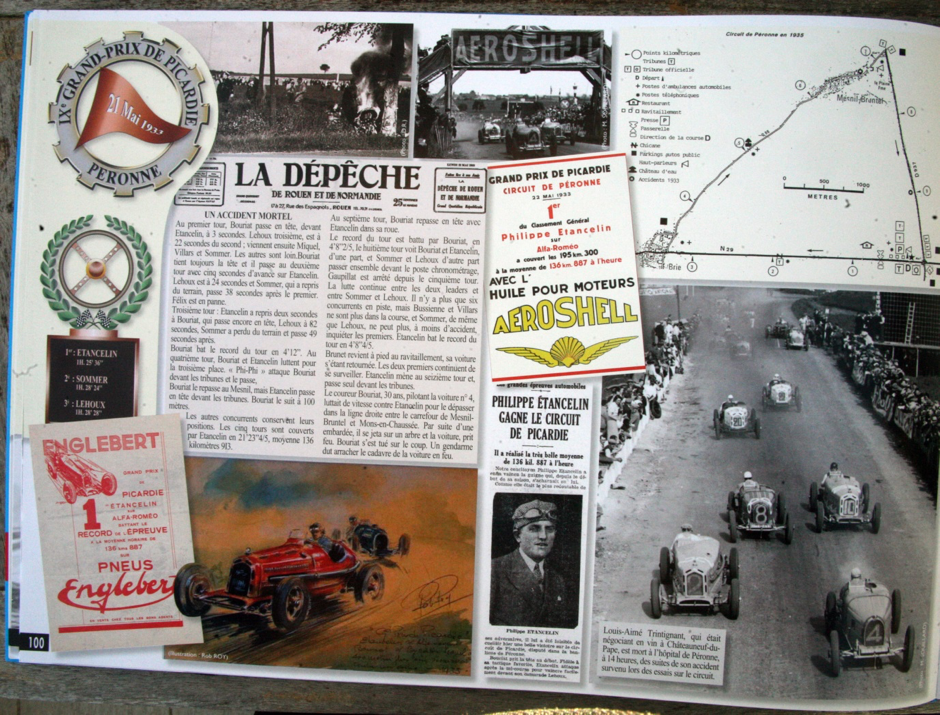 For example in a letter written in September 1934 to Etancelin regarding a drive for Scuderia Ferrari Enzo Ferrari writes "….We note that you accept our proposal of 45% of the prize money and instead of a monthly retainer which we give to our other drivers and 45% on the starting money, you would like a sum of 20,000 lire for each race for which we enter you.
" If these are the financial terms you want we're sorry but we are unable to meet your demands as we would have to pay you more than we pay the rest of our drivers, Vazi, Chiron etc combined!
"Obviously this doesn't mean that we do not appreciate your skills which we are the first to acknowledge but we cannot accept these conditions,
" Yours sincerely, Ferrari"
Etancelin obviously sent a copy of this letter to Charles Faroux the French race organiser for Faroux replied:  " My dear friend, I see that Ferrari is a difficult man with whom to reach an agreement"
Eventually, it is noted a month later, Etancelin accepted Enzo Ferrari's offer of 45% of the prize money and 45% of the starting money plus 100,000 French francs for 20 races on condition that he drove "..one of the best cars that you have available".
This kind of insight and detail is rare in a book about a racing driver and Andre Etancelin has added a lot to our knowledge of how motor racing was run during these periods.
There are hundreds of photographs not just of races but it is the letters that make the most interesting reading. For example, at the end of the 1934 season, he had turned down a big offer from Enzo Ferrari to drive for the team in 1935 and was in touch with his racing driver friend Robert Benoist and discussed with him the idea that Etancelin should go back to Bugatti and buy a Bugatti.
Benoist in a letter of December 1934 wrote " I told Mr Bugatti about our meeting who is sticking to the price of 200,000 francs for the 3.3 litre racing Bugatti with four wheels included.I'm not sure what you want to do but I think that this car is well placed for several events for this coming season  Do not hesitate to get in touch with me if you need more information." Robert Benoist
The autographed cover of the menu following the very first Monaco Grand Prix is reproduced complete with autographs of some of the drivers Etancelin raced against in that event including the winner W Grover Williams, Rudolph Carraciola and Marcel Lehoux. The meal included grilled salmon, corn-fed chicken with paprika, asparagus and Parfait Grimaldi as a sweet course.
Also, his membership of the Grand Prix Drivers Club is remembered with some group photographs from early meetings.
As can be imagined, this was an expensive book to produce and only 500 numbered copies have been produced. Naturally, the price is commensurate at 365 euros plus 20 euros postage directly from Andre Etancelin ( E-mail address andre.etancelin@wanadoo.fr). Also, a beautifully cast and boxed medal has been produced and will be sent to the first 100 people to order the book. It, no doubt, will be on sale at the specialist motoring bookshops at 450 euros.
This is clearly a labour of love and respect for his grandfather but more than that it is a treasure trove of fascinating information giving a fascinating glimpse of the life of a racing driver over thirty years.
Graham Gauld