The Grand Prix Drivers Club has many members from Formula 1 World Champions to drivers whose careers in Formula 1 were short for many different reasons. However, there is one member whose racing career covered twenty years and was the first young driver since 1953 to be given his chance to race a factory Mercedes Benz in Formula 1; Hans Herrmann.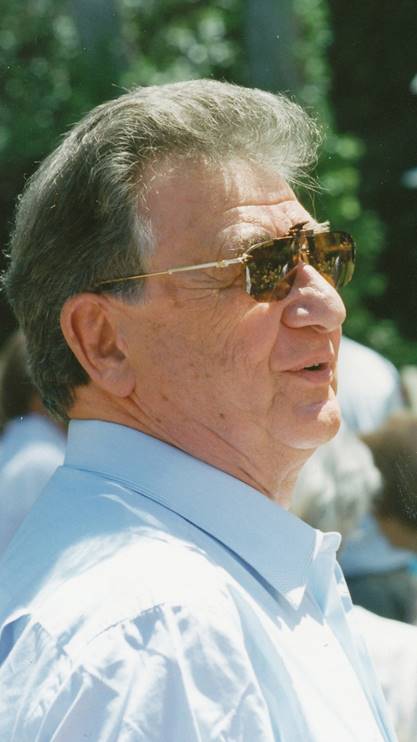 Hans Herrmann had a spectacular career in racing and was one of the earliest Porsche drivers and had the honour to be, with Richard Attwood, the first driver to win Le Mans for Porsche with the mighty 917. That was in 1970, but Hans, who will be 90 years of age next February, has had a remarkable life.
Born in Stuttgart in 1928 his father was a mechanic and tragedy struck at the age of 8 when his father was murdered. Left with her young son, Hans' mother opened a coffee shop and, as Hans explains, his mother instilled in him that as he would be taking over the coffee shop he had to learn the patisserie trade.
"When I was young most of my friends wanted to be pilots, ships captains or train drivers but my dream was to be a racing driver and my heroes were Bernd Rosemyer and Rudolf Carraciola the stars of the pre-War Auto Union and Mercedes Benz teams".  However, true to his mother's wishes he trained for three years but by that time World War II was at its height and it was difficult to get flour, eggs and sugar so eventually he never actually practiced his patisserie skills and laughs when he comments "…. I can't bake!"
 Hans' mother gave him her gold bracelet so that he could buy a second-hand Porsche in 1952. With it he took part in his first event, winning his class in the Deutschlandfahrt (Tour of Germany) and later running in  the Hessen Winter Rally. In 1952 he ran the Porsche in a production car race at Nurburgring and won
Hans and his friend Erwin Baur shared an EMW that Baur had bought and later Hans Klenk, a former fighter pilot, who was to be Karl Kling's co-driver on the 1952 Mille Miglia, loaned Hans his BMW-engined Veritas Meteor for his first race
In 1953 he put a 1500cc engine in his Porsche and won his first race at the Nurburgring with the car in heavy rain. He was then drafted into the Porsche team for Le Mans in one of two Porsche 550 spyders fitted with hard tops.
It had been found in testing that on Mulsanne with a hard top the car hit 124 mph but without the hard top it was slower. In the race the Porsches were running well and finished first and second in the 1500cc class. Richard von Frankenberg and Paul Frere were declared first in the class after the organisers checked their figures with Hans Herrmann and Helm Gloeckler second.
Later that year Hans was invited by Porsche to race in the Pan-American Road Race, again with a Porsche 550. That year the team was sponsored by Wendell Fletcher of Fletcher Aviation in the USA who had a licence to use Porsche engines in the light planes they were building. In that race Hans led the event at the end of the first stage but later crashed when his steering arm broke. The following year, 1954, he was to finish 3rd overall, a giant-killing performance.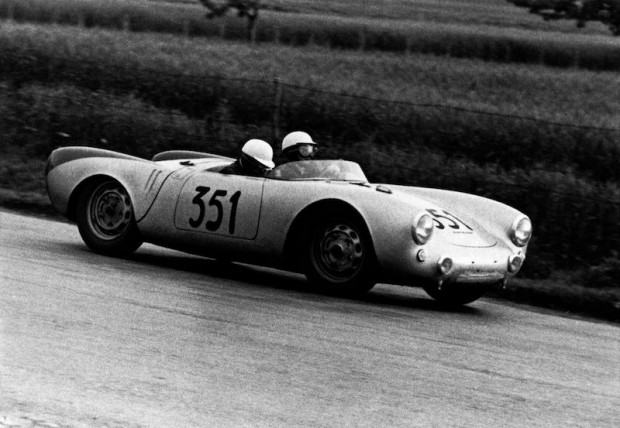 That year,1953, also saw his closest escape from death in the Mille Miglia where he was driving with Herbert Linge in a Porsche 550 Spyder. Near Pescara and the village of Rieti Hans came round a corner at about 90 mph to be faced not only by a railway level crossing but with the bar coming down. He could see the train coming but couldn't stop so accelerated and tapped Linge on the shoulder as they both ducked, dashed under the barrier and made it to the other side.
Hans Herrmann's progress was being watched closely by the legendary Mercedes-Benz team manager Alfred Neubauer who was planning a return of Mercedes-Benz into Formula 1 grand prix racing in 1954. Mercedes already had Juan Manuel Fangio and Karl Kling marked down as drivers but he was preparing to run three cars and decided to hold a test session at Nurburgring to choose the third driver.
This led to an amusing incident. One morning around 10.00 am the phone rang. Hans was still in bed and answered it slightly sleepily. It was Neubauer Secretary Frau Heinze who said that Alfred Neubauer wished to talk to him.  " Neubauer said to me ; ' Herrmann we are going to the Nurburgring for three days testing, I have invited Hans Klenk and Paul Frere to test and would you like to join us?.  I was speechless and still tired and so did not say anything for a moment or two and then Neubauer barked down the phone '…well do you want to come with us or not?'.  I said, of course, of course I am coming, yes I am coming".
During the test Hans Klenk had a serious accident driving a 300 SL Hans Herrmann ended up fastest and was chosen to make his Formula 1 debut in the 1954 French Grand Prix driving one of the Mercedes Benz W196 streamliners.
As we all know Fangio and Kling finished first and second in the race but Herrmann retired. "I had a problem with the engine and tried to get back to the pits but retired. I don't know what caused it but it could have been that I made a mistake". His consolation, however, was that he set up the fastest lap in the race.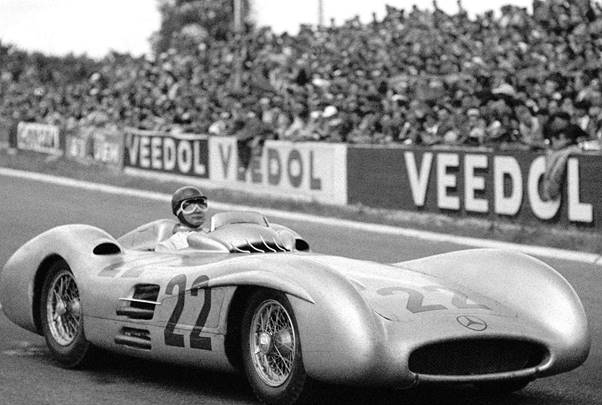 In 1955 Hans took fourth place in the Argentinean Grand Prix before starting to prepare for the Mille Miglia where he was a member of the team of four Mercedes Benz 300SLRs.
In this event Juan Fangio and Karl Kling opted to race alone but Stirling Moss chose Denis Jenkinson to be with him and Hans Herrmann had Fangio's mechanic Hermann Eger with him. Mercedes were determined to have a good result and all of their drivers spent two months training on the course.
It was not without incident and various modifications were made to the 300SLRs to withstand the strain on the chassis  and components. In the race itself Hans caught up with Fangio who had started six minutes ahead of him. Stirling Moss was driving like the wind and at Pescara he was running fifteen seconds behind leader, Piero Taruffi in a Ferrari, with Herrmann third. By the Rome control Stirling Moss was in the lead as in the previous fuel stop he had saved time by taking on just enough fuel to get him to Rome. Hans then had the throttle jam on his car but was able to free it and get to Rome where it was repaired. However at the Rome stop Herrmann refuelled and continued but on the Futa pass the fuel cap came loose on their car soaking Hans and Hermann Eger in fuel. Some got into Hans' eye and he spun the car and damaged it but as soon as it stopped they both jumped out in case it burst into flames. They walked to the next village and found a small hotel where they got out of their soaking racing overalls and borrowed pyjama's.  As Hans explained "…. During the race I had tried to look after my brakes as I knew Stirling Moss would be hard on his brakes. Our times were similar on the stages and my hope was that Stirling would have trouble with his brakes after the Futa and Raticosa passes and I might have a chance to overtake him but that loose fuel cap from the Rome stop finished our race".
Three weeks later came the Monaco Grand Prix and in practice Hans crashed heavily in his Mercedes which was a regular car and not a short wheelbase version as driven by Fangio and Moss. He had a back injury which kept him out of formula 1 until 1957.
By the end of 1956 Hans was back on form and looking for a drive. As was to happen throughout his career he was brought back into the Porsche team and returned to racing at Sebring where he was paired with Wolfgang von Trips in a 550 Spyder they finished sixth. However for the Targa Florio he was entered with Olivier Gendebien in a Ferrari 290 MM his first race in a Ferrari. In practice he was not used to having a throttle pedal in the centre, rolling the car. However, the team had a spare 860 Monza Ferrari and they finished fourth overall.
Obviously Herrmann wanted to return to Formula 1 in 1957 but all the leading teams were fixed up. He was still involved with Porsche in World Championship events but in April he was offered a drive with a Scuderia Centro Sud Maserati 250F at Syracuse but it was not very well prepared and he eventually had to retire with a very sick engine. More trouble was to follow at Monaco where Maserati entered him in a factory 250F but he did not qualify and his exploits that year with Maseratis were not successful.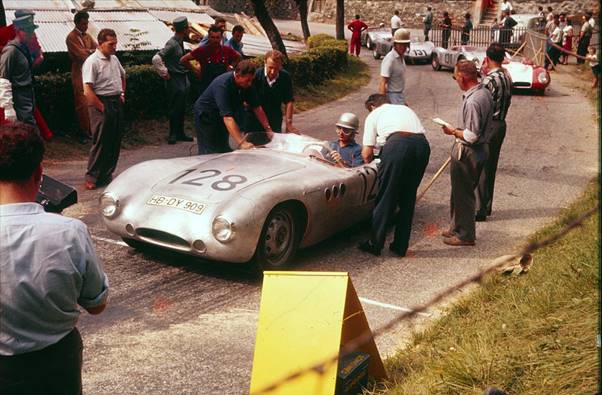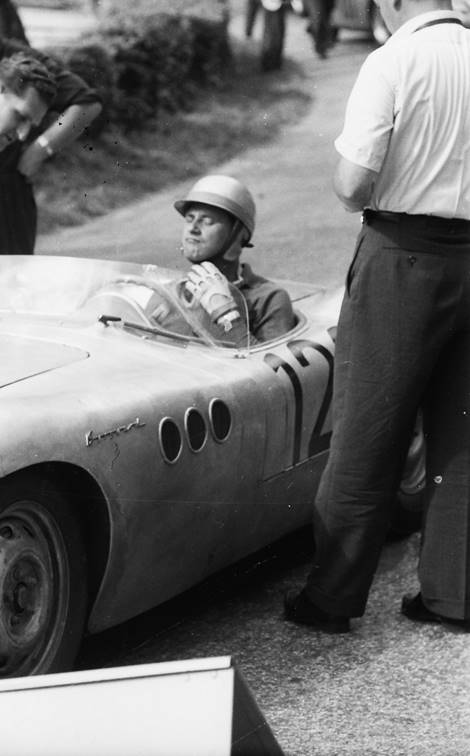 In 1958 he only had three drives in Formula 1, again in Maserati's but with no results. At the same time he lost his drive in the Porsche factory team – save for Le Mans. " Huske von Hanstein the team manager and I had a difference of opinion as he preferred to have Wolfgang von Trips driving for him but I was approached by Borgward to race their 1500 sportscars in races and hill climbs. Later von Trips told me that I should have offered him some money!"
 At Le Mans Porsche paired Hans with Jean Behra and they were to finish third overall with one of the new Porsche RSKs and this did a lot to re-establish Hans with Porsche and he was to continue to race with them in sports cars.
His 1959 grand prix season was again pretty miserable with two retirements. The first was in the British Grand Prix with a Centro-Sud Cooper-Maserati and the second, more spectacularly, when he crashed the BRP BRM P25 at Avus.  Luckily he was thrown out of the car and watched as the car destroyed itself.
In the World Sports Car Championship he had a poor season that ended when the Porsche RSK he was driving at the Tourist Trophy race was crashed by his co-driver Chris Bristow.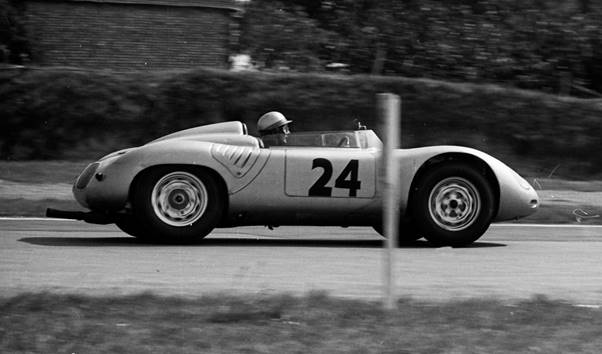 During the 1960s Hans Herrmann continued to drive for Porsche but was also free to race for Abarth and so was in an unique position to compare the two cars. In 1965, in particular, he ran in the European Hill Climb Championship with Abarth but it was a season dominated by Ludovico Scarfiotti with the new Ferrari Dino. " I found that the Abarth was not an easy car to handle but it had a powerful engine and was actually easier to drive on power than the Porsche. In the hill climb events I decided not to extend myself in practice but to save some power for the event itself and it seemed to work. However, at one hill climb I decided to change tactics and drove as hard as I could in practice and von Trips crashed trying to equal my time".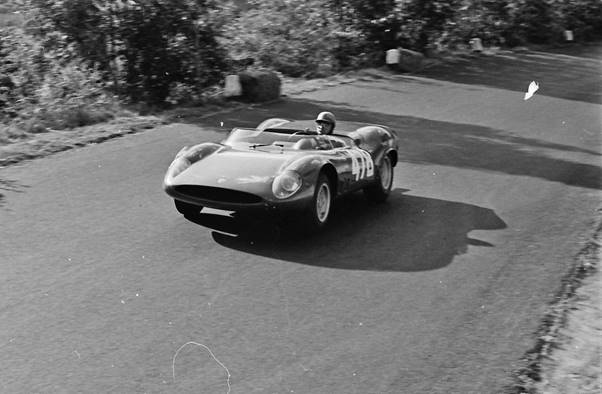 Hans was to continue racing right up to 1970.
By that time he had been one of the original drivers to test the new Porsche 917 which had proved to be undriveable so much so that he preferred to drive the 908 in races. However by 1970 the 917 had been developed to the point that it was not only reliable but handled well.
That year Porsche came to an agreement with John Wyer Racing to run Porsche 917s in the World Sports Car Championship with sponsorhip by Gulf Oils. However, there was a second Porsche 917 team run by Porsche Salzburg and owned by the Piech family and Hans was signed by Porsche Salzburg that season.  Hans had also promised his wife Magdalena that if he won Le Mans that year he would retire from racing.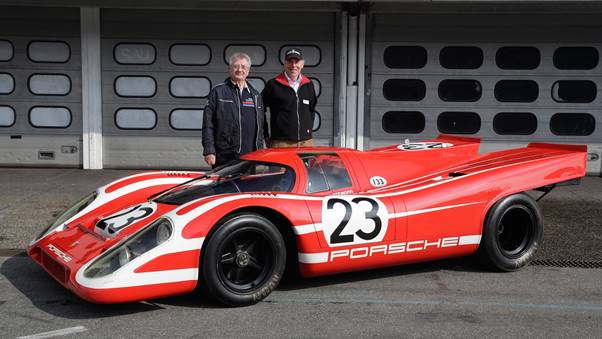 The 1970 Le Mans was the first one to be run with the drivers strapped into their cars and not running across the road for what was called a " Le Mans start". The man who dropped the flag to start the race was Ferry Porsche himself which may or may not have been a good omen. Almost from the start it rained and rained. At the end of the first lap the Hans Herrmann car was in ninth place and he and Attwood kept a steady pace and watched as the Gulf Cars retired along with the favoured Ferraris. Finally near the end of the miserable 24 hours Hans had decided that he really would retire after the race.
At 4.00 pm on the Sunday afternoon Herrmann and Attwood crossed the line in their red Porsche 917L and gave Porsche their first outright win at Le Mans capping a career that had had its ups and downs but marked by consistency.
However his problems were not yet over for he announced to Frau Piech that he was retiring immediately.  " I told Herrn Piech that I had promised my wife I would retire if I won the race but he told me my contract with Porsche Salzburg was for the whole season and if I wanted to retire  it was up to me to find a suitable driver to take my place. I spoke to the reigning World Champion Denny Hulme, who had driven one of the Salzburg Porsches in one of the races and both he and Ferdinand Piech agreed on Denny replacing me".
So, after 19 years of racing Hans Herrmann  but not to a quiet life as his motor parts business was expanding and needed his attention. In the 1990s, however, he and Magdalena were faced with a drama greater than anything he had faced in racing.
Arriving home one evening they disturbed three masked men in the house. Hans was grabbed and his hands tied behind his back. He was led to the cellar and his wife was told that the gang wanted 6 million German marks to release Hans! The next day Hans was put into the boot of his own Mercedes and driven to an autobahn service area whilst his wife was taken to the bank and withdrew the money. Once the kidnappers had the money they told Magdalena where they had parked Hans' car. She phoned the police who rushed to the service station and released Hans but the robbers were never caught!
Hans had been an early member of the Grand Prix Drivers Club and has been a regular attender at GPDC events with his wife Magdalena and is looking forward to celebrating his 90th birthday in six months time.